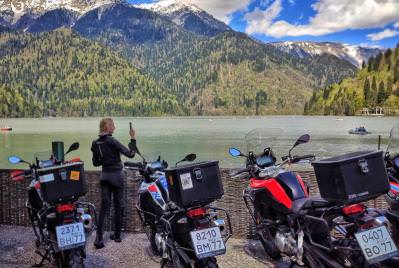 This May was pretty busy for us, we had Sochi-Elbrus with 9 riders, Sochi-Crimea with 12 riders, there was Enduro Training with 8 more riders and furthermore we did Sochi-Abkhazia tour with another 9 riders. 
Our 4-9 May Sochi-Abkhazia tour was special, because we had 3 female customers, 2 of them rode bikes. As always warm  atmosphere in the group, fantastic nature of this beautiful country, excellent roads and tasty cuisine.
This year we will run plenty of tours to Abkhazia and more to come in 2022. At the moment border between Russia and Abkhazia is open for Russians only, international travelers cant come, but we hope that will change soon and you will be able to join us for that tour. 
Meanwhile enjoy photos.