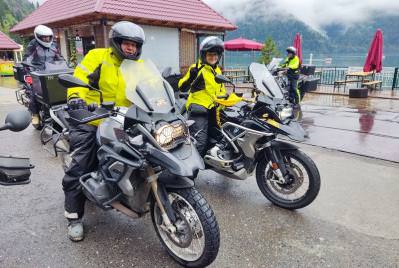 Today we would like to share photos from our 4-9 October 2022 tour to Abkhazia. Thanks to all riders who joined us for that ride and thanks to our guide Mike for great photos.
There were just few tours to Abkhazia this year, relatively small comparing to previous years when we had 8-10 tours per season and that destination was very popular. We think that in the future tours to Abkhazia will remain in our calendar in the format one in spring and one in autumn, we simply did too many tours over there in the past, all our customers were there already.
Or maybe we will stop doing tours to Abkhazia, because next year we plan to leave Sochi. What we mean by saying "leave Sochi"?
We have two locations/offices in Russia now, one in Moscow and another one in Sochi. These are still plans, but we want to make one main RMT base/office/garage in Moscow and move bikes to other locations, and there are many of them now, according to tours/needs. It can be Sochi, Vladikavkaz, Tbilisi, Bishkek, etc.
Few years ago we had 99% of tours starting, either from Moscow, or from Sochi. We first had garage in Moscow and in 2018 opened another one in Sochi. For last five years we had two garages in these locations and it was smart and convenient decision.
But now, because we expand geography of our tours, Sochi becomes just one of many locations where we arrange tours and it becomes non convenient to use it. So we plan to concentrate all in Moscow and move to new, larger, better garage/office.
But this are global plans, we will update you on them later.
Enjoy nice photos from Abkhazia October 2022 tour. And join us next year for one of many great tours we will run