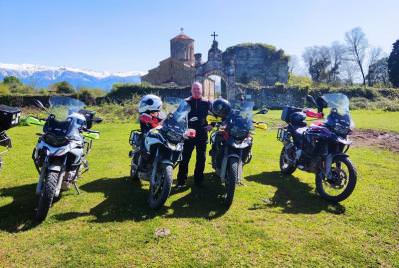 This year we already did several tours to Abkhazia. There is no sense to repeat once again that we visited the Ritsa Lake, Stalin's residence, Mokva monastery, Ambara temple, Tkuarchal old abandoned city and other places we usually visit in this tour, just look at the photos. 
What is interesting is how this region is developing now. Two years ago despite covid they didn't close their borders and millions of Russians spend their holidays there, and that gave huge revenues for the government. Now they made an embankment in Gagra, built plenty of new petrol stations, renewed asphalt in many places, hotels are being built, many already opened, new cafes and restaurants are opening. Really cool to see how this region is changing.
We remember the first time we came to Abkhazia in 2016 and we can compare it how it looks now - hude difference. Well, it's good, because it means that at some point a couple of mountain dirt roads will be restored, which will allow us to make a new circular route in Abkhazia.