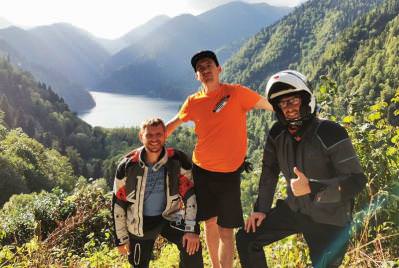 The first Abkhazia tour of this year turned out to be big and hot. There were 11 motorcycles in the group (12 people, one participant was with his wife), plus 2 of our guides on the bikes and 1 more guide on the support car = 15 people in total. Not only was the group large, but also the weather was hot all the days, in some places up to +35 degrees.
We met on September 14 in Krasnaya Polyana, held a briefing, dined in gastro pub Trikoni, and hit the road the next day. We passed the border quickly and here we are in Abkhazia. For 3-4 months of quarantine in Abkhazia nothing has changed everything is in its place, there are a lot of tourists, Abkhazians as before drive like Sicilians.
On the first day, we visited Ritsa Lake and spent most of the day there; we arrived at the hotel in New Athos after dark. We had a hearty supper, tasted Sukhumi beer and Chacha (local vodka).
The next day, in the morning, we visited Athos monastery, went down to the cave, then went through Gorbachev's dacha to Sukhumi, the capital of Abkhazia, where in the evening we had a walk along the embankment.
The third day of our trip was dedicated to Tkuarchal, an abandoned city of miners in Eastern Abkhazia. In the 90s, there were clashes between the Georgian and Abkhaz armies, the city was in a blockade, almost all residents then left it. Abandoned cities always make a strong impression, especially in contrast to large cities and megalopolises like Sochi or Moscow.
From Tkvarchala we went to Gagra, the main resort of Abkhazia. We settled in a hotel on the seashore, swam in the evening and the next morning, after which we returned to Russia, to Krasnaya Polyana.
This was our 12-13 tour to Abkhazia, to Apsny, the Land of the Soul. The tour turned out to be good, interesting and rich. Thanks to all the participants and our guides, see you soon!!!