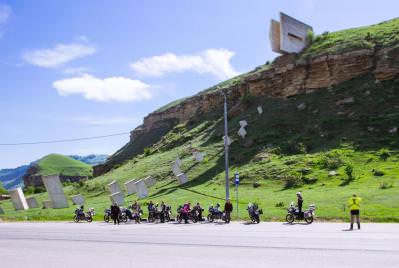 Situation around covid-19 is developing so fast and in such a scale, that we decided to focus more on this topic instead of regular posts about our tours, places of interest, fleet of bikes, etc. We think that regular updates on Corona Virus are more essential now to our guests, friends and partners, rather than company news.
Today we will give update on current situation in Russia with the covid-19.
Last week most of the countries in the world (European Union, Australia, USA, India, etc.) announced that they will close borders for tourists for 2-6 weeks, on average most announced 30 days. Some also asked their citizens to limit traveling, both inside the country and to other destinations, work from home whenever its possibly, many countries closed schools and other public places.
Russia was among these countries, from 18th of March and till 1st of May county closed its borders to foreigners, except business visa, diplomatic and other special passports. Russia visa centers and embassies in the world stopped issuing visas to tourists.
Heads of most regions in Russia, first of all Moscow mayor Sergey Sobyanin, ordered to close schools for 3 weeks, limit public fairs and mass gatherings with more than 50 people in one room/space, cancel concerts and sport events. In our region (we live now in Sochi) there is limit for public events with no more than 100 people in one space.
Most companies/businesses in Moscow were asked to allow employees work from home/online, there are talks Moscow metro will be closed soon for several weeks. Also from media we learned that government plans to make public statement and ask people take a self-quarantine for few weeks, limiting travelling and other non-essential contacts with other people inside the country.
What is the reaction of people? Almost everyone did good shopping recently and majority of people are ready for 2-3 weeks siting at home. Nobody is scary, no panic.
As of today there are 147 confirmed cases in Russia, most registered in Moscow, according to government 95% are in light/easy form and 99% of infected people came from Europe recently.
We think that world leaders took right decision on limiting tourism worldwide for a while (most counties announced 30 days). We must use Chinese experience that says limiting movement of people will stop spread of the virus (in China epidemic has ended at all), 30 days quarantine is not so long.
We support measures Russia took regarding limiting fairs, concerts, allowing students to stay at home, making extra holidays for scholars. In the current situation this is fine.
In April we had several tours with riders from USA, France, Denmark and some other countries. Unfortunately we had to postpone or cancel this tours, our guests simply had no opportunity to come, as borders are close now.
We trust these situation will not last for long and current limitations will show positive results. In addition to just faith yesterday it was announced that effective medicine against covid-19 was found by Chinese doctors (Japanese drugs against respiratory diseases) and yesterday Head of WHO said vaccine is created and is under testing now. Soon we will write about this in more details.
Also in one of the coming posts we will tell you more about surprisingly little level of spread of virus in Russia and what we as a company do to get used to the current stressful situation, what measures we take and what tours among those we do are most suited for current situation.
Stay tuned, more interesting posts will come soon. Till then - stay healthy, positive and optimistic (increases/improved immunity).
See you soon!