General Terms & Conditions
Rusmototravel is the provider of motorcycle tours, rentals and services. By booking tour or renting bike you agree to the following terms and conditions between Rusmototravel and yourself (Participant). Please read the Terms and Conditions carefully.
Tours
Rusmototravel arranges motorcycle tours, provides motorcycles as part of the tour package and is responsible for providing the services, such as tour guiding, accommodation, fuel, vehicle insurance, arranging tickets places of interest as listed in tour description, according to the local standards.
To book a tour a deposit of 30% is required at the time of booking. For late booking, 2 months before the tour starts, full payment can be required. For early bookings, 12-24 months before the tour starts, 10-20% deposit is required. Deposit secures a place in the tour.
Payment in full is required 60-120 days before the start of the tour. If the total balance is not received before balance payment date Rusmototravel reserves the right to cancel the reservation.
Due to situations beyond its control, such as road works, hotel closures or weather disasters, Rusmototravel reserves the right to make changes to the tour program/itinerary according to the situation. Participants will be notified about any changes immediately. It is assumed that participants agree and accept risk of such changes in the tour program.
It is agreed and understood that Rusmototravel is not liable for participant's safety. Rusmototravel is not responsible for any damage caused to third parties due to the participant's activities during the tour. Participant bears full responsibility for his safety.
Motorcycles
Rusmototravel has a fleet of BMW GS motorcycles that you can rent with or without tour. The pictures of the motorcycles on the website do not always represent the exact version of the motorcycles provided, we always update our fleet and as a result have different models.
Rusmototravel reserves the right to substitute a motorcycle confirmed to a participant but will make every effort to contact the participant prior to any substitution. 99% participants ride the motorcycle that is confirmed for them.
A non-refundable full coverage motorcycle insurance of 350/450 Euro or refundable security deposit of 1000 – 1500 Euro, depending on the model of motorcycle, must be paid (by cash or credit card) to Rusmototravel at the beginning of the motorcycle rental period. The deposit will be held until the undamaged motorcycle is returned in acceptable condition. The deposit will be refunded at that time.
A deposit of 30% is required at the time of booking. This deposit secures a bike. Payment in full is required 60 days before the start of the rental period. If the total balance is not received 60 days before the rental period starts, Rusmototravel reserves the right to cancel the reservation.
Safety gear
We require all riders to have full set of protective riding gear, that is: helmet, boots, gloves, pants and jacket, rain suit. We recommend using adventure gear, that has ventilation and several layers for cold/rainy weather, any brand you like. It's best to have waterproof shoes, same for gloves. If you have several helmets please take full face or flip up, 3/4 is ok for light tours, but not suitable for the Trans-Siberian Route/ Road of Bones, etc. Rain suit is an important item in your wardrobe, please take it anyway, even if you have Gore-Tex riding gear that don't leak water in.
Our guides are equipped in the Rukka (Finish brand) riding gear. After many years of riding the Trans-Siberian Route and other tours we learned that it's the most convenient/appropriate riding gear for our guides, especially if we are talking about tough and changing Siberia or Magadan weather conditions.
We use Rukka because:
Made of premium materials, with Cordura and Gore-Tex, it is breathable and same time waterproof. From our experience it's the only brand that don't leak water in, so you don't need rain suit. Several times we had situations in our Trans-Siberian tours when customers in Rukka were smiling riding absolutely dry after five days of Siberian rains, when all other were wet
Gear has top safety measures – shoulder, elbow, knee, shin and hip protected by special D3O Air System, abrasion resistant materials, reflectors for the dark time, high-quality cut
It has perfect adjustability and fit, very thoughtful ventilation, convenient waterproof pockets, good reflective colors. All the little things that make your trip highly comfortable and safe
On tours our guides use jackets and trousers of R.O.R, Exegal and Offlane series, plus Virium Gloves. You can see pictures how they look like below. If you are thinking of renewing your wardrobe or just want to buy new riding gear, we recommend Rukka. We promise you will be satisfied with quality of this Finish brand. You can learn more about Rukka at http://rukka.com/motorsport/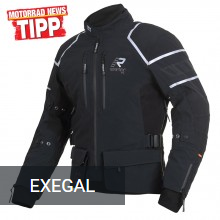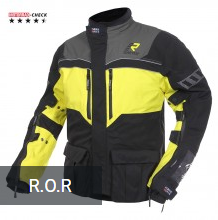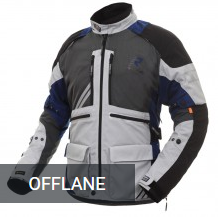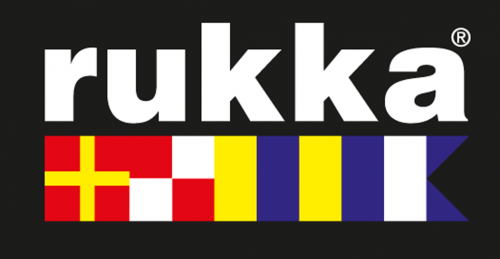 Since 2020 we signed partnership agreement with Rukka.
Driving license and driving ability
Every participant needs a valid driving license with "A" category (motorcycles), minimum age requirements of 25 years old and more than two years of driving experience to take part in the tour. Your driving license needs to be shown at the beginning of the program. Since recent time, the international driver's license are required. In our experience, the police never ask for an international license, your local license is enough, but by law you must have international too.
When you book a tour please make sure your riding skills meet minimum tour requirements.  Rusmototravel can't do online testing or somehow else evaluate riders driving skills, it's participants responsibility to be able ride daily distances and roads declared in the itinerary. If you are not sure whether your riding skills are good enough to participate in the tour, please contact us to get more information about it.
Rusmototravel has right to remove participant from the tour in case of: systematic failure to fulfill the requirements of the guides, self-willed behavior, violation of safety requirements, weak riding skills that are not sufficient to finish the tour safely.
Motorcycle insurance
All RMT motorcycles have third-party liability insurance. Third-party liability insurance protects from any liabilities you as a rider can bear in case you hit a pedestrian, damage a car on the street or do any other damage to any third-party during riding. Also, you are not liable for any damage to the motorcycle because of third-party (for example car hurt bike at the traffic lights stop).
To participate in the tour on RMT motorcycle you must also:
Purchase a non-refundable full coverage motorcycle insurance that costs 350/450 EUR (we can add this to the balance payment, or you can pay with card/cash upon arrival. No deposit is required, no liability for the motorcycle)
Pay refundable security deposit for the motorcycle in the amount of 1000/1200/1500 EUR for F750GS/F850GS/R1200/1250GS. Security deposit is max liability you bear for the motorcycle
With non-refundable full coverage motorcycle insurance on the road you don't worry about possible damage to the motorcycle and confidently go to meet adventures. It covers everything from minor scratches to a serious damage.
With refundable security deposit If you drop motorcycle on the parking and, for example, slightly damage side panniers, broke clutch lever or there are scratches on the protection bars, we will charge repair or replacement costs from the deposit. If you do serious damage to the motorcycle, we will withdraw full deposit, but not more. Security deposit is max liability participant bears for the motorcycle. Security deposit is refundable if bike is not damaged in the end of the tour.
Most common motorcycle damage and repair cost:
Minor scratches on the side panniers or protection bars – 50 Euro for each scratched part (100 Euro for deep scratches)
Broken clutch or brake lever – 150 Euro
Dent on the wheel disc – 200 Euro
Serious damage requiring replacement of the side case – 300 Euro
Serious damage requiring replacement of protection bars – 500 Euro
Serious damage requiring replacement of the wheel disc – 1000 Euro
Frequently asked questions about insurance:
Is it possible to buy all included comprehensive insurance, without any liability and without security deposit at all? – Yes, its costs 350/450 Euro, non-refundable all included extra insurance that can be purchased at the time of booking. If you buy it no deposit is required and you bear no responsibility for the bike
Are there any extra risks/exemptions from general rules? – Insurance company won't pay if you will damage bike being drunk, after drugs, giving bike to another person that had no rights to ride it
What if I drop the bike on the parking at zero speed and there would be few light scratches on the side pannier? – We don't charge money for minor scratches, but if it's solid scratch that is well visible, we can charge amount for painting the pannier
What if I drop bike in the turn at speed 60 km/h, panniers and some plastic gets broken, who and how calculates total damage? – We will bring bike to BMW dealer during one of the day-offs or in the end of the tour and BMW dealer will make a damage report with photos. Once we have report we discuss it with customer and charge sum necessary for repairing the bike
What if bike was stolen while I was in the guided tour with Rusmototravel? – You don't have to pay anything in such case, except when you left keys in the ignition and it was stolen because of this. But we never had such situations in the past and probability of such situation in the future is very low
How to book?
A reservation is complete after participant pays deposit/full payment for the tour/bike rental. There are several scenarios how it can be handled
You can submit a booking form on the web site - its either www.rusmototravel.com, main web site with all tours, or www.rusmototranssib.com, devoted to Moscow-Vladivostok tour only. After receiving your request our manager will contact you within 24 hours to confirm availability
Write us an e-mail at info@rusmototravel.com, please specify tour/bike you want to book, dates, any other additional information applicable for request. Our manager will contact you within 24 hours to confirm availability
Call us at +7 495 664 58 46 or +7 903 621 11 86 (WhatsApp number) and book tour/bike by phone
Write us a text message or via WhatsApp at +7 903 621 11 86 with details what tour/bike you want to book
It doesn't matter how you contact us, it's necessary to make a deposit payment to secure place in the tour or reserve a motorcycle. Without deposit payment we can put you in the waiting list, but we don't guarantee the tour/bike will be available once you finally decide to book it later.
There are different options how you can pay: with the link that we will send you, upon PayPal invoice, with direct bank transfer. After we receive your payment, the final step is to provide us with your passport and driving license copies, so that we can prepare the contract for the booked tour or motorcycle.
How to pay?
There are several options to make a payment for a tour or motorcycle rent.
By credit card upon the invoice that we will send you from our bank account. When we create invoice, you will receive e-mail with our logo, booking details and the amount required to pay. You fill in your bank cards details and make the payment. This is the easiest and most frequently used option.
Please be aware that according to the Russian banking laws and regulations we can't accept international payment made by bank cards that don't have 3-D Secure system. It works the following way – when you do payment you receive a confirmation code with 4-6 digits, a text message on your phone or e-mail in inbox, that confirms your transaction. Here is full description of this system - https://en.wikipedia.org/wiki/3-D_Secure
Via PayPal upon the invoice that we send you. In general, its same as above, you make the payment by bank card, but there are several differences. First, PayPal doesn't require 3-D Secure, which means that you can make a payment by any card you have. Second, PayPal gives you 100% customer protection, that you can claim your money back if services were not provided during 180 days after payment. The bad thing about PayPal is that it charges extra commission for transaction and currency exchange, in total about from 5% up to 10-15%
Direct bank transfer is also an option. We can send you our bank account details and you can ask your bank to do a direct money transfer. Nowadays in most of the situations it's possible to do this through internet, but in some cases, banks require your personal presence
Cancellation
To book a tour or rent a motorcycle it's necessary to make an advance payment in the amount of 30% of total price.
Sometimes circumstances can change in such a way that an already booked tour/prepaid bike rent must be cancelled or rescheduled. When our customers face such situations, we do our best to help them get a full refund or change dates of tour/rent if it's possible. That might happen when there are other participants interested to book place in the same tour, or the new dates for bike rent are available.
When it's not possible there are general cancellation rules that apply. Please read them carefully and be sure you understand all consequences while making your booking. In case of a customer canceling his booking after making deposit payment, the following cancellation fee applies:
| Number of days prior to departure | Cancellation fee per person |
| --- | --- |
| More than 180 days | No penalty, full refund  of deposit for all tours, including the Trans-Siberian Route, Magadan and all Expeditions |
| More than 120 days | No penalty, full refund of deposit for Weekend and Classic tours (Trans-Siberian Tours, Magadan and Expeditions penalty will apply) |
| More than 60 days | Advance payment, 50% of the tour price/bike rent |
| 60 - 30 days | 75% of tour price/bike rent |
| Less than 30 days | No refund |
Situations beyond our control may arise which make it necessary for us to reschedule or cancel a tour, change itineraries or make substitutions regarding hotels, cities, guides and other travel arrangements. We never had such cases in previous years, still there is such probability in the future.
In case of tour cancellation or reschedule by the initiative of Rusmototravel each customer will be informed immediately. Full refund will be made to every customer or alternative options suggested (new dates, alternative tour). If customer had any extra costs, for example already paid visa application fee, cancellation of air tickets, etc. Rusmototravel will compensate this occurred expenses.
In the situation when because of nature disaster, road works, other reasons it's necessary to make changes to itinerary, hotels, guides or other conditions of the tour it's not possible to get refund. Such "small" changes in the tour must be taken for granted.
Miscellaneous
If the participant does not comply with traffic laws, Rusmototravel reserves the right to revoke this contract and remove the participant's rental motorcycle. A participant is responsible for all traffic tickets received during the tour. A service charge will apply for all unpaid tickets.
Participants agree to not cause any damage to natural surrounding or third parties through their actions while riding their motorcycles. In the event a participant repeatedly ignores rules or causes others to feel threatened by their actions, Rusmototravel reserves the right to revoke this contract and remove the participant's rental motorcycle.
A participant is fully aware of the risks and dangers involved in activities like swimming, boat tours, tracking, sauna or any other activity potentially suggested as a supplemental activity to the tour and accepts full liability.
Photos and videos produced by Rusmototravel are the property of Rusmototravel. The copyrights rest with Rusmototravel. Rusmototravel can use all such material for advertising and marketing purposes, including images in which participants can be recognized, without any charge from the participant. Participants who submit photos to Rusmototravel agree to allow the use of such photos by Rusmototravel for advertising and marketing purposes.
Rusmototravel attempts to schedule its tours at a time when the weather is pleasant for motorcycling. Many tours pass through areas where weather conditions can change. Rusmototravel is not liable for unpleasant weather conditions and no refunds will be made for such conditions.
Complaints
Please bring any complaints to your tour guides immediate attention. Do not wait until the tour is over; we take customer complaints very seriously and will try to erase occurring problems immediately.