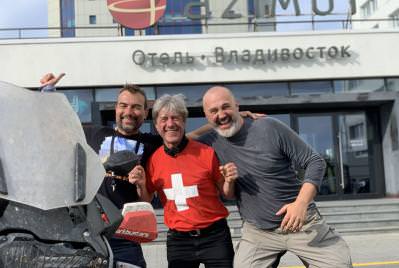 We continue posting ride reports from this summer tours. Today we want share photos from the Moscow-Vladivostok, the Trans-Siberian Tour, that took place on the 1-25 of July.
Our group was initially 6 riders, 1 Russian, 1 Swiss rider and 4 guys from Germany. Everything was on track, visas were ready, hotels booked, bikes prepared for the ride. Unfortunately on the 30th of June Germany placed Russia in the Red list of countries after there to which 14 days quarantine is required and in last minute, just few days before departure, our German guests asked to move their booking into 2022.
That was very disappointing, but same time we understand concerns of our German riders so we said yes, we will move booking. Ironically Russia was removed from the Red list of countries for travelling in a week, but it was late already.
When we learned that our group now consists of just 2 riders instead of 6 we though to cancel the tour, but then decided its not fair for other riders and decided to still run it. There was no financial profit for us from such a small group, but we always think its better do at least something, rather than do nothing, better run tour with just few riders, rather then cancel it.
So we run the tour for a small group, it was like a private tour, but we have no regrets. Everything went smooth and below you can see photos from that ride. Was a lovely ride and we really hope next year international travelling will finally resume and we will once again have normal groups of 7-8 riders like before.
Join our 2022 tours, we will run Moscow-Vladivostok and reverse Vladivostok-Moscow tours in June, July and August 2022.