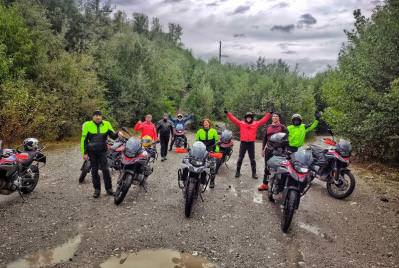 We are pleased to share with you photos from another Enduro/Off-road riding classes that we did on the 1-5th of October. There were two female riders in that group and one of the participants took his 12 year son with him. While adults were doing exercises and exams in the mountains on big bikes (F750/850GS), Anton's son studding how to ride 125 and 250cc enduro bikes. We asked our friends enduro school to teach him and it was really good idea.
Group consisted of 8 riders, there were 2 instructors from our side (Roman and Alexey) + Sergey was support vehicle car driver, three person from our side.
Have a look at photos below we join us next year for such classes, we sure you will enjoy them, and what is more important they will improve your riding skills.