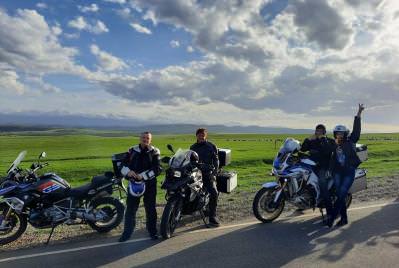 Its end of August 2021 and there were no ride report from us for several months. Please excuse us for silence, we were very busy running tours, more that 45 accomplished so far.
We  will start posting photos now, from May tours. In total there are 30 reports we want to make posts about, not to mention upcoming tours. That is huge amount of materails to look through, but we think that is doable. 
Anyway, lets start with fist ride report. 1-9 May 2021, Sochi-Elbrus guided motorcycle tour with Rusmototravel. Team of 9 riders + 1 guide from RMT Anton and support vehicle with Dima as driver.
Sochi Elbrus is one of our favourite tours, mountains are perfect place for riding bikes, and Caucasus Mountains are among best in Russia for that.
Last year plenty of new roads were built here, many old roads were reconstructed, so every year we do this tour better and better. Please have a look at photos below and join us in 2022 (September-October 2021 tours are full).