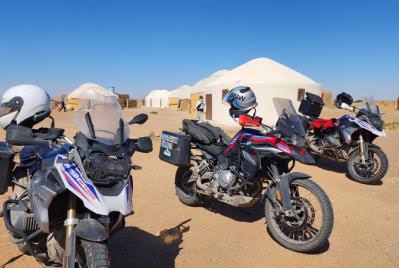 In the morning my colleague Anna sent an invoice for advance payment for the 11-25 May 2023, the Stans, Vladikavkaz – Hiva – Bukhara – Samarkand – Bishkek Tour, and I thought I should make post about that tour.
We started doing tours in Central Asia this year and we see great potential in this region. Pamir Highway, Samarkand, Khiva and Bukhara, Issyk-Kul and Tien Shan – this are only few well-known sights in that region, and there are hundreds more.
Our Vladikavkaz - Bishkek Tour is a 15 days one way ride, we start in Vladikavkaz and finish in Bishkek in May. At the end of September and / or at the beginning of October we go reverse direction, Bishkek - Vladikavkaz.
During the summer in Uzbekistan its +40-45 degrees and unbearable on a motorcycle, so May and the end of September are the most comfortable time for such a tour.
Below are photos from our tour to the Stans, which took place this year in September. Enjoy and join us for the Stans tours next year, there are several of them available, Pamir Highway so far is most popular/demanded.