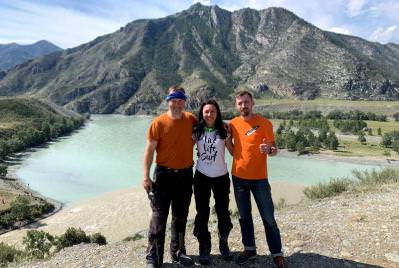 That will be out last riding report for the 2020 year we think. We have already shown you photos from Elbrus and Crimea, Valday and Saint-Petersburg/Karelia, from Abkhazia and Altay, Dagestan and Suzdal, and from other tours we did that summer.
But because Altay regions is so beautiful we can't but make another post about it. Our third group was there on the 12-21 of August 2020 and once again we received just breathtaking photos from guides and tour participants. 
You know, several friendly motorcycle journalists recently moved to live to Altay Region from Moscow. When we see photos from Altay Tours we understand why they did it. 
Enjoy great pictures and join us next year for Best of Siberia Motorcycle Tour, its 10 days, available from end of June. Before covid there were international flights to Novosibirsk (city we start and finish that tour, capital of Siberia) from various countries, not too many, but still.
We think with the current situation in the world it will take some time for air companies to resume global flights and in the nearest years transfer in Moscow or Vladivostok will be required, depends where you live and how you will enter Russia. So its Moscow-Novosibirsk or Vladivostok-Novosibirsk flights.
Well, if you will decide to join us please send us e-mail, we will help with info re best tickets and how to get to Altay.
Stay healthy and positive life will return back to normal way soon, vaccine is coming.