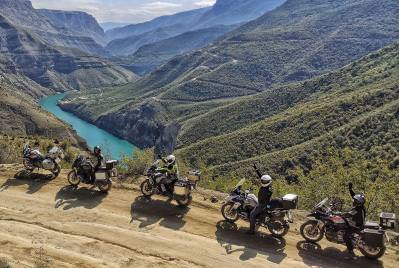 This year we started doing tours through the North Caucasus Maintains. This area was always in our focus, but Russia is big and there are so many places to ride, that we cant do all at one. Five years ago we started Moscow-Vladivostok Tours along the Trans-Siberian Route, four years ago Altai Mountains in Siberia, three years ago Magadan along the Road of Bones, last year Enduro Trainings, and this year we did our first tour to Rybachiy Peninsula in the North part of Russia and North Caucasus tour from Vladikavkaz to Dagestan, the Caucasus Express.
This area was always perspective from touring point of view, but mass tourism came here recently and today we see boom in construction of hotels, guests houses restaurants and cafes. We were here several times scouting in the past and its impressive how fast and quick all changes.
Our tour starts and ends in Vladikavkaz, its 2,5 hours by plane from Moscow, capital of Osetia Region. From there we go with mountain roads with short gravel segments to Chechnya and further to Dagestan, where highest and most beautiful mountains of Caucasus Range are located.
You can see photos below from our 12-21 September tour, there 6 customers and 2 guides from RMT. Tour is 2000 km and 10 days long, approx.. 250 km of good gravel roads. 
In 2022 we will run more tour in that area in spring and autumn, please join us. Dates and prices available in the calendar.