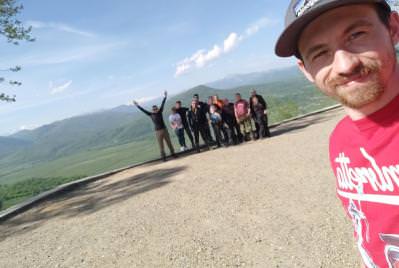 Another tour, this time one way ride Sochi-Elbrus-Moscow, took place in May 2021. Every year we move our bikes to Sochi for autumn and spring tours,returning them later to Moscow for Moscow-Vladivostok, Moscow-Saint-Petersburg, Altay Mountains tours, etc. 
We have such climate in Russia that we have to move bikes to different locations to catch best riding weather. During summer months its Moscow, Saint-Petersburg, Siberia, Magadan. For spring its Crimea, Elbrus, Sochi.
So this year we had our usual Sochi-Moscow tour, with a group of mostly our loyal customers. Alex Legend and Dima were tour guides, and 8 riders join us, many with passengers.
We left Sochi and headed along the Black Sea coast to Elbrus Mountain first, then we went to Moscow, passing many regions with different landscapes and unique culture, history, traditions.
Enjoy photos and see you next year in this marvelous tour.