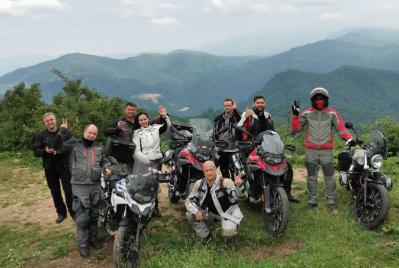 There are 85 regions in Russia and this summer they were opening each with its own pace according to corona situation in the region. Moscow opened hotels, restaurants and everything else on the 9-10th of June, Sochi on the 23th of June, Crimea on the 1st of July. 
Elbrus mountain is local on the border of two regions, Kabardino-Balkaria and Karachaevo-Cherkessiya. Both regions have long history, different nationalities live there. Medicine is not so good in the mountains as in big cities so authorities of this areas decided to open Elbrus Mountain and hotels, restaurants, etc around for tourism only from the 15th of July.
As soon as that happened we immediately decided to make a tour there. Original tour was scheduled for May and group was full, but it could not happen then obviously. So in July 8 riders and 2 our guides met in Sochi, in Krasnaya Polyana, for a 9 day trip.
There were riders from different cities of Russia, Moscow, Kazan,Chelyabinsk, Kaliningrad, etc. International borders were closed, so only local riders. Please see below some photos from that ride to get better understanding what are roads like there, landscape, etc.
Next year we have shceduled tours to Elbrus in May and September-October, please  see our calendar for certain dates and slots availability.  We would love to show you that awaresome part of Russia.