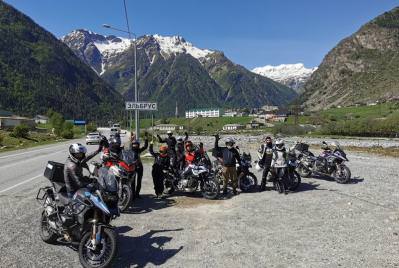 In May 22-30th we had the last spring tour Sochi-Elbrus (3 more tours were in September). Since summer, there are noticeably more tourists in Sochi, there is more traffic, prices are higher, and as a result we leave Sochi in June-August towards Moscow and Karelia, to Siberia, to Kolsky Peninsula and the Caucasus Mountains.
This group of riders got in the last tour to Elbrus in May, and as you can see from the photos below, they had a great time.
Thank you for coming, we were glad to spend these 9 days together. By the way, from 2022 we want to make the tour one day longer, to split the Elbrus-Goryachy Klyuch section 660 km into two days. We will think and decide closer to NY.
In the meantime, book, for the May holidays in 2022 there are the last 2 places on the Sochi-Elbrus tour, for the second dates there are a little more place, but also not a lot.
See you in 2022!