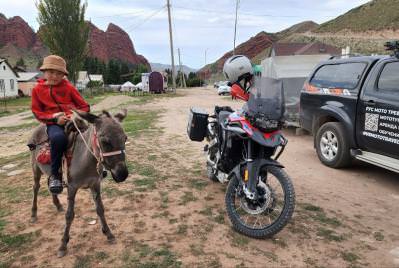 We continue and here are the photos from our tour in Kyrgyzstan, which took place on 22-31 August 2022. It was our first tour in Kyrgyzstan, the group gathered almost all our frequent customers, we transported our motorcycles from Russia to Bishkek, capital of Kyrgyzstan, where tour started/finished.
Kyrgyzstan is known for two main sights, the Tien Shan, a mountain system in Central Asia, and Lake Issyk-Kul. The first European explorer of the Tien Shan in 1856 was Pyotr Semenov, who received an honorary prefix to his surname for his work - "Semyonov-Tyan-Shansky". In 2016, the site became a UNESCO World Heritage Site.
At the foot of the Tien Shan mountains located Lake Issyk-Kul - the largest lake in Kyrgyzstan, which is included in the 30 largest lakes in the world. The lake is located in the north-eastern part of Kyrgyzstan, between the ridges of the Northern Tien Shan, at an altitude of 1608 m above sea level. In general, Kyrgyzstan is quite a mountainous country, the passes are higher than 3000 meters, there are many serpentines.
We were lucky to meet in Bishkek Jan, Askat and Ramis, local motorcyclists. Guys helped us a lot with the logistics of motorcycles, their service and repairs, for which we are very grateful to them. This is very important, because next year we will come again, this time with a focus on the Pamir Highway tours (we will run next year 3 Pamir tours). But we will write about the Pamir separately, as of now brief update on Kyrgyzstan Tour for 2023.
15-25 June 2023
11 days
3250 Euro for BMW F750/850GS, +350 Euro extra for BMW R1250GS
You can fine more details on our web site, and below are some photos from past tour, enjoy.