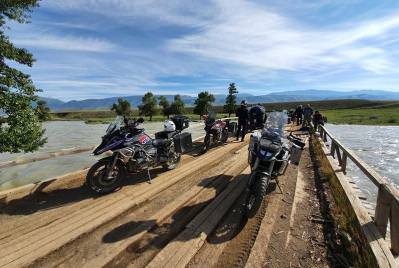 Hi all,
This summer despote corona we did plenty of tours in Russia. International borders were closed till August, so we focused on the local market and arranged tours for Russian Riders. Luckily there are plenty of them)))
In July and August we moved 12 bikes to Siberia (Novosibirsk) to do Best of Siberia Tour, the Altay Mountains and Chuya Highway. In the coming weeks we will make several posts with best pictures from that tours, today lets begin with group number one, it was 22-31 July.
9 riders + 2 RMT guides, very strong group with high riding skills. Guys visited  all possible spots and locations along hte way, did more than 100 GB of video and photo, had a great time together.
Have a look at some photos below to feel the spirit of this adventure. 
Next year we expect borders will open (Russia already has open borders with 34 countries, still despite corona its had to travel right now, but vaccine is coming and we think in Januart-February situation will significantly improve) and you will be able to join us for the Altay Mountains tour.
Please enjoy photos, more will come soon.