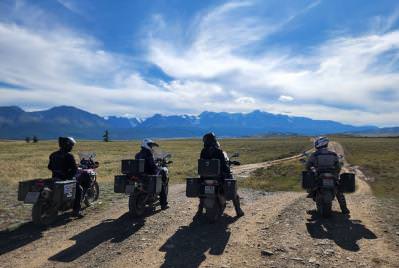 We published several rides reports from international tours we did this year, let's say something about Russia. Altai will be the first in line.
I thought for a long-time what tour to start with, Altai, Dagestan, Sochi-Vladikavkaz, Caucasus Rally or Sakhalin, but decided to start with Altai. I was there two years in a row, in 2020 and 2021, and it was really cool.
This year we had "only" two Altai tours, comparing to 5-7 tours in seasons 2019-2021, and those had half-empty groups. Not sure if that is because of conflict with Ukraine or there was other reason, doesn't matter actually, but we still ran that Altai Tours.
As always with small groups tours were very sincere and cool. Max Anokhin, our Road of Bones expert, and Alexander "Legend" Rubtsov, another Road of Bones legend, leaded that tours, so our guests were more than satisfied.
Photos from one of the tours below.
For next year we decided to run 3 tours in Altai in mid-July and early August, between our tours in Stans (Pamir, Kyrgyzstan, etc.). In July and August in the Stans its +45 and impossible to ride bikes, and in Siberia (Altai) +25-30, comfortable weather to travel. There are 2000 km between these two locations, but we will more our bikes from Stans to Altai and then back.
If conflict in Ukraine will end and you haven't been to Altai Mountains yet, we kindly invite you to join us.
Tour itinerary, dates, prices – all on our web site.