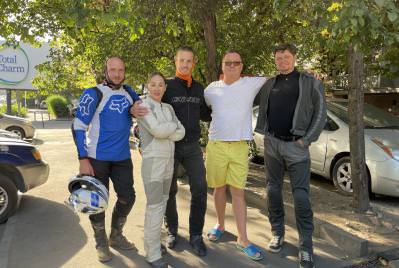 On the 5-17 of September 2022, we did Georgia – Turkey motorcycle tour. Below are photos from this trip.
Initially, we made this tour at the request of a group of our regular guests, they wanted 20% of gravel roads, Georgia and Eastern Turkey, something like 12-14 days and Alexander Grizo as a tour guide. They travelled with Alex last year to North Caucasus, loved that trip and asked him to lead this tour as well.
Originally there were 6 riders, but several said they can't negotiate vacations or had other life obstacles and we found few riders from our local customers who joined the group.
The route is beautiful and interesting, roads, nature, mountains, Sea, cuisine, places of interest. Both countries are very nice. We have already uploaded a video from the road to Shatili in Georgia a few days ago, and soon we will upload another video from Turkey.
Next year we are going to run two such tours, one in the end of June and another in late August. If such route can be interesting for you, please join us. We start from Tbilisi and we finish in Tbilisi as well. This tour takes places in Turkey and Georgia, without entering Russia.
There will be 20% of gravel, mostly easy off-road, so its intermediate level of difficulty. If you have experience and basic off-riding riding skills will be fine.
26 June - 07 July and 19-30 August 2023
12 days