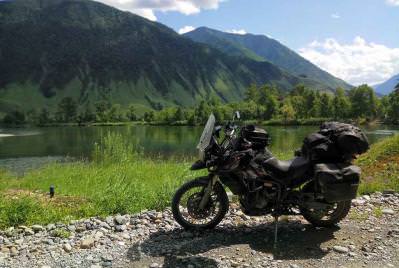 Altay Mountains - unique region Russia right in the heart of the Siberia, it's one of the most beautiful and picturesque places, along with the Lake Baikal, for motorcycle traveling. In Altay you can see the highest mountain in Siberia – Belukha, 4509 meters, and one of the cleanest lakes in the world, the Teletskoe Lake, which is also known as young Baikal brother. Located high in the mountains in hardly reachable by cars or trains place it's still untouched by civilization.
In 1998 a remarkable event took place: Altay Mountains with Katun Natural Reserve, the Teletskoe Lake, Belukha Mountain, and the Ukok Plateau were included by the UNESCO into the list of World Heritage Sites under the name of Golden Mountains of Altai. My name is Mike, I ride Triumph Tiger 800XC and I want to tell you about my recent trip to Altay in August 2018.
Usually when I have holidays I travel alone, but I have nothing against a good company, its just difficult sometimes to find it. Ride to Altay Mountains was a solo ride and it was second part of my 3-week ride to Siberia in 2018. I went to Altay after visiting motorbike festival "Motopolyarnik" on the shore of the Ob Bay in Yamburg, that is north part of Siberia beyond the Arctic Circle.
In Altay I was last time exactly 10 years ago when before getting involved in bike touring I was fond of cycling and participated in a 2-week bike trip and this time I partially repeated that route. My trip started in Novosibirsk, the capital of Siberia, located in 3500 km from Moscow. First, I headed down to Biysk to the famous Black African Bike Post – a legendary place where almost all people going to Altay make stop. It's a local biker friendly guesthouse with service area and heartful host Igor, that can help you with spare parts, advice regarding roads and places to see. In general, there are many such biker friendly guesthouses spread through all regions of Russia, we call them Bike Posts.
I met Igor at place with two more motorcycle travelers, Stefan from Switzerland and Edward from Austria. Both were going to Altay as well. Igor is glad to all motorcycle travelers and he can spend all night with you, preparing food, cooking food or just talking about past trips.
Having made a planned maintenance and after changing tires, I went to the Chuya highway - the road that is included in the Top 10 of the most beautiful roads in the world for riding. It's a new paved road that goes through the Altay Mountains to the Mongolia border. The main road is picturesque, but still most interesting places are located on the secondary roads that are mostly gravel. I drove along the stormy Katun river to Aktash village, where decided to stay for night in a tent near the wandering motorcyclist musician on the old Honda Shadow. A bonfire, cold beer and cognac, soulful author's songs with a guitar, a starry sky above us and silent mountains around us made my day.
Next day, leaving my luggage in the camp, I rode along the most beautiful part of the Chuya highway towards the Kosh-Agach town, located near the border with Mongolia. There I met several motorcycle travelers, including Fred from USA on Suzuki DRZ400 with California plates. He was going to Mongolia and after to Vladivostok. Good plan! I showed him the badge from the 1st California Highway on my vest, which I rode in 2013, wished good luck and went to the Tarkhatinsky megalithic complex - a monument of the Bronze Age: a circle of stones of various sizes, with petroglyphs - ancient rock paintings. Sometimes this place is called the Altai Stonehenge and local shamans consider this a sacred place and on certain days do some mystical ritual there.
On the way back to camp place I made detour to Mars - a site where low mountains have a red-orange hue and remotely resemble the canyons of Arizona or the surface of a red planet (Mars). Heavy rain did not allow me to admire these species but colored the road with a rainbow and incredible colors. It's not for nothing that Altai translates as "golden"!
Next day was one of the brightest in my entire trip. I am riding my Tiger just for two seasons, before I owned big cruisers and had no special enduro training. And I had to go on steep ground and stony road to the Aktashinsky repeater, which is located at an altitude of 3050 meters above sea level. The road is gravel and quite steep, with large stones in the first part and small gravel in the second and you must ride it with flat throttle. It was challenging and required great care and caution, but I did it and it was definitely worth it!
From the top there is a stunning view of the valley of the Chuya River, the northern Chuya Range with peaks over 4000 meters high and the surrounding mountains. At the end of July, there is still snow and in clear weather you can see Belukha itself, the highest peak in Siberia.
At the top I talked with an old man - a former miner who worked for 25 years in the USSR at the abandoned mercury mines. He had a wrinkled face and mutilated hands, and it can be seen that a very difficult life. He told me about the history of these places, about the dead lake of Mountain Spirits nearby, about the mercury mines abandoned after the collapse of the USSR, and I bought from him a small piece of rock quartz called the "stone rose" for memory.
Descent down was easier and, being on the asphalt road, I turned to the side of the pass Katu-Yaryk and the valley of the river Chulyshman – another must visit sight of the Altai. Through the Red Gate (narrow rocky gorge), passing dead and living lakes, through wonderful views, fields and forests, I reached 3.5 km long pass and steeply descended into the canyon. After the Aktashinsky repeater even on a wet road it was easy ride.
When I was down in the canyon I did a 77 kilometers road along the river to the southern shore of the Teletskoye Lake. The place is relatively inaccessible and there are almost no tourists here. At the lake the sun was shining first, but then weather changed, and small rain started. I relaxed and just enjoyed amazing atmosphere of this beautiful place. In the evening I returned to Biysk with the wonderful views along the Chuya Highway.
Altay is beautiful. I saw only small part of its beauty and will come here again, hopefully next year, with more time. Empty roads, no factories, no railways, few tourists, recently built hotels and camps, clean air and water, high mountains and deep lakes. What else can real motorcycle traveler dream about?
I hope my story will inspire some of you to ride in Russia, not just the Trans-Siberian Route with the highway, like most people do, but real treasury places of Siberia. Altay is definitely one of such places.
Ride safe and hope to see you one day in Russia. Mike Dream, Russia, Moscow
September 2018
Author is local Russian, he lives in Moscow and is fond of motorcycle traveling. He rides bikes since he was able to get driving license at the age of 16. Mike is passionate about mountains (Altay, Caucasus) and north regions of Russia (Karelia, Murmansk). Last year he left office job to do motorcycle tours in Russia with www.rusmototravel.com. If you want to contact Mike, please write at info@rusmototravel.com