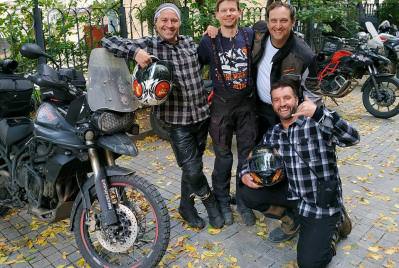 Best of Russia motorcycle tour goes through some of the most interesting and rich with culture and history places of central Russia. In 14 days you will have an opportunity to truly get acquainted with Russia and its culture. Not surprisingly it is becoming more and more popular with our guests.
Recently we did two such tour and today ride report from August ride. Our guide Mike wrote this text, thanks for that man! So, let's go.
We did this tour on the 3-16th of August with a small group. Our guests are: Roberto from Brazil and Lee and Ben, two friends, from Australia. Artyom is the leading guide and me, Mike, the second, closing guide, carrying tools and consumables with a first-aid kit. We both ride Triumph Tiger 800, our guests ride rented BMW R1200GS and F700GS.
Day one and two
I will omit in the story first few days spent in arriving, check-in, signing papers and city tour in Moscow, starting right away with a motorcycle ride.
Day three. Moscow - Valdai
Met in the morning at the hotel, packed up and went to the Red Square to make a group photo. A photograph on a motorcycle near the walls of the ancient Kremlin is a necessary attribute for every tour.
The weather was changeable, and on the highway,  we were overtaken by heavy rain, which, however, did not affect the good mood of our company. We stopped at the Iversky Monastery in Valdai, walked around it, and then settled in the Valdai Eco Club, where we ordered a bath in advance and our guests really enjoyed getting to know it!
Day four. Valdai - Veliky Novgorod
Today our foreign comrades saw a classic broken Russian road - a section from M10 to Demyansk. We told them about the history of the Demyansky Cauldron in the Great Patriotic War and what significance he had in that war. Before Staraya Russa we drove along a nice and picturesque road, drank coffee, before Veliky Novgorod we stopped at the Museum of Russian Wooden Architecture and had lunch.
Veliky Novgorod is a beautiful old city and a walk around it was a great pleasure for everyone, especially since the weather was sunny and warm all day.
Day five. Veliky Novgorod - St. Petersburg
We left Veliky Novgorod right after the breakfasts and set off towards St. Petersburg through Gatchina. On the way we stopped at a monument to Soviet partisans, where we told guests about the partisan movement in the rear of German troops and the blockade of Leningrad during the Second World War.
After reaching St. Petersburg and checking in at the hotel, we took a little walk around the neighborhood, and after dinner went to explore St. Petersburg bars - the evening turned out to be very eventful and fun!
Our cheerful Australians were delighted with the Russian girls and did not miss a single one, so as not to greet them and express her admiration!
It turned out to be an excellent evening, especially since the next day was not sledding, but was devoted to a closer acquaintance with the city and its attractions.
Day six. Saint-Petersburg
Almost from morning till night, the wonderful guide Olga showed and told our guests about the history and sights of St. Petersburg: Peterhof, the Hermitage, St. Isaac's Cathedral and much more, which made a very strong impression on Roberto, Lee and Ben. Beautiful architecture, palaces, cathedrals, masterpieces of world painting - for them it was a cultural shock!
In the evening we went to dinner at the small authentic restaurant Izba, where Victoria, my old friend from the motorcycle party, who lives in St. Petersburg, joined us. She gave small gifts to our guests and all this added some more colors to our trip!
Day seven. St. Petersburg - Sortavala
We left hospitable St. Petersburg to headed to Karelia. Along the Priozersky highway, past Ladoga, along a beautiful road winding through the hills, we headed to the Republic of Karelia where we stayed in a wonderful eco hotel Lamberg, near Sortovala and right on the Ladoga Lake. The floating bath from which one could immediately jump into the lake made an indelible impression on our foreigners, and the fish barbecue added charm to a wonderful evening!
Day eight. Sortavala - Petrozavodsk - Kizhi
It probably turned out to be the best driving day and it was the best road on which we traveled for the entire trip.
The A-121 road from Sortovala to Yarn is excellent asphalt, minimal traffic and beautiful landscapes of southern Karelia with its forests, lakes and rivers! It was a great pleasure to drive along it and then in discussions we all recognized it as the best section of all our 3,000 km.
Having settled in Petrozavodsk, we went on a small boat to Kizhi - a park-museum of wooden architecture, located on an island in the middle of Lake Onega. Fortunately, the constructions sites were removed from the famous wooden temples (there was 3-year reconstruction) and we were able to see them in all their splendor!
There were few people that day and we had an interesting excursion around the island in peace and quiet. Kizhi is a wonderful and very atmospheric place, and if you have not been there, then put yourself a priority for visiting!
Day nine. Petrozavodsk - Vytegra
It was a long day with a long road of 400 km. From Petrozavodsk we left on the Kola highway, drove to Lodeynoye Polye and turned towards Vytegra, on the way we drove to the Svirsky Monastery - a small but very well-groomed and cozy. From there to Vytegra we began a segment of the gravel road, with pits and sometimes sand. But this only added to our impressions, although we all came dusted from head to toe.
In Vytegra we stayed in an excellent hotel made from a real lighthouse. Great dinner on the veranda in conversations about life, about the road, about traveling and much more. Excellent day!
Day ten. Vytegra rest day
This day was a non-riding day. We rested from the road and visited two of the most interesting places in this small city - the Submarine Museum and water gateways.
The museum is very impressive - it was made in a real diesel-electric submarine, which was removed from combat duty only in 2005 and, instead of being cut into metal, was transported to Vytegra. In it you can see how it is arranged from the inside, in what conditions submariners serve and there is a lot of information on the stands of the submarine fleet of Russia and the Soviet Union in general. An amazing place that made a lasting impression on us all.
And the Volga-Baltic waterway also passes through Vytegra, and at the junction of Lake Onega and the Vytegra river, locks have been built through which many different vessels pass. We were lucky and we just got at the time of the lock and the passage of a large gas carrier. I was very struck by how such a colossus of jewelry passes in such a narrow space where the distance from the vessel to the walls of the airlock is not more than one meter.
We spent the rest of the day relaxing in the rooms/bar, and in the evening,  we opened a bottle of wine at the lighthouse, from which a beautiful view of the sunset opened.
Day eleven. Vytegra – Vologda
Leaving Vytegra we went along an excellent road towards Vologda and on the way visited the Ferapontovsky Monastery, which contains frescoes of Dionysius, one of the greatest Russian icon painters. In Vologda, checking into a wonderful Hotel Library, Artyom and Roberto went to a meeting dedicated with local historians and journalists, and I took Lee and Ben to a massage salon, as they needed some rest after long riding day.
This day was very special because Roberto grandfather came from Vologda. He was a merchant and had big family, doing good until the revolution of 1917 year when communists came to power. In 1918 with his family he went to Poland, and in 1938 mover from Nazi to Brazil. But Roberto's grandfather always considered himself a Russian and missed his homeland.
And so Roberto returned to the land of his ancestors and Artyom managed to get in touch with local historians who know the history of this family and organize a meeting within the city library, where even about 20 books belonging to their family were preserved. Roberto was shown the places where the houses of his ancestors stood, the college built by their family and the station from which they had to flee first to Moscow, and then through Bessarabia to Poland.
Local journalists interviewed him and this was a very important moment for our friend, who practically flew to Russia for the sake of it. And it was a great honor for us to help him in this mission and to assist in the search for information.
We met all together at dinner, where Roberto told us how everything went.
Day twelve. Vologda - Yaroslavl
In our tours we try to avoid large federal highways whenever possible, and today we did it again. Having left Vologda, we turned onto a local road, which, although it was full of broken asphalt, was completely deserted, picturesque and passed by the small village of Kukoboi, in which there is a small a masterpiece of Russian architecture of the early 20th century, the Cathedral of the Savior of the Holy Face.
Very beautiful church, unfortunately in a somewhat abandoned state. In Rybinsk, we had a wonderful lunch and were already in the evening in Yaroslavl, where we had an interesting tour over the city center with local guide. Dinner was held in an interesting restaurant, made in the old Russian style, and then we sat for a long time in the hotel bar, sharing our impressions of our trip.
Day thirteen. Yaroslavl - Moscow
It was the final riding day of the tour and still it was full of impressions. Our first stop was Uglich - the city in which Dmitry Tsesarevich was killed and this place and event radically changed the historical course of events. And as Roberto said - without this place, his knowledge and impressions of the history of Russia, which he acquired on our trip, would be incomplete.
After Uglich, we arrived in Kalyazin, where in addition to the famous bell tower standing on a small island, another interesting place was waiting for us. This is the bike center of the Tver region, built by the local branch of the Night Wolves motorcycle club. The place is very authentic and with very friendly hosts. Here we had lunch, visited a small museum of retro motorbikes, drove Lee in the Urals with a stroller and just talked sincerely!
Our guests were very impressed with this place and this was a great end to our cultural and educational program. And then we returned to Moscow and we had a farewell dinner, at which we raised some toasts for our excellent journey, for our country, for each other and for new meetings!
Summary
During this tour our group became very close, we became true friends and one family!
I hope that Roberto, Lee and Ben will return to Russia again, because our country is so huge, it has so much more interesting to see, experience, explore. For example, Best of Siberia: Alta y Mountains Tour - one of the cleanest and most beautiful regions of Russia. Or the Trans-Siberian Route - 10,000 km through all Russia to the Far East. And in the Caucasus and Crimea there are so many things to admire.
Roberto, Lee, Benn – if you are reading this, thank you for coming. It was great pleasure to spend this time with you. For those who still hesitate either to Ride Russia or not please read Benn feedback here - https://www.rusmototravel.com/node/775