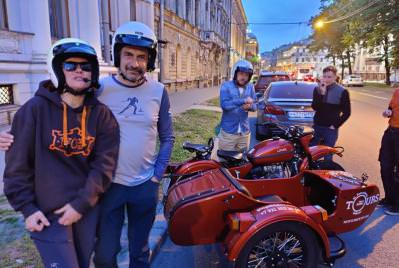 In June 2021 we did Best of Russia: Moscow – Saint-Petersburg – Karelia – Golden Ring tour. We had group of 6 local riders and decided to slightly change tour program, instead of several days in Saint-Petersburg go from Karelia further to the North, to the White Sea, and visit famous Solovetsky Monastery. Small 2 days detour.
If our Altai or Dagestan motorcycle tours are more about nature, mountains, serpentine roads, Best of Russia: Moscow-St.-Petersburg-Karelia-Golden Ring tour is more about culture and history, strong-minded people who have inhabited the northern lands of Russia since ancient times, built monasteries and temples, fortresses and outposts.
From Moscow, via Seliger-Valdai, Nilova Pustyn (monastery on the island), Valday Eco Club and Novgorod, we went to St. Petersburg. Here Anton and Dima joined us for dinner.
We spent one day in St. Petersburg, Anton has an Ural bike with sidecar and he made for us small city tour on the bike. We had a boat trip along the Neva Riva, saw Hermitage, visited Kronstadt, St. Isaac's Cathedral, Kazansky Cathedral, Palace Square, Nevsky Prospect and other significant places.
Although almost everyone had been in St. Petersburg before, it is beautiful place, and it is a pleasure to come here again.
Next day we went to Karelia, to Sortavala village and Ruskeala Mountain Park, then through Petrozavodsk to Kem and further to Solovetsky Islands. Here is a different nature, white nights, northern landscapes, the White Sea and the Solovetsky Islands Archipelago, on the largest of which is the famous Solovetsky Monastery. This place has long history, when you join us for that tour we will tell you about it.
Our old friend Yuri, who lives on Solovetsky Island, gave us a tour around Solovki on his UAZ car. After day in the White Sea, we returned to the mainland and started our ride back to Moscow. Another 3-4 days of small towns and villages, cities and ancient places of interest.
We visited Vytegra and Vologda, Belomorkanal and a museum in a submarine, Kirillo-Belozersky monastery and many other places.
When we sorted photos from this trip recently many warm feelings came to us, as it was a great ride. Thanks to all the participants and we hope you will join us for that tour in the future as well. Meanwhile see the photos below.