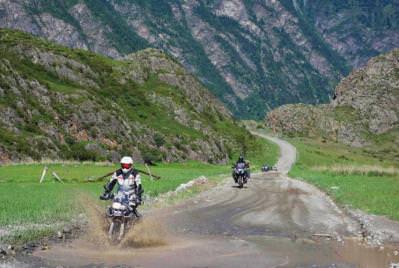 Best of Siberia – Altay Mountains and Chuya Highway Ride Report, July 2019 Tour
In July 2019 we hosted our second Best of Siberia, Altay Mountains tour (you can read report about first tour here)
This time we had big international Russian-German group of 8 riders, 3 from Germany and 5 from Russia + 2 our guides + passengers, 12 people in total, 9 bikes and 1 support car with trailer.
In the past report about Altay Tour our guides Mike did great job describing all activities on daily basis, so we don't want to repeat it again. Instead we will remind you of key highlights and will share amazing photos. Just look at these pictures, landscapes, faces and emotions, looks incredible, doesn't it?
And here are some interesting facts about these ride
Altay Mountains area is included in the UNESCOS world heritage places, not one peak/spot, but all region. It is known as the Golden Mountains of Altay

In Russia it's the best place for motorcycle touring – there are perfect paved roads, good gravel roads, no cars, breathtaking views, tasty local food, interesting local music and culture, hotels and restaurants, no people, no tourists

During the tour we cross by ferry Teletskoe Lake, small brother of Lake Baikal. It takes 7-8 hours by ferry to cross it and there are amazing views all around

You will pass through the Chulishman Valley, one of the most beautiful passes in the world

Chuya highway, road that we use during some days, is one of the TOP-10 roads in the world for mototuring

This region is worth visiting not only because of breathtaking views and nature, but also for numerous culture/historical places of interest. Here were found the very first traces of ancient people, mammoths, local people still believe in shamans and you will see them during the tour. Locals cuisine, local vocal songs and many other exciting experiences are waiting for you

Nature and magic of this region will make you fall in love with it, we promise
One of the best things about Altay tour is that its available for everyone, its difficulty is somewhere between easy and medium. Of 2000 km total distance approx. 15-20% are gravel roads, but these are easy roads that can be passed by all riders, even with passengers. In case of rainy weather and slippery road we have a support car that can take passengers.
Please have a look at photos below and send us simple text e-mail I want Ride Altay at info@rusmototravel.com to join us in 2020 or 2021. We promise you will enjoy this ride and will be excited to explore more of Russia after it.
p.s.: there are international flights to Novosibirsk airport from Germany, city where tour starts and finishes. Also, there are connecting flights from Moscow (4 hours) every day, 400 Euro return tickets, and there are Trans-Siberian Trains (2 days) every day, 200 Euro. Its not very easy to get to Siberia, but definitely not difficult