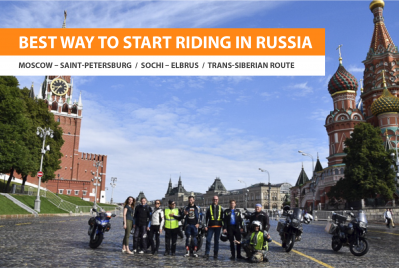 Zdravstvyi dear adventure rider!
Russia is the largest country in the world with more than a thousand years of history, unique culture and a huge number of attractions. During the USSR times it was closed, but times have changed and today you can visit Russia with tourist visa and drive it from West to East or in any other direction, visiting Red Square, Hermitage, Siberia, Lake Baikal, Elbrus Mountain and many other sights.
Today we would like to introduce you Top-3 tours that are best for first ride in Russia. Why first ride? Is there going to be second, third ride? Well, we think that you need at least two months of non-stop riding to see all interesting places in Russia. Because not everybody can afford such long vacations we advise to make several tours to Russia to see different regions and places.
Let's move to listed below tours and you will understand why we think so.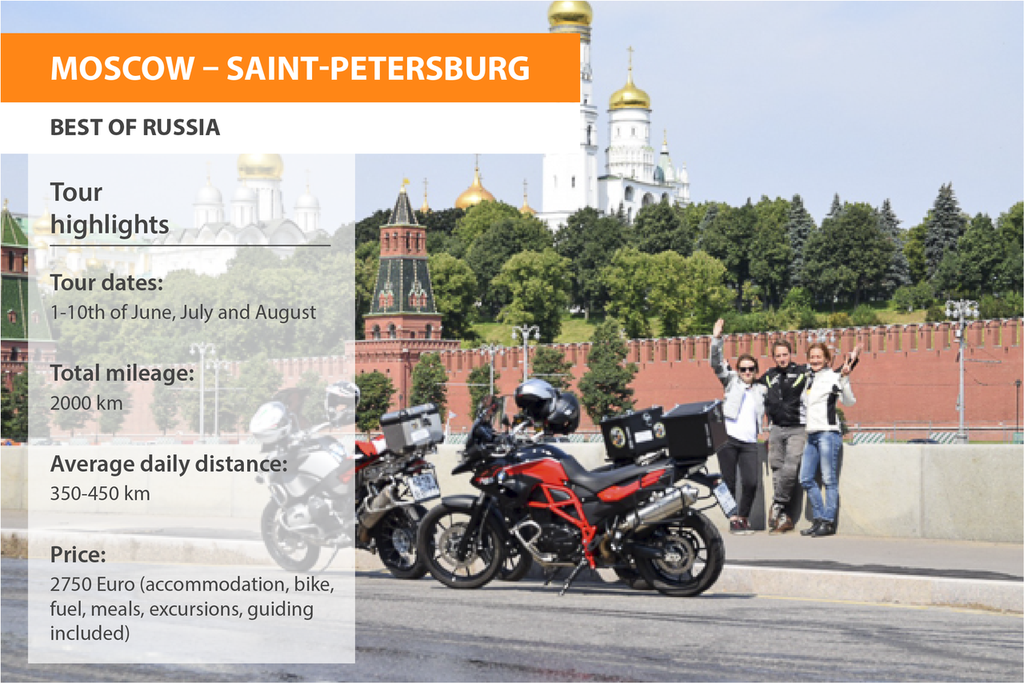 Ideal tour for the first visit to Russia – you will see both Russia capitals, beautiful Moscow with the Red Square and Kremlin and fascinating Saint-Petersburg with Peterhof and Hermitage. In both cities we have city tours with local guides. During riding days, you will pass through many interesting places full of historical monuments, try authentic Russian cuisine, relax in the Russian bath and look at the everyday life of ordinary people in small towns and villages.
Key tour highlights: Red Square, Saint-Basils Cathedral, Moscow Metro, vodka museum, Hermitage, Peterhof, Russian banya (steam sauna)
This tour is more about history, culture, architecture, there will be many excursions and stops in interesting places. Its fully asphalted and perfect for riders with pillions/passengers.
Photo Reports from Previous Tours: One, Two, Three, Four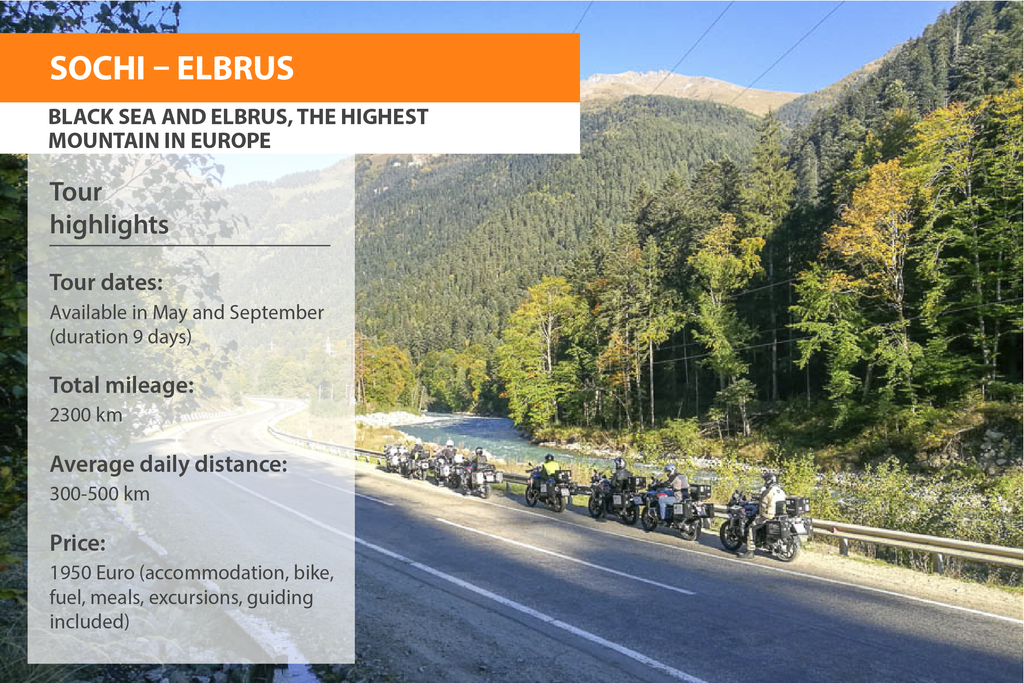 There will be less excursions comparing to Moscow - Saint-Petersburg tour, but more nature, serpentines and mountains with breathtaking views. This tour is more demanding in terms of riding skills, there will be several 10-15 km of gravel segments and many turns, so at least intermediate riding skills are required. Its possible to ride with pillion.
Key tour highlights: Sochi, Black Sea, Elbrus, serpentine roads, Caucasus cuisine (lamb, vegetables, red wine, mineral springs), incredible hospitality
Tour starts/ends in Sochi, the capital of the Winter Olympic Games 2014. Today it's a big resort city located on the shores of the Black Sea with marines, hotels and beaches. From Sochi we go with plenty of stops to Elbrus, the highest mountain in Europe, its 5642 meters and we will stay in the hotel at 2300 meters. By cabin we will go up to 4000-4500 meters to see Stunning panoramas of mountains.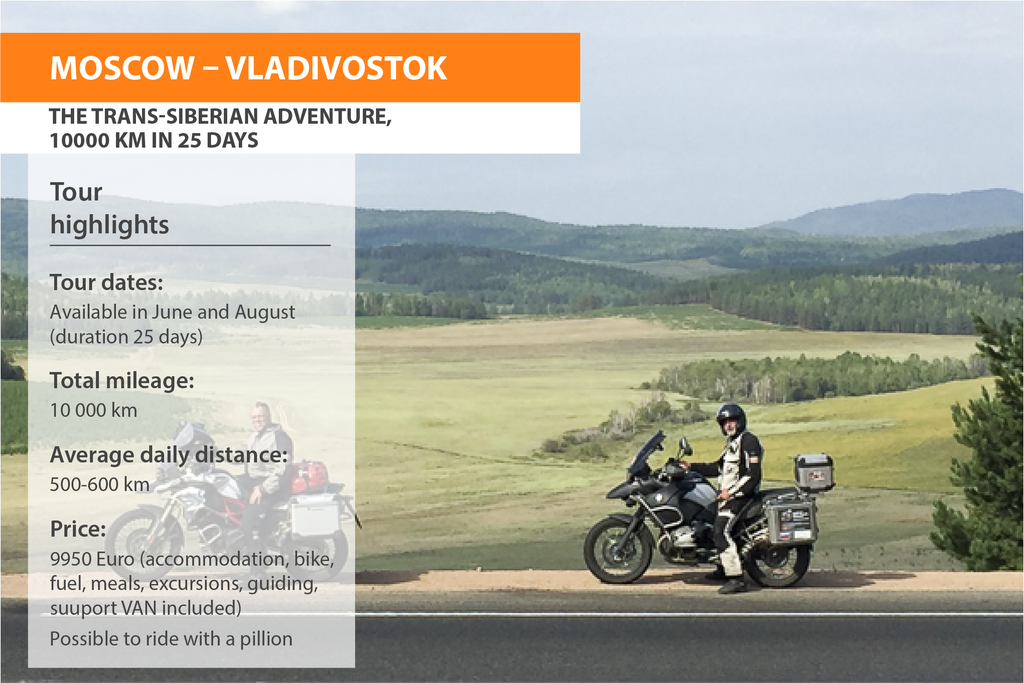 This tour is real adventure. Pure riding tour, still with many stops in different places of interest along the way. We will cross all Russia from West to East, 10 000 km, 25 regions, 4 religions, 20 nationalities and 7 time zones in 25 days. You will see Red Square, Siberia, Lake Baikal, Ural Mountains, Far East.
Our route, the legendary Trans-Siberian Road, one of the longest in the world. We start in Moscow, the capital of Russia, where we will see Kremlin and Red Square, and then we go to the East. After the Ural Mountains we will enter Asia and Siberia, the immense land of forests, steppes, rivers, lakes and mountains, stretching for many thousands of kilometers.
You will see Lake Baikal - the largest freshwater lake in the world, wash your hands in the Pacific Ocean at the foot of the Tokarev lighthouse in Vladivostok, take a ride on a real Soviet locomotive and hear the roar of falling water at the second largest hydroelectric station in Krasnoyarsk. Moscow-Vladivostok is not an easy walk, but a real adventure, in which you will see true Russia, starting from the gloss of modern Moscow and ending with the harsh Siberian backwater living almost, as well as 100 years ago.
Key tour highlights: Siberia, Lake Baikal, Red Square, Far East, 10 000 km ride
You must have good riding skills and at least basic off-road training. Although its 90% asphalted route there will be several 20-40 km segments of gravel roads (upon request we can add more). One more important thing - you need to be in good physical and mental shape. Such long ride is a challenge, a kind of motorcycle marathon and you must be ready for it.
This tour is challenging, requires stamina and experience, but for sure doing Trans-Siberian Route will become one of the brightest memories in your life.