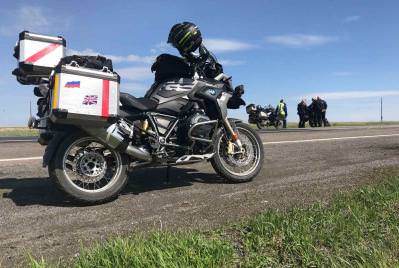 Few weeks ago, we finished our first Trans-Siberian (Moscow-Vladivostok) Tour in 2018. Group of 10 bikes left Moscow in the end of May, 9 bikes successfully reached Vladivostok. Why 9, but not 10? One of the riders fell ill in the middle of the way in Siberia after several days of cold weather with +6-8 in the morning and +10-12 during the day and decided to continue ride by train to avoid more serious illness. We shipped his bike directly to Vladivostok and helped him with the train tickets to Baikal and Vladivostok for the same days as we arrived at these places, so we always met all together. And in Vladivostok we finished also all together.
But let's talk about everything in order.
Our group consisted of 8 riders + 2 guides on motorcycles. There was no support VAN, we carried all luggage on the bikes.
Average age of group was around 65-70 years. We had people from USA, Canada, UK, Germany and Netherlands. Approx. half came with their own bikes (it's also possible), arriving by the beginning of the tour to Moscow. After Vladivostok they shipped their bikes back to Moscow by train (8-14 days) and some returned with the same train as well. Some decided to go back home by plane and return to Russia to pick up bikes after FIFA.
We left Moscow on the 23rd of May, making a stop at Red Square to make photo. Ahead of us was a 10 000 km journey through Ural Mountains, Siberia, Lake Baikal and Far East.  
How was the ride? Here is the quote from one of our clients and dear friend: «You asked for highlights? Well, the whole tour has been my highlight, I enjoyed every minute of it. Memorable moments were the gravel roads which I really enjoyed, the beautiful and stunning scenery we passed through and the interesting and varied villages and cities of Russia that we experienced»
Approximately same way said others. It was especially pleasant to get good feedback from demanding German riders, which said they want their children do the same tour next year with us and that they will recommend this tour to their friends.
During the tour we had few hours of rains, several times we were stopped by police, but every time after police saw there are foreign riders in the group and we accompany they we were let go without any problems. Approx. five days in Siberia we were riding under the cold cyclone that was moving just above us. These days were cloudy weather with rare sun and several times there was short rain. During these days one of riders get ill and decided to continue his trip by train. In general, we were lucky with the weather. Except these 5 days riding under the cyclone with +8-14 temperature all other days were warm and comfortable.
On the road there were several breakages, but they were quickly solved. Once we had a broken wheel at Ducati, that was fixed at local service station for 2 hours. There was fall in the turn of one of the bikes, some fiber was broken and luggage support system damaged, we fixed some at place, the rest when we reached Vladivostok/Moscow. With one more bike we had a broken luggage support system, welding at the nearest bus station helped with this. As a result, despite some adventures all bikes reached Vladivostok.
This year we run two more Trans-Siberian Tours. Right now group is on the road from Vladivostok to Moscow, guys will finish at Red Square in 8-10 days. In the end of July there would be third tour and that's all for this year.
What we think about Moscow-Vladivostok ride?
From our point of view, it's the best ride you can have in Russia. It is long and expensive adventure, but its real. What we mean by saying real is that you will travel with secondary roads with hundreds of small stops at various non-touristic places, looking how local people live in Russia, how different regions in Russia look like, how food, culture, traditions, people, nature, landscape, changes from one region to another.
Moscow, Saint-Petersburg, Golden Ring are big cities, very beautiful, but 100% touristic, with many hotels, restaurants, café, traffic and people. Thousands of tourists' everyday visit Kremlin of Hermitage. In the Trans-Siberian tour you will see real Mother Russia. You will see more than 20 regions, untouched nature of Lake Baikal, vast territories of Siberia and Asian part of the continent, including Far East.
Registration for 2019 tours already open. We see growing interest for Trans-Siberian Tours and in 2019 we will do 5  tours. From Moscow to Vladivostok on the 1st of June, 1st of July and 1st of August. Return tours Vladivostok-Moscow on the 1st of July and 1st of August. Groups 5-8 people
If you travel with our bikes we offer F700GS, F800GS and R1200GS for rent. You can book place in the tour right now by this link – https://rusmototravel.com/tours/moscow-vladivostok-trans-siberian-tour-motorcycles-10000-km-once-lifetime-adventure
Travel with us and explore Russia in safe, comfortable and exciting way. You will see Russia in the way you will hardly be able to do yourself.
Thank you for your attention and hope to see you soon.
Yours Rusmototravel Team!