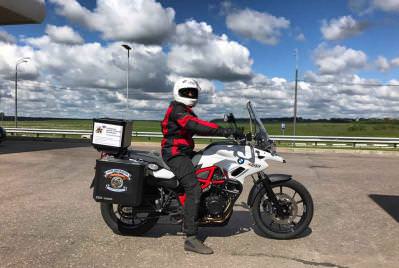 We regularly receive questions how to ship bike to Russia. And what options there are to ship bike from Russia to Europe and other countries. Today we will try to give you exhaustive answers to all this questions. Please be aware that rules and laws change so written here may be not accurate in a few year and even months, but at the current moment its practical information. Anyway if you will have any more questions please don't hesitate to contact us, info@rusmototravel.com or by phone +7 495 664 58 46 (phone calls) and +7 903 621 11 86 (Alex private, whats up, skype, facebook messenger, etc).
So lets starts, here are the main topics we cover today:
Entering Russia with your bike – crossing the border
Shipping bike to Moscow
Leaving your bike in Russia for temporary storage
Shipping your bike back from Moscow to Europe
Shipping your bike back from Siberia to Europe
Shipping your bike back from Vladivostok to Europe
Doing the Round the World Tour, shipping your bike from Vladivostok to South Korea/Japan, Canada or Australia
1. Entering Russia with your own bike - crossing the border
There are many border crossing points to enter Russia, you can ride through Finland, Estonia, Latvia, Belarus, Ukraine, Georgia, Kazakhstan. If you enter Russia from Europe Finland, Estonia and Latvia are the preferred options. To cross the border you need: 1) Driving licence 2) Passport with visa 3) Documents for the bike (technical passport or other prove that you are the owner) 4) Insurance
Is it necessary to make international driving license or you can use local Italia, German, USA, Canada driving licence? If its in English and its clear that you have permission to ride a motorcycle that you don't need something else, ride with your local driving licence. But if its in Arabian, Japanese or other languages when its not clear what is written in it, make translation into English at least. 
Where can I buy insurance? What insurance it should be? Can I buy insurance in Russia? To begin with you need European Green Card Insurance, here you can read what it means. Best solution is to buy it at your home country, but sometimes its difficult to find local insurance company (for example in UK or in Japan) that can sell you it. Situation differs from country to country, so there is no universal solution. Ask your local insurance company if it sells such insurances. If you cant buy insurance at home don't panic, at the border there are usually special kiosks where people sell such insurance policies. Last, but not least, at the border nobody will check insurance as a rule. 
In Russia, for example in Moscow, if it so happened that you passed the border without insurance, its possible to buy local insurance, but its very complicated, because not all companies do this and you will need to translate your documents into Russian with the attorney. It takes time and money. Buying insurance at home or at the border is much cheaper and easier.
When you cross the border you will need to fill to papers - migration card and declaration form. Both blanks are in Russian/English, so you can understand what is written. Both are free. First one is for migration service, that you have visa and there you mostly enter your passport details. Second one is for importing your bike. After officer will stamp your documents he will give you copies of it - store it in safe place with passport because you will need this papers when you leave Russia. Also in the hotels this papers are required.
2. Shipping bike to Moscow
Bad news first. You can't ship bike to Russia by truck/train. There is a law in Russia that owner must be at the border, so you can't just load it and fly by plane to Moscow. Good news that you can sent it by ferry to Vladivostok (approx 2 months and 2000 EUR from Rotterdam or Hamburg). Also you can send bike by plane to Moscow and in any other city. With plane its fast, but expensive, 3000-5000 EUR. We have never shipped bike by plane to/from Moscow, only from Vladivostok to Canada.  
3. Leaving your bike in Russia for temporary storage
You can leave your bike in Russia for as long as 12 months. For first 6 months nothing special is required, for longer period it is suggested to make temporary registration with local police department. From our experience nobody asks for this at the border if you leave Russia within 365 days from arrival.
4. Shipping your bike from Moscow back to Europe
Only by plane or you can ride it on your own. No truck and trains are available. If you came with a bike to Russia you must leave with a bike being at the border personally.
5. Shipping your bike from Siberia back to Europe
If you decided to finish your trip somewhere in Siberia, for example in Novosibirsk or at lake Baikal, there are two ways how you can return home. Best solution is to put bikes on the cargo train to Moscow and take ticket for passenger train and ride to Moscow over the Trans-Siberian Road. From Novosibirsk its just 2-3 days. From Baikal 3-4 days. Price for bike is around 400 EUR, passenger ticket for train is around 300 EUR, depends on the class of the seat. 
If you don't like trains you can fly to Moscow by plane and wait for bike there. Ticket price will be 200-400 EUR. And bike will be shipped by train. Also there are truck shipping companies, price is the same as with train, may be a bit more expensive, but we actually never use such way as train cheaper and more reliable. In Moscow you pick up bike and go back home
6. Shipping your bike from Vladivostok back to Europe
From Vladivostok we suggest the following ways to return home.
First of all both, you and your bike, can return to Moscow by train. It takes 8 days for passenger Trans-Siberian Train to reach Moscow (300-400 EUR ticket) and 8 days for speed cargo train (approx 700 Euro) and 12-14 days for regular cargo train to return your bike (450-500 EUR). In Moscow you meet with your bike and return home through Scandinavia countries, Baltic States or other ways.
Second option, after reaching Vladivostok next day you can send bike by train to Moscow. As for you enjoy 2-3 days in Vladivostok, as an option take a plane to Kamchatka (around 100 EUR to ways ticket), and after that return to Moscow by plane. Several days in Vladivostok + Kamchatka 2-3 days (optionally) + one day 8 hour flight to Moscow and you will come back just few days before the bike arrives. Enjoy this time in the capital of Russia, have some days for rest after long Moscow-Vladivostok trip and just relax. After you pick up bike head back home. 
Third option, you can ship your bike to Europe by ferry. It takes 2 months and costs 1500-2000 EUR. Ferry arrives at Rotterdam or Hamburg. If there are other bikes its cheaper for the group (1300-1500 EUR per bike). In the end of summer in Vladivostok there are usually many motorcycle dropped from travelers all around the world and there is high probability you can have a shared container and cheaper price, around 1250 EUR. Your contact person for ferry is Yuri Melnikov, we can give his contacts upon request. Or you can find him in the internet on your own. And you return home by plane in this scenario
7. Doing the Round the World Tour, shipping your bike from Vladivostok to South Korea/Japan, Canada, Australia
If Vladivostok is not the end of the journey, but just a place where you have a break before your ride goes on, here are advice for shipping your bike to South Korea, Japan and Canada. With first two countries its easy - there is a ferry, here are details, that can take your bike there. 3-5 days and around 750-1000 EUR for bike + your ticket.
With Canada there are two options - you can ship bike by ferry, it takes 1-1,5 months and costs 1650-2000 EUR. Or by plane through South Korea. Price will be 1250 EUR for shipping to Korea and custom documents preparations. After its 3000-4000 EUR for plane to Canada. If you dont plan to make a long break in your trip its only plane suitable.
There is also a ferry to Australia. In a shared container 1250 EUR and 2000-2200 EUR as a single slot. AS usual 1,5-2 months duration.
We hope that information above will be useful to you. Please don't hesitate to contact us if you have any further questions, we'll be glad to assist you. And don't forget that in many situations its easier to rent a bike with us. Looking forward to see you in Russia!