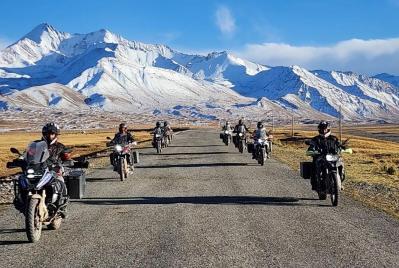 Hi Folks,
It's been a while since we last connected with you. Every year, we make a resolution not to miss out on sending newsletters during our riding season. However, every year, we find ourselves unable to follow through on this promise.

When there are several tours taking places same time, in various locations, and even different countries, there is so much to do with organization: accommodations, logistics, bike maintenance, customer service, flights, excursions, and more. Consequently, finding the time to focus on newsletters can be a challenge.

From a marketing perspective, this isn't ideal. We should aim to create daily social media posts, send out newsletters, craft engaging stories, and consistently engage in these promotional activities. But as a small family/friends-run business, we believe in the significance of marketing, but we prioritize providing exceptional service to our current tour participants who are on the road. Our primary focus is dedicating 110% of our efforts to ensure the success of the tours that have already been sold and are currently running.
With winter approaching, we temporarily park our bikes, and our guides take well-deserved vacations. This is the perfect opportunity for us to finally concentrate on writing newsletters. In the upcoming months, we commit to sending them out on a monthly basis, and we hope to continue doing so until April-May when the new riding season kicks into high gear.
Here is OCTOBER 2023 NEWSLETTER - enjoy reading!