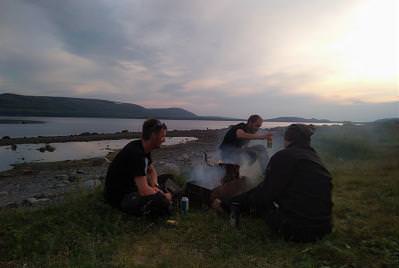 In early July 2021 we organized an expedition from Moscow to the Kola Peninsula, to Rybachy. The Russian North is beautiful and harsh, we always liked it, and weку planning to do a tour here for a long time. But in past years something did not work out every time, we did Trans-Siberian Tours, launched tours to Magadan, were busy with custom tours. The weather is good here only a month and a half a year, and we were always busy these summertime.
But at the beginning of July 2021 everything worked out and 5-6 motorcycles, support vehicle and trailer left Moscow. Through Vologda, Vytegra and Karelia, we went to the North, to Murmansk, to the Arctic Ocean.
The road there took 4-5 days, and here we are in Murmansk. We have one day of rest, packing for the road, buying food, water, gasoline, checking motorcycles, rechecking spare parts and tools, and for the next 4 days we leave for Rybachiy in relatively autonomous conditions.
We live all days in the hotel on the island, but the conditions are simple and there is nothing on Rybachy itself, no shops, no petrol stations, limiter mobile coverage and no internet, so everything must be taken from the mainland.
It makes no sense to say what happened next, see the photos, beautiful pictures from the drone, a little from the evening gatherings around the fire, from fishing in the ocean, from riding.
We have not yet decided whether we will do Kola / Rybachy in 2022, probably yes, but we will say for sure a little later.
Stay healthy and see you soon!