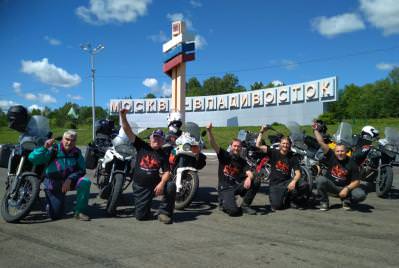 There were six riders in the group, from Australia, Germany and Russia. Despite fact that one of the Russian riders didn't know English and our guests from other countries didn't speak Russian language that wasn't a problem, and everybody understood each other and became friends in the end.
But lest give a word to one of our guides. Below are his impressions from the ride and plenty of photos.
In great company we did Vladivostok-Moscow tour. Out team was extremely diverse: famous explorer of Antarctic, veteran of the Chechen war, an eyewitness of the second world, a welder of the highest category — everyone had plenty of stories to share.
Rick from Australia spent five years in Antarctica, he was the first to dive there under the ice. There is even a mountain named in his honor. His son Warwick is a welder, he can do everything, we did not use his skills, although. Sergey, a serious businessman who made himself from scratch, has interests all over Russia. Austrian Manfred is 76 years old and he rides better than he walks, he has a chic forty-year old leather suit and the same Sidi boots.
At the beginning the weather did not spoil us. Wet Vladivostok didn't show us its new bridge, but he had interesting walk to the forts and ate a huge crab, even two. From Vladivostok to the Chinese border we drove wet all the time, but then the clouds swam away, and it became very hot.
In this heat, on the perfect road without cars and with good asphalt unfortunately Manfred slightly did not fit into the turn, hooked on the guardrail and fell. Having stopped passing the car, we took him to the nearest local hospital where he was examined. Fracture of the ribs, unfortunately, closed the opportunity to go further. We evacuated him home to Austria and are waiting again next year, judging by the news that we received just a few days ago, he is still going to come again. Great news!!!
Wherever possible, we tried to go by secondary roads to avoid direct and boring highways with car and trucks. Another advantage of riding secondary roads is that you can have unusual meetings with local people there. For example, in one of the settlements we met a nice girl in a short white dress, which, it seems, waited a long time for her to ride on a motorcycle. We made her dream come true)) And there were many such situations.
During the tour we used BMW F700GS and F800GS. There were no breakdowns, no any problems with the bikes. Personally, I liked the ride on the F700GS most. On road repairs and in turns riding light motorcycle is more comfortable as for me.
Many travelers get to Baikal only and after return home without going further. This is a big mistake! Far East region (Zabaikalsky Region and Primorie) are a must visit places. They are just astonishing. And you truly understand why the Far East is called Far when you see hundreds of miles of absolute emptiness. These areas are even more rarely populated than Siberia. The road itself is good, just be aware of road works and slow down when you pass them. On some sections of the road there is nothing to see around, but such segments are good for meditation, self-awareness, for choosing the path for the future.
A whole month of continuous travel through time zones and hundreds of places, roads, people. Fatigue accumulates, memory is dulled, does not have time to spread out all over the shelves. So long and dense journey that near the end it is necessary to consider the photos of the first days to recall the details.
The mixed Russian-English company was better than my expectations. The language barrier did not become a problem. And in just one month we became friends and received impressions for the whole life.
Next year I am going to do Trans-Siberian Tour once again, most probably in June, and I am already looking forward to that journey. Moscow-Vladivostok, or reverse tour Vladivostok-Moscow, is truly a lifetime experience, journey that will change you and bring you new friends, emotions, memoirs.
See you in Russia.
Truly yours
Roman