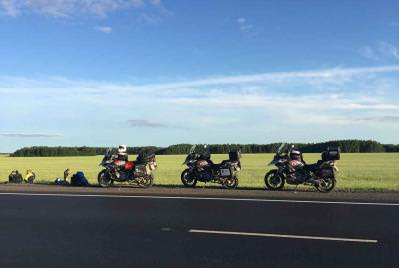 Like all previous tours this was a great ride. And it is exactly different from everything that was before. What can be so new, when you go the same way for the fourth or fifth time, you ask?
Well, firstly, people - people this is the main thing that makes each tour never a recurring adventure. This time we had a completely Russian band and it was cool. Fantastic guys, with whom it was very interesting and enjoyable on the road. Excellent pilots, interesting interlocutors, good friends. We really hope they will come back to us again to go for Magadan, Altai or other destinations next time. We live in a very large and beautiful country and we have a lot of things to see here.
Secondly - it was the fastest Transsib of all that we did. Express Transsib, we called this tour in our calendar. 10 thousand km for 12 days + 2 days of rest in Kemerovo and at Lake Baikal. We crossed 1000, 1100, 1150 km in the first days, from 5-6 am in the morning and until 10-11 pm in the night. Then, after Baikal, the rate decreased and we traveled on 650-800 km on average. You can ask, was it difficult, is it possible? Yes, its was difficult to ride in such temp, but is possible. Of course, what we did is a kind of marathon, not exactly the format of tours we usually do, but we got such request from that group of friends, that they have only two weeks and they must do that tour, no other options. And we did it.
Thirdly - it was the rainiest and coldest Transsib of all that I had. The end of July and the beginning of August, warmest time actually, but the weather in Siberia is unpredictable. It's good that we told everyone beforehand to take warm clothes. Rain was a lot, 15-18 degrees was the temperature for half the tour. But how many beautiful views and stunning scenery, when the haze after the rain enveloped the mountains and hills in Chita and Primorye, sunsets in the Amur after rain, a rainbow in Vladivostok.
Fourth - it was the fastest speed ride Transsib of all that we had. We used to ride 130-150 km/h in many places, especially after Krasnoyarsk, when cars on the roads became less. The new LC R1200GS were well managed, accelerated well, braked and had a good power reserve. Many plots we did not go, we hovered over the road, beautifully laid in turns at this speed. The good turns are quite smooth and the roads are good. Some thought about buying GS after the ride:)
Fifth, in brief
1) For the entire trip we were never stopped by police. We have not seen them at all, only posts at the entrance or exit from a major city or region
2) We drove without breakdowns, although we were carrying parts and tools in reserve, but nothing came in handy
3) The motorcycles were sent back by plane - this, of course, is another quest, but everything turned out
4) There are more and more friends and acquaintances in different cities of our country and this is cool. At that time, we stopped at the Bike post in Mogocha, got acquainted with the guys from M3-Moto in Khabarovsk, we were again helped by guys from Ryder 25 in Vladivostok and a BMW dealer in Krasnoyarsk. If you are reading this post - thank you for everything. With whom it did not happen to meet, well, nothing, it happens, I'll see you next year.
We think that in 2019 we will run five Trans-Siberian tours as we growing demand for this destination. Ride safe, good health and see you in Russia.