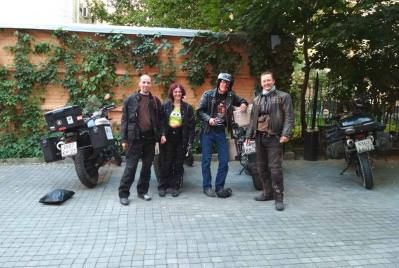 Memories from this year tours. On this photo small group from July Moscow-Saint-Petersburg tour.
Stefano and Roberta from Italy, Dale from USA and Andrey, Yulia and Roman from Russia. Dale is 80 years old true Harley-Davidson rider, it was his first time to ride BMW R1200GS, and first time in Russia for sure. Stefano and Roberta are cool travelers that visited many exotic countries all around the world, some with bikes, other by foot. This year it was time to Explore Russia with motorcycle.
Andrey and Yulia this year started traveling with motorcycle and already did 3-4 tours with us. They know English, very positive and bright people with great sense of humor.
This was remarkable in several ways :
1) In Saint-Petersburg in Hermitage Dale lost his passport. To tell you that he was disappointed means nothing. It was desperately a tough moment. But you know what? Roma with our Saint-Petersburg guide Anton did magic and somehow found it
2) Several gravel segments of 15-20 km was real challenge for all riders as non of them had any off road experience before. It was dry and good road in general, but when you first time ride of gravel its anyway pretty stressful. But everyone did it and enjoyed it
3) Warm and positive atmosphere during the trip. Boys and girls plenty of times tried Russian vodka, beer, local tea and had many cool evening with talks about everything in the world
We hope to see some of the riders next year. Dale has already booked Moscow-Vladivostok Tour in July, Andrey and Yulia want to ride it as well. Well, that's good plan and we would be glad to meet all of them again.