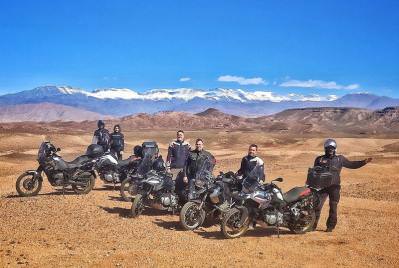 At the end of February and at the beginning of March we did several tours in Morocco, and today we want to share photos from these tours.
First, let's remind you how it works. We fly to Marrakech and rent motorcycles there from our local partners. They have 5-6 Yamaha 660 XTZ, 4-5 BMW (F750GS, F850GS, R1200GS). We also rent support vehicle that carries a spare motorcycle and your luggage.
The whole tour lasts 12 days, 10 days of travel and 2 days of arrival and departure.
In February we had our first group, 7 riders, everything went great. The weather was good, only a couple of days on the passes it was fresh, but mostly there was a comfortable temperature of +15-20 degrees.
Morocco is a beautiful country, very contrasting, here are deserts and the ocean, mountains and passes, old cities, medinas, delicious Moroccan food.
In autumn we will repeat our tours. If you have not been to Morocco yet and want to start traveling the world with us, we invite you to join.
Photos from our first tour are below.