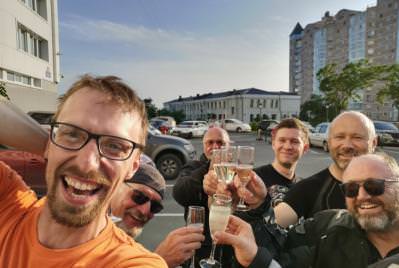 In July 2019 we held our tenth tour over the Trans-Siberian Route and today we want to tell about this ride. For the participants of the tour it will be good memories, for those who are just thinking of doing it useful material for making decision.
So, in early July 2019, the welcomed in Moscow five brave riders: Larry from Canada, Ringo and Joachim from Germany, Jorge from Mexico and Thomas from Greece. There was another rider from USA, but he had a seriously ill child two months before the tour and had to cancel the trip. Thus, our team consisted of five people, plus our guides Vlad and Maxim.
Most of the group selected BMW R1200/1250GS for this ride, but several people booked BMW F750/850GS. Vlad was the leading guide, riding R1200GS, Max, second guide, covered behind on the Mitsubishi L200 with a trailer with an extra motorcycle, spare parts, first aid, tools and other staff. Personal belongings of the participants rode in the car as well.
We had two days before the ride in Moscow, one day everybody arrived, we had tour briefing, signed documents, got bikes and went for a welcome dinner. Second day we had a city tour with a local guide Liza, our guests visited Kremlin, the Red Square, Moscow metro/underground, GUM and several other attractions of the capital.
On the third day we hit the road. Further, the story will go day by day, our guide Vlad recorder everything in his diary to share with you. Below are his writings.
03.07.2019
In the morning we made group photo at the Red Square and left Moscow, riding along the Yegoryevsk highway to detour main federal M-6 highway. Despite extra 50 km it was easier to ride without traffic jams.
We arrived at lunch and at the scheduled time. Driving skills are good with all riders and group goes perfectly, no one is especially behind, nobody rushing. We had lunch in the Kasimovsky courtyard.
Today we stayed for night in Nizhny Novgorod, one of the oldest cities in Russia, a part of the Golden Ring. We walked to the local Kremlin and saw a gorgeous sunset on the bank of the Volga river. Everyone really liked the hotel and restaurant. The mood in the group is excellent. We move on.
04.07.2019
For the second day we are lucky with the weather. Despite rainy forecasts, we have never worn raincoats, although it is watering all around us. We traveled today as much as possible on secondary roads, including the last section through Nurlaty.
The road here, of course, leaves much to be desired, but the views are amazing. We arrived in Kazan at 16.30, thanks to which we had enough time to walk around the center of the city, visiting local Kremlin, enjoying many other city sights.
Kazan is the capital of the Tatar region in Russia, Islam is main religion here, there are mosques in the city, local good is rich with meat and vegetables. Everything is different from Moscow, although its just 800 km away.
Everyone really liked the city and local food in the restaurant Uryuk. Another good day.
05.07.2019
Today we ride to the Udmurtia region. We left Kazan in the morning under the close supervision of speed cameras, there are a lot of them in the city, but as we kept the speed limit there were no fines.
Before lunch all confidently drove a 20 km gravel section after Sosnovka and we safely reached the city of Mozhga, where we had lunch at a pizzeria. We got a little stuck in the traffic jams in Izhevsk, capital of the region, but as we had a margin of time, we managed to get to the Kalashnikov Museum and to the shooting gallery in time.
Local guide did a perfect job, showing us museum and its sights, everything was arranged in advance for us and it was clear she works with the soul, she loves what she does. We were impressed and wanted to leave her some tips for excellent excursion, but she refused to take any money.
We arrived at the hotel at 19:00. We pre-ordered dinner in advance, so we had fast serving. Everyone was delighted with the old style cozy wooden hotel and local Udmurt cuisine. Another region, another culture, another cuisine.
06.07.2019
We decided to leave Izhevsk via the Golyanovsky tract in order to avoid a piece of the federal highway to Votkinsk. It's a very beautiful road, especially section along the Kama River. We visited recreation center Rus for coffee. Closer to dinner, we were caught with the rainy cyclone, but miraculously we did not put on raincoats, the rain was everywhere around us. Good karma.
On the way to the Europe/Asia obelisk, a place where Europe ends and officially Asia part of the continent begins, we almost lost Joachim. He did not notice how the group made a turn in one place and rode straight ahead. I had to stop the group and ride after him. Since he did not manage to leave far it was easy.
In Ekaterinburg, the capital of the Ural region, we had a dinner in the My Friend Olivier restaurant, as always, we were pleased with delicious dishes at the end of the day.
07.07.2019
Today we have a rest day in Ekaterinburg, group had a city tour with local guide Evgeniya. While Max walked with the group, I took Jorge to the hospital because he felt some pain in the knee, he got an injury just few weeks before the tour while doing sport at home. Visit to the hospital showed revealed sprain. We bought an orthosis and prescribed ointment.
08.07.2019
Today we are riding to Tumen, the capital of the Western Siberian, oil city. Fist in the morning we visited Ganina Pit, memorial complex and monastery, build in memories of the Romanov Family. There I told group about the royal family life and the tragic history of their execution by communists. We walked around the complex, bought local kvass (non-alco traditional Russian drink) and gingerbread at the exit.
Then we headed to Irbit, the motherland of the Ural motorcycles, famous bikes with the sidecar. On the way we passed many beautiful villages with excellent views around. In Irbit we had lunch in the local restaurant and after went to the factory with a guided tour, to see how legendary motorcycles with sidecars are assembled today. The group delved into the details of the assembly process with great interest.
After excursion we had two hours test ride on Urals bikes with sidecars around the city. Unfortunately, Jorge and Joachim refused to go at the very last moment, and motorcycle assigned to Ringo broke in the first few minutes. As a result, only Thomas and Larry drove off. They were happy as small children. I think they will remember this experience for a long time)
Further, maneuvering between dark clouds and thunderstorms, we reached Tyumen almost without getting wet. Excellent weather karma continues to accompany us. It pours around, but we come out of the water dry;)
09.07.2019
We left Tyumen early after breakfast, today we must ride 630 km along the federal highway to reach Omsk, industrial capital of Siberia and one of the largest cities in Russia. We used main highway because there is no alternative road in that region. Weather in the morning was cloudy and we decided to wear raincoats in the hotel from the very beginning.
At first coffee stop weather started looking more promising and we took raincoats off. As always happens is such situation in 5 minutes rain started... After lunch in Ishim, the situation repeated…)))
Road for the most part of the day was almost empty and by 18:00 we successfully arrived to the hotel.
10.07.2019
From Omsk we headed to Novosibirsk, the capital of Siberia. We decided to ride the old Syropyatsky tract to avoid highway in the morning. There is broken asphalt, but without large pits, and in the absence of trucks, it is much more interesting to drive. Further to Novosibirsk we drove along the highway with regular stops for refueling and coffee breaks.
Today the weather improved - it's dry and warm, sometimes up to +25. At lunch we met a Chinese traveler heading towards Moscow. Very nice guy with excellent English, which was extremely amazing. He called us to visit him in China and promised to help with crossing the border. We saved his contacts, one day we will ride to China for sure.
11.07.2019
In the morning we stopped at the museum of Russian Railways at the exit from Novosibirsk. Our guests were very interested in the history of the construction of the Trans-Siberian road and were impressed when they saw the equipment, trains and machines, that were used in construction, with their own eyes and were able to touch everything ourselves.
After lunch in the roadside restaurant landscape changed, the Altay foothills appeared with beautiful views. Altay region is one of the best in Russia, empty roads, mountains, lakes and serpentines, local culture and traditions. We don't visit Altay region in the Trans-Siberian Tour, there is not enough time for that, but this place is one of the most beautiful in Russia and we do separate Best of Siberia: Altay Mountains and Chuya Highway tour over there. You can learn more here.
By 17.00 we reached Kemerovo, coal mining center of Siberia. Our hotel was located in the pine forest and we walked around the territory before dinner. Everyone really liked the place - nature in all its splendor, quiet and comfortable. Larry gave everyone t-shirts of his Canadian motorcycle club and we made a group photo, which he sent to his friends.
12.07.2019
In the morning, after a delicious breakfast, we had a great ride from Kemerovo to Mariinsk. In the absence of cars a pleasant road with turns pleased the group very much. In Mariinsk we stopped at a beautiful wooden house for a photo stop. It is a pity that the gift shop nearby was closed, they sell nice souvenirs and local tea there.
After lunch, we turned off the highway towards the Divnogorsk hydroelectric station, where the serpentine road and the views around left a lot of positive emotions. At the hydroelectric station itself, I told the story of the construction and features of the Russian Utilities/Energy sector. We took pictures or the Yenissei River and went towards the hotel. Before dinner we had a small walk around the city.
13.07.2019
Today is the rest day in Krasnoyarsk. In the morning part of the group under the initiative of Larry went to the local dealer of Harley-Davidson, where they bought t-shirts and tried several HD bikes for test ride. After there was a city tour with local guide Asya and in the evening boar cruise along the river.
Same time Max and I drove our motorcycles for maintenance and replacement of tires to local BMW dealer. We did approx. 4 500 km from Moscow and some bikes required service. We changed oil and filters on two R1200GS and one R1250GS, replaced front tires and front pads on the Thomas bike, rear tire on the Ringo bike, added oil and lubricated the chains on F750GS and F850GS.
By the evening all motorcycles were done. and we were ready to continue the journey. For dinner we went all together to the Georgian restaurant, where we had slow service but very tasty meals.
14.07.2019
We left Krasnoyarsk at 7.00 and, it was Sunday, so we quickly left the city. An hour and a half later, we were at Borodinsky, the largest coal mine in Russia. Unfortunately, we couldn't fully appreciate the scale of production due to smog from forest fires in the Irkutsk region. This summer in Siberia weather is very changing, in some regions it's very hot and there are fire forests, meanwhile in other heavy rains that flood villages and towns.
With a couple of stops at gas stations and coffee breaks we reached Taishet, small provincial town on the Trans-Siberian Route, where lives our friend Igor Shalygin. Igor is the owner of the local guest house and he frequently accommodates foreign tourists in his house. As usual Igor met us with all his hospitality and deliciously fed lunch. The German part of the group enjoyed talking with him in their native language.
After lunch heavy rain have started and soon it turned out that most of the group was not ready for such a turn of events, especially Larry. He was riding in an open helmet and dark glasses, which began to fog up, and he couldn't see the road. Replacing dark sunglasses with ordinary didn't change the situation, it was still difficult to see the road because of water.
Luckily Max had his helmet with him, and he gave it to Larry, which, albeit with difficulty, nevertheless climbed Larry head and we continued to move. On the road after Nizhneudinsk, due to flooding in previous weeks, there were many road construction works and several gravel sections. Given the rain and heavy traffic, we drove slowly. In some places the clouds were thickening, the rain intensified, and fog appeared - visibility dropped to 50-100 meters several times.
Despite all the weather conditions everyone managed to do it, although some were soaked to the skin. At a dinner I congratulated everyone on successfully overcoming all the challenges of the day and for the first time in the tour we took a shot of moonshine/home-made vodka.
Tomorrow its rainy forecast for the day, in some places even thunderstorms is forecasted. We plan to ride directly along the highway without any detours and extra stops.
15.07.2019
Today we are going to reach Lake Baikal. It was rainy for the most part of the day and we were just riding with stops for lunch, coffee and petroleum.
We had good lunch in the restaurant Corona in Thelma. In Irkutsk we fell into a real downpour and thunderstorm, which we managed to wait a bit while fueling motorbikes on the petrol station. Still we had to ride through deep puddles, because the city was pretty flooded.
Closer to Baikal, the rain stopped, and we even managed to dry the raincoats a little. Baikal met us in all its splendor, and it was even sunny for some time when we arrived.
After checking in at the guest house with Andrey and Janna we immediately went to the Russian Banya to warm up and relax after a hard day. Ringo, Thomas, and Jorge praised the traditional Russian bath. After we had a delicious dinner with a Baikal Omul (local fish) with homemade potatoes and a salad of fresh vegetables. We drank a little of moonshine/vodka for the arrival once again.
After dinner, everyone immediately went to bed and rest after hard rainy days, no one had any strength left.
16-17.07.2019
Two rest days on the shores of Lake Baikal passed unnoticed. We walked along the lake, local guide Daria showed us Baikal Museum, the observation deck, the Taltsy Museum, we sailed in a boat along the Lake, visited local market.
18.07.2019
Road from Lake Baikal to Ulan-Ude, in my opinion, is one of the best in the entire Trans-Siberian Tour. A winding serpentine road with gorgeous views around, sometimes we saw train-siberian trains riding near, excellent weather - what could be better?
We arrived in Ulan-Ude, the capital of Buryatia region, one of the Buddhist regions in Russia, by 17:00. I decided to bring group to the highest viewpoint of the city, where the Buddhist temple is located and there is excellent views of the city, before we go to the hotel.
Then we checked in and went to the Tengiz restaurant with local cuisine. This region is main gateway to Mongolia, locals (Buryats) are like Mongols and have many things in common, one of them is cuisine. So today we had a traditional dinner with local dishes.  After dinner we visited a concert at the Baikal Urban Festival in the central square. It was organized by local construction company to celebrate its 25th anniversary – not an ordinary way to celebrate birthday. It was cool.
19.07.2019
We left Ulan-Ude early in the morning and it already was +25, during the day temperature usually +32-35 here. Buryatia is one of the warmest regions in Russia. And the roads and the views here are stunning.
Leaving the city we made a stop to take pictures at the Selenga River. Several cars immediately stopped near us and local girls did not miss the opportunity to take pictures with motorcycles and overseas guests. Furthermore, Max came with fresh strawberries that he purchased somewhere on the road.
The bad thing about this region is that locals mostly drink usual granulated coffee, something like Nescafe or Maxwell. Most of our guests like to drink good coffee from fresh beans and prepared in coffee machine and some of them were upset to have no coffee at breaks we did at petrol stations and during lunch.
We arrived in Chita at 18:30 pm local time, safely riding right near thunderstorm, although everything was tightened around, and it was windy. On the road we met a Polish rider living in Norway, who was traveling to Magadan alone on the R1200GS. He joined us that evening for dinner.
Tomorrow it seems that we will have the most difficult day, as the weather forecast is bad. In addition to that we must cover distance of 780 km in the permafrost area heavy rain is forecasted. It seems like nature has prepared for me a gift for by birthday, that will be tomorrow.
20.07.2019
We left Chita in the morning under the rain with disappointing weather forecast for the day. Before lunch it was just rainy, but nothing serious, plus we made many stops at cafes and petrol stations to take rest and warm up with tea or coffee.
But after lunch serious storm came and second half of the day was a thriller – rainfall and 20-25 mm of fallout per hour (that's a lot), strong side wind and a temperature of +12... When we reached cafe near town Mogocha (almost 600 km from Chita), it became clear that almost everyone was wet, especially Jorge – he was trembling and immediately asked if he could stay here for night and that he was ready to sleep wherever, even on the floor, just not to go any further. His Klim Gore-Tex riding gear didn't cope with the Siberian rain.
I ordered everyone hot tea and tried to push positive thinking. We taped visors of our helmets that leaked water with the reinforced adhesive tape. It was still 185 km to ride to the hotel, no places to stop on the road, wild tundra around. I still do not understand how, but we did that 185 km in one breath. Good job boys!!!
In the hotel, correctly to say in the road motel, which is the only available accommodation in this area, we had simple rooms with two beds and with shower in the separate building near. There are twenty rooms in the motel and only two rooms have showers inside, others don't. We had one room with shower and three other rooms without.
The area we are passing these days is located in the permafrost area, paved road was built here only a few years ago, there is still lack of roadside infrastructure, rare cafes and petrol stations, just few motels for 1600 km. But that is part of the experience, part of the ride, part of the Siberia.
When we arrived, we learned from the administrator that there is no hot water, we must wait 30-40 minutes. Another challenge for already tough day. Fortunately, one of our rooms had private bath and there was hot water!!! Jorge and Ringo settled there, and the rest were able to use their shower a little later.
An hour later we met together for dinner in the canteen on the first floor, there is no restaurant here, nowhere to go, wild nature around. It was my birthday today and we celebrated it with the group. Perhaps this is the most unusual and brutal birthday in my life.
Tomorrow is another rainy day, we don't have time to dry our gear, but there is no choice, we have to break through!
21.07.2019
Breakfasts in Erofey Pavlovich Motel are served from 5:30 in the moment, absolute record for Russia. We took breakfast at 6:30 and left hotel at 7:00, everyone wanted to come to Blagoveshchensk, a relatively large city right near the border with China, as soon as possible.
During breakfast we learned from the truck drivers that in 5 km from the hotel road was closed, because of heavy rain at night several meters of asphalt were washed away. Together we went to see what happened there, we hoped with bikes we can detour/ride along the roadside.
But that turned out to be impossible. The depth of the dip was more than 3 meters, and everything was flooded with water. Group returned to the hotel and was slightly depressed, perspective of another night in Erofey Pavlovish Motel in spartan conditions did not add happiness.
Luckily, road services appeared very quickly and in several hours road was repaired and we were able to drive through. Despite continuous rain during all day we safely reached Blagoveshchenk.
In the city we had a good dinner and being tired after long day went to beds right after.
22.07.2019
The next day we had another 700 km to Khabarovsk, one of the most beautiful cities in Russia. One more rainy day.
Today we drove through Birobidzhan, the Jewish district in Russia, it was created in the 30-40th years in the USSR. It's a long story how, when and for what, but nowadays its not flourishing, most of Jews left it in the end of 90th when they were allowed by communist party. We also took pictures with the legendary Stella Moscow-Vladivostok.
Upon arrival in the city we had a dinner in the Italian restaurant with pizza, pasta, wine. Despite the accumulated fatigue, guys were in anticipation of the finish in Vladivostok tomorrow.
We prayed to the local Daurian gods (this area was called Dauria before it became part of Russia in the 17-18th century) to end the rain and to finish in Vladivostok on dry weather.
23.07.2019
It seems our prayers brought results, next day after lunch the sun came out, we took off the raincoats, dried out and at +25 began to enjoy the beautiful road along the hills. Closed to Vladivostok we started smelling taste of the ocean in the air, humidity increased.
By 18:00 p.m. we successfully finished at the Tokarevsky lighthouse in Vladivostok, right on the shore of the Pacific Ocean. After taking a few photos we went to the hotel, which is located in a beautiful place overlooking the ocean.
Here Max was waiting for us, he prudently bought champagne and met us in the hotel parking with glasses. As soon as we parked motorcycles everyone realized that this was the finish, we did it.
Laughter, joy, happiness from the journey. We drank a glass of champagne, hugged and satisfied with ourselves, went to rooms to finally change riding gear to regular casual clothes and go for dinner to the local farm restaurant Ogonek. Guys took steaks for themselves and local beer. We shared with each other impressions from the tour, discussed most exciting moment. There was something to remember.
24.07.2019
Rest day in Vladivostok. Together with Max in the morning I was busy shipping bikes by train back to Moscow. Same times group had a city tour with local guide Valeria. Guys went to Russky Island, Tsesarevich embankment, the central square, the railway station and other places.
In the evening we went to the Zuma restaurant, one of the best in the city with local sea food. It was our last, farewell dinner. There were more toasts and talks about the ride and at some moment we all realized that all the challenges and trials of past week made us more than just a team, we became real friends. And that's precious.
25.07.2019
Vladivostok, departure.
Summary
This tour was one of the best in the season of 2019. We had great team and fantastic ride. Although Siberia has shown its character in the end and tested our guests for strength with rainy weather, we all managed to do it. Good job and good memories from cool group of Germany, Canada, Mexico and Greece riders. Thank you, we hope to see you again one day friends!!!
p.s.: Lessons learned from the ride – good riding gear is important in the Trans-Siberian Route. Don't underestimate possible weather conditions and don't rely too much on waterproof Gore-Tex, doesn't matter if its Klim, BMW Motorrad, Touratech or any other brand. Good raining suite is a must. And good full-face helmet.
Want to ride Moscow-Vladivostok tour – learn more about the itinerary, price, what is included here.