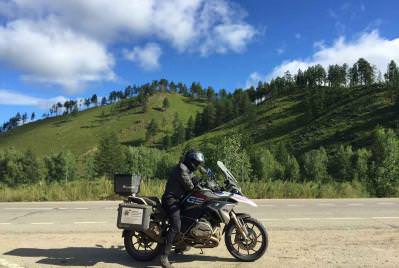 This is last part of the series of posts regarding Siberia. Today we share with you our experience how to prepare yourself and your bike and ride safe. We hope you will enjoy reading.
Preparing yourself and your bike
A trip through Siberia is a challenge for both the pilot and the motorcycle. Your bike must be served and prepared for such ride. Obviously, you must have good riding gear, but these are all common things that are clear to everyone. Let's look at the details.
Serving bike in Siberia
Be ready that in Siberia there are not many motorcycle dealers, shops and service stations. Well, there are many of them in fact, but these are local small garage services and shops and if you need to serve new KTM1290 or BMW F850GS they will not have spare parts or mechanics who could serve such a motorcycle. It is relatively easy to buy oil (usually Motul) and fix an old Japanese motorcycle, they are common in Siberia.
Rule #1. It is better to take with you all the spare parts for your motorcycle - bearings, candles, braking pads, filters, chain, sprockets, repair kit for rubber, spare cameras. We also advise you to have all the necessary tools so that you can serve your bike in the local garage service. We know cases when it was necessary to chance chain on Ducati Multistrada and there were no tools to do this. Official dealers and large stores are available only in large cities, of which there are only five for all of Siberia, but even there the range of spare parts is not very big.
Rule #2. If you need to find spare parts in Siberia, you can always order them from Moscow or other big cities and they can be shipped in advance to the place you will come. Make sure to order them 2-3 weeks before you come. Also, it's necessary to book time for service with dealers because they usually have just one mechanic working on the station and they are all booked for all summer for at least 3-5 days in advance. By the way, BMW owners are in the preferred position as there are four BMW dealers in Siberia, in Yekaterinburg, Novosibirsk, Krasnoyarsk and Vladivostok.
The choice of tires in Siberia is small, but on all popular models of motorcycles you will find something. You can also order tires from Moscow and send it to the city you need. We can help with this. If you order tires in advance from Moscow, they can be left for storage in Siberia in every city for 1-2 months waiting for you.
Rule #3. If you have specific preferences for the brand and model (Mitas, Haidenau, TKC), it is better to order rubber in advance for yourself. Michelin and Metzeller are usually available at place
Language/Networking
The biggest problem for most foreign travelers who go to Siberia is the language barrier. In the previous section we wrote that spare parts can/should be ordered in advance, but people in Siberia do not know English as a rule. As a result, relatively simple task turns into a quest, how to explain want you want and be sure you are understood, and your spare parts will be waiting for you when you arrive?
If you travel with us its simple, if you ride alone modern gadgets and online services simplify this story a little, but, nevertheless, our advice: before you start your trip make a list of contacts of local tour companies, dealers, bikes stores, services and motor clubs, and write or call them, introduce yourself, warn that you are planning to stop by them, find out if they have spare parts for your motorcycle. At the same time, you will understand who speaks English and can help you if necessary.
Rule #4. Going to Siberia make sure you have help list with all contacts of local motorcycle clubs, service stations, biker friendly guesthouses/bikeposts in case of trouble you will need help.
Weather
The weather in Siberia can change quickly. In summer it's usually warm, +20-25 degrees, but it can be both very hot (+35-40 C) or cool (+10 C), you can face fire forests or strong and long rains. Be ready for this, make sure your equipment does not let water through (there is gore-tex or other similar technology), or you have a rain coat and motor boot covers.
In general, going to Siberia is better to take more warm clothes with you just in case. Thermal underwear, high warm socks, windproof jacket (windstopper), neck protection with windstopper, warm gloves, a raincoat (even if you have gore-tex riding gear you can wear it its its cold weather as another layer of clothing).
Rule #5. Good riding gear is a must.
Hotels
There are no problems with hotels in major cities along Transsib but be ready that good places will be booked in advance. And between Chita and Blagoveshchensk there will be a section of 1600 km where there is not a single city, in this section you can only stay at a roadside motel, which you can book only directly by phone call, they are not present on booking.com.
Is it possible to travel with a tent? It is possible, but there are no camping sites in Russia, so be prepared to put up a tent in a field or in a forest, without electricity, water and other amenities.
Rule #6. Book hotels in advance, especially for such areas as BAM, Road of Bones.
Cash/paying with bank card
In large cities and along Transsib cards are accepted almost everywhere, in all cities it is easy to find an ATM. The limit of issue in Russian ATMs with foreign cards, as a rule, is 100 euros / dollars per transaction, you will not be able to withdraw a large amount of money, so always keep 500-700 euros in cash with you just in case. If you use secondary roads, be prepared for the fact that the cards will not be accepted everywhere and as you move East, nowhere at all, so take cash with you.
Rule #7. Take with you 500-700 euros of cash, the rest can be left on the card, which you will pay wherever you can
Diseases, mosquitoes / ticks
There are no viral infections and epidemics in Siberia and you do not need any special vaccinations, however there are many mosquitoes and ticks (in some areas) from which you need to have means of protection. The most dangerous are ticks, which are sometimes can be carriers of encephalitis (inflammation of the brain). Ticks live in the forests in the grass and on the leaves of trees. When you walk through the forest, they can fall on your head or crawl into a shoe. If you are planning to walk in the forest, wear a bandanna / cap, long-sleeved T-shirt and high-toed sneakers / boots.
In general, if you do not walk around the taiga forests ticks are not a big danger, but if you plan to use secondary roads and spend nights in a tent, then the vaccination will not hurt (must be done 6 months before the trip).
Rule #8. Don't walk in the Siberian forests without a reason and if you do this check for ticks in the evening
Speed limits and police
In cities, towns and villages allowed speed is 60 km/h, on most secondary roads its 90 km/h, on highways 110-130 km/h. For exceeding up to 20 km/h there is no penalty. The police are loyal to motorcyclists and almost never stop them.
The main highways in western Siberia are heavily loaded with trucks, but as you ride to East number of cars will decrease. Behind Baikal there is almost no traffic and there are places where there are no police posts for thousand kilometers away.
Rule #9. Ride within the official speed limits and you will be fine
Petrol stations
There are no problems with gas stations in Russia, they are common along Transsib. In remote regions there are fewer of them, but they are also available every 100-150 km, in rare cases 200-250 km from each other.
We recommend using 95 gasoline and large network gas stations (Lukoil, Rosneft, Gazprom, Bashneft, NNK, etc.), they are easily recognizable by the bright signs, the store. But it depends on the specific region, there are practically no such gas stations on the way to Magadan for example.
Additional gas canisters can be taken with you if you are planning a difficult route away from the main roads.
Rule #10. Use branded petrol stations where it's possible
Bikeposts/bikers guesthouses
Baikposts are common in Russia – these are club houses of local motorcycle clubs or just small guest houses/garages of individual motorcyclists who decide to help others. The most important advantages of bikposts is that it's a good place where any motor-traveler can stay and get free accommodation, dinner and technical support/repair. In the internet you can find lists of such places with addresses and contacts, and below we will give contact details of some of them.
Rule #11. Make a list of bikeposts in the regions where you plan to ride and in case of problems, first call them. They are locals and they will be the first to help you
Let's the adventure begin
A ride in Siberia will for sure become one of the most important events in your life. Such ride will be a challenge, a test of strength for you and your motorcycle. Huge deserted territories, untouched nature, kind and sympathetic people, Siberian mountains, lakes and rivers, as well as a variety of roads, will not leave anyone indifferent and will give unforgettable impressions and memories.
The most important thing is to get well prepared for such a ride and have a well-planned route to enjoy the journey and not to solve arising technical or organizational problems. Siberia is beautiful, but, like mountains, it does not forgive mistakes.
But you don't need to be afraid of this, you need to remember this, and you need to prepare for such a trip accordingly, just as you would prepare for a marathon or an Ironman. Thank you for reading. We hope you found this material interesting and useful and will share it with friends and colleagues. Would you have any questions please feel free to ask.
More information about our tours you can find at in Tours section and Calendar.
We still have places in our guided tours in 2019, you are welcome to join us.
#rusmototravel #mototravel #moto #bmwgs #мототуры #рмт #rmt#explorerussia #moscow #mototours #mototouring