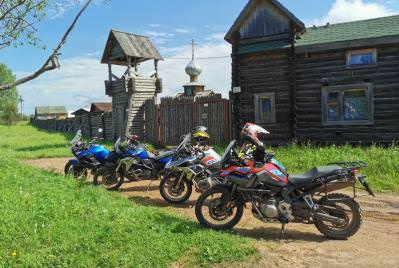 Despite we do mostly guided motorcycle tours its still useful to remind that we also provide bikes for rent in Moscow, Sochi, Novosibirska and even Vladivostok. So if you want to visit Russia with your friends and have a solo ride or self-guided tour you can rent a motorcycle in Moscow (or any other location).
All motorcycles have side panniers and top case, asphalted tires, we have off road tires for several tours and off-road/enduro training courses, but this is an exception.
We have R1250GS with low suspention kit and low seat. Also there is F750GS with low suspention kit and low seat. Both deposit and bike rent can be paid online. We can bring bike to your hotel. You can store your bike in our garage if you want.
At the moment there are 30+ bikes in our fleet, these are BMW F750GS, F850GS and R1250GS. Please feel free to contact us if any questions or simply go to RENTALS on our web site and choice your bike.
We look forward to hear from you.