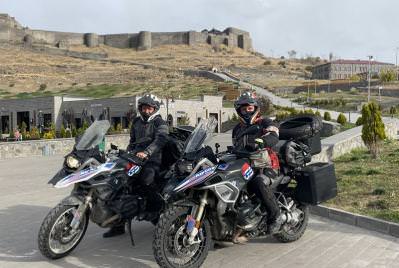 Hello and let's talk today a little bit about our motorcycle tours in Turkey. To begin with, it's worth saying why Turkey at all?
"A long time ago in a galaxy far, far away....", ahh, that's Star Wars opening, but it suits well to our situation as well. So back in 2019 we were thinking about expanding the geography of our motorcycle tours to neighboring countries where we have competence, with good roads, picturesque views, excellent service.
Russia is definitely very big and beautiful country, but there are many other interesting destinations where it's worth going, like Georgia, Turkey, Kyrgyzstan, Morocco, Pamir Highway, Mongolia…
So, it was our long idea, but in 2020 covid happened and we postponed international expansion for a while. By the end of 2021 we returned back to our plan, published Georgia and Morocco tours on our web site. In December 2021 we went to Turkey for an  scout ride. We spent almost one month in Turkey, travelling, scouting roads, visiting all museums and other places of interest, selecting hotels, finding cozy cafes and restaurants.
When we came back home we drafted several motorcycle routes in Turkey for our tours and planned to publish them in spring 2022. But then another force-major happened, conflict in Ukraine, which messed our plans once again. But the idea didn't go away and finally we are happy to invite you to Turkey with us.
So why Turkey?
Excellent roads everywhere, even where there should be no roads at all. And there are many really nice secondary roads which we like so much
Very beautiful scenery and views. There are many mountains and lakes in the center of Turkey, the Black Sea in the north, the Aegean in the west, the Mediterranean in the south
Good tourist infrastructure, first of all hotels, but also museums, restaurants and cafes
Turkey if fantastically rich with history and culture, human civilization came from this area, hence there is a lot to see
Comfortable climate in spring and autumn
Cultural component
Let's talk a little about the fourth point, about the history and culture.
We love history very much, we love places where you can "touch and feel" history, where you can learn something about great ancient times, legendary events, great people.  Turkey, once known as Anatolia, is just a storehouse of such interesting places.
This territory was at the origins of human civilization. The Hittites and Carians, Trojans and Ephesians, Lycians, Dorians and many other ancient peoples lived here.
Troy was located here. Homer was born here and the events of the Odyssey took place. In Cappadocia the first Christians lived. In Turkey the apostle Paul began to spread Christianity, the mother of Christ the Mother of God / Virgin Mary lived here.
Travelling through Turkey on motorcycle we can visit such ancient cities as Ephesus, Knidos, Xanthos, Miletus and many others. Of course, Istanbul and the Bosphorus are beautiful, but it is no less interesting to visit the Dardanelles, for which the allies fought in the First World War, led by Winston Churchill, then Commander-in-Chief of the British Navy.
From Turkey, the Dardanelles was defended by Kemal Ataturk, who later became the savior and national hero of the country, who made huge changes in the country, in fact making it modern Turkey. In that battle, it lasted a year and is called the Dardanelles operation or the battle for Canakkale, Ataturk defeated Churchill!
If we ride down towards Izmir we come to Troy, the ancient city from Homer's Odyssey. It was found in the 19th century by the German Schliemann. Its an interesting history how it happened and why Turks were not interested in Troy before. It's a long story and we will tell you it when we meet.
We go from Troy further down and here we see Ephesus, the great city of Antiquity, up to 300,000 people lived there, the largest amphitheater and library, one of the most influential metropolises of ancient times. A little to the right of Ephesus is Hierapolis, another ancient city better known today as Pamukkale. Here warm healing springs go from the ground.
And there are also Kemery, Olympos, Kas, the sunken city of Kekova, the Blue Lagoon, Fethiye, Konya and the Mausoleum of Rumi, Kars, Mardin, Van Lake, Samsun and Sinop.
We think you will agree with there is something to see in Turkey. We really like that and we want to show you all these places. So, it is worth going to Turkey in one of our motorcycle tours. Why in one of?
The concept of our motorcycle tours in Turkey
Turkey is a big country and because there are too many worthy places of interest, we decide to divide Turkey into several tours, and explore it step by step. For better visualization we made a map of our motorcycle tours in Turkey.
Below is brief description of each tour.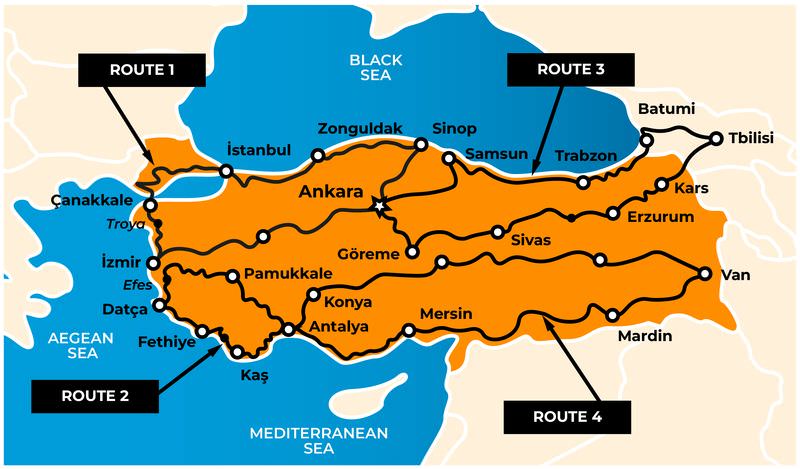 Motorcycle Route #1 starts from Istanbul and takes places in April and October. It's a 10-day asphalted/paved route. Well, all our tours in Turkey are paved/asphalted. We rent motorcycles from our partners, local rental company in Turkey.
There are many Honda Africa Twin and Yamaha of various models (Super Tenere 1200, Tenere 700, MT-07, etc.). BMW are available, BMW F800GS, R1200GS Adv and R1250GS Adv, but in Turkey, BMW is less represented than Honda, there are just few BMW R1250GS for rent throughout Turkey, Honda is much more popular.
Route #2 is a 8-day tour from Antalya. Route #3 is 14-days tour from Tbilisi (capital of Georgia). Finally tour #4 has start/finish in Antalya as well, but it is not published on our web site yet, we need to scout few places/roads in Eastern Turkey. We think we will publish that tour closer to summer.
In total there are four tours. Three already available for booking, please see here https://www.rusmototravel.com/international
All tours start from Turkey or Georgia, without coming to Russia. From Georgia we travel with our BMW motorcycles, two other we rent bikes from Turkey partners.
Dates are available in Calendar, choose convenient for you and book your place, you will like our motorcycle tours in Turkey.