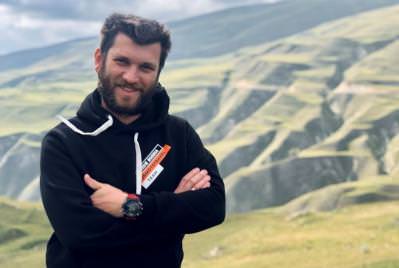 In August while international borders were mostly closed because of corona and we decided to visit Dagestan, region in the North Caucasus Mountains. Alex and Olesya went there using one of our support vehicles, Mitsubishi L200, while other bikes and guides were riding with the groups in Altai, Sochi-Elbrus and other tours.
Their goal was to see roads, level of hotels, availability and quality of food in cafes and restaurants, driving manners of local drivers, level of gas stations and other infrastructure.
North Caucasus region is interesting for motorcycle travelling, but we were not sure of conditions and level of road difficulty, plus we had concerns about security, because 10 years ago it was not safe to travel there, now situation changed, but we decided to go there and see on our own.
Our route was: Sochi – Pyatigorsk – Makhachkala – Dagestan Mountains (5 days) – Chechnya – Vladikavkaz and finally way back to Sochi. We know Elbrus region well, so we skipped it on our way back.
Because detailed day by day description will be too long, in this article we want share general overview of that region and our impressions, hope that will be useful.
Part 1. On the way to Dagestan
The first thing that will surprise you if you decide to go to Dagestan along the main highway from Moscow or Sochi are the military block posts when you enter and leave Chechnya region.
Beyond Pyatigorsk we ran into a military checkpoint with soldiers, inspection of the car, standard questions where you are going, for what, etc. Nothing special, they let us pass without any problems, but its not common in Russia. A feeling of anxiety and tension appears immediately. Some people say it appeared recently because of the coronavirus, but we do not know.
In Chechnya, all roads are good, streets are clean, houses are well-decorated, drivers are calm, everyone drives according to the rules. There are many photos of Kadyrov and Putin. Men cannot walk in shorts, their legs should not be bare, women need to cover their heads and, of course, no mini shorts. We passed Chechnya that day quickly, our goal was the capital of Dagestan, Makhachkala. Most probably in the future we will write another post about that region.
Back to Dagestan, if you will ask us, what we did not like in Dagestan, it's Makhachkala, its capital. We did not like it mainly because of the terrible traffic. You must be very careful on a motorcycle in that city, drivers ride like crazy.
There are only three normal hotels in Makhachkala, and even those are not ideal, for example, there is no closed parking for a motorcycle anywhere, except one hotel.
In most cafes and bars in the city, alcohol is not sold, to drink a glass of wine or a glass of beer in the evening, you need to find a tourist restaurant.
Part 2. Dagestan, Mountains and Roads
After few days in Makhachkala, we went to the mountain regions of Dagestan, goal of our trip. We had been to many places, but in Dagestan we saw most beautiful mountains ever. High and hugely different, with gorges, lakes, valleys, stepped terraces, small and large auls (small local villages), serpentines, old, abandoned cities, different types of mountains and rocks.
All main roads are asphalted, but most beautiful and interesting places can be reached only by gravel. Our advice for those of you who think of visiting this region - if you are on a road bike and have no experience in off road, then you can see a lot from the asphalt, but you will see 25-30% of all places worth getting. Maybe it will be enough, but for a full immersion in this region you need to go there with touring bike and off-road tires.
But gravel roads are not easy at all and there are many reasons for that. First, its the length of unpaved areas, 30-60 km, maybe 80 km. And this is not a straight rolled road, along which you can ride 50 km/h, but mountain serpentines, ascents and descents, rocky areas, light fords, changeable mountain weather. The average speed will be 15-20 km/h.
You will not cover such a distance in an hour, you will ride 60 km with some stops for 3-4 hours, maybe longer, and all this time there will be no gas stations, cafes, toilets, Internet in places.
There will be several rural shops in the villages that you will pass. So, you need to take everything with you: food, dishes, a burner, a supply of gasoline, spare parts and tools.
Most of us like camping and cooking food on fire, but one thing you are with a tent near lake 10 km from local town with supermarket, and another when you are 2-3 hours away from civilization on the mountains with no internet and telephone coverage.
Mountain Dagestan in absolutely amazing, but you have to carry all with yourself, and that makes your bike heave and not so comfortable to ride gravel roads.
Motorcycle riding culture is just emerging in Dagestan, we think now there are 50 motorcycles in the entire region, plus-minus, almost all of them are in the capital of the region.
As a result, there are no motorcycle shops, services, towing vehicles, tires - nothing, simply because there is no demand for this. Nearest BMW dealer located in Krasnodar, that is 1500 km away.
In Makhachkala there are a couple of car services where mechanics can change oil and do other simply staff, but it is clear they do not have a diagnostic tool for modern bike, no oil seals, brake pads, chain and sockets, nothing.
Another important thing to be aware, there are places, sections, with rocky gravel roads, many rocky ascents and descents, where it is quite easy to lie down your bike, especially in the rain, and it is very easy to break through the crankcase or engine cover.
Also you can easily get injured by putting a motorcycle on your leg or because of unsuccessfully fall. When you ride gravel roads in Moscow area, they are different, very soft. Here in the mountains, they are rocky, and you must be careful.
Last, but not least, use tires with spikes rims, because if you damage cast rim, the disc will be bended and there is no way you can repair it in Dagestan.
So, as you could understand, area is beautiful, landscapes are amazing, but roads are challenging for travelling with a bike alone, without support vehicle that can bring luggage, camping gear, food, fuel, spare parts. Tourism in regions is growing fast, but as for now you should rely only on yourself.
Part 3. Infrastructure
There are not many hotels in the region, as tourist is just developing there, and the level of service is lower, that we used to have in Sochi, Moscow. Situation is changing, but it will take years to improve it.
Comparing to what was here 3-4 years ago there is big progress, because there were no hotels in the mountainous regions recently at all, tourists were accommodated in guest houses, with toilet outside. Now there are hotels.
Petrol stations are available every 100-200 km, there are no Rosneft, Lukoil, Gazpromneft and other branded petrol stations, but some locals are good and fuel is available in general.
Regarding the food, everything is delicious, but there is such a nuance, in the mountains there are BBQ meat, potatoes, tomatoes / cucumbers, meat and potatoes soup, different kind of bread and that is all. Food is local, very tasty, but its meat, vegetables and bread mostly.
No fish, no different salads, no pasta, pizza, sushi. If you are a vegetarian or on healthy diet, you need to think about it in advance.
Dagestan is one of three places on Earth where its own original way of life, traditions, customs have been preserved. Brides are kidnapped and ransomed, rams are sacrificed on holidays and a number of other rituals and customs are observed there. Of course, internet and other benefits of modern life penetrate into people's lives, but their influence is not strong.
We think Dagestan will remain in the coming years, maybe decades, a more exotic destination for those who want something unusual, original, out of the box. This is neither good nor bad, we think "wild" Dagestan has its own charm, you just need to understand where you are going and make proper preparations.
Part 4. Chechnya
We stayed in Dagestan for a week and went to Chechnya. This time we entered the region through Botlikh and mountain roads. There were no checkpoints, we just drove along a dirt road and at some point, ended up in Chechnya, it became clear from slightly different cafes, new asphalt roads and signs.
Our first stop was Kazenoyam - a mountain lake recently opened to tourists. We can conditionally say that it's like mini-Baikal - the water is clean, cold, the sceneries are beautiful. Several years ago, a tourist complex was built on the shore of the lake – a hotel, a restaurant, gazebos. We arrive at the hotel, booked a room there a few days ago through Booking.
We went for a walk around the territory, many locals cook barbecue in the gazebos, loud music from cafes and cars in the parking. Chechens have their own language, their own music, their own traditions and culture. All this makes us feel as if you were not in Russia, but somewhere abroad.
After looking at the lake, we decided to go to an abandoned town nearby, there is a watchtower there. The restoration of the village is underway, authorities plan to make a tourist site here. Good idea, place is very picturesque.
Next day from lake we went to Grozny, capital of Chechnya, and then to Vladikavkaz, or last stop in the North Caucasus Region.
Chechnya is beautiful, the nature is excellent, the roads are good, the cities, mountain watchtowers and villages / auls are beautiful, but there is some tension in the air, and it prevents from relaxing. From the conversation with the locals, we learned that this is an echo of the recent war, less than 20 years have passed, people remember it, that is why are so tense.
Everything is ok, all safe, but strained. We talked with friends that live and work in the region and they confirmed, that when they have employees from Dagestan people often come late, leave early and work in a relax, south manner. Nobody in a hurry, all will be done, one day.
When you work with people from Chechnya, they always come 5 minutes in advance and leave exactly when working day ends, all is clear and disciplined. So its not something special, just they are used to live in order.
Anyway, we had a quick ride through Grozny and quickly moved forward to Vladikavkaz, where our scout trip ended.
Summary
We liked almost everything in Dagestan, nice region, except its capital Makhachkala all is good. Sometimes wild and undeveloped, but stunning beautiful, people are friendly. Going with a bike to Dagestan requires a lot of planning and preparations, because you are on your own and need to have all you need with you. If any problems people will help, but bikes are new to the region, so no spare parts, service, etc. And gravel roads for skilled riders only.   
Chechnya is beautiful with superb nature, roads are good, but there is no ease, you cannot relax while you are in the region. There is some tension, echo of the past war.
We hope situation will change soon and plan to make our first guided tour to North Caucasus region in 2021 or 2022.
Thanks for reading if you have any questions or comments please write us at info@rusmototravel.com
Take care and see you soon.