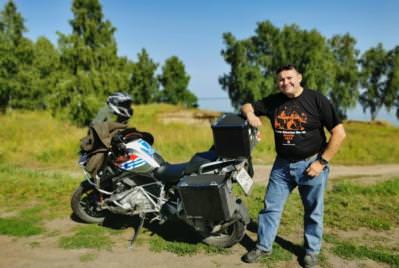 Overview of Moscow-Vladivostok (Trans-Siberian Route) Tour and Top-12 tips for all riders
Russia has always attracted the attention of motorcycle travelers. The largest county in the world with huge variety of places, nature, history, culture, landscape. More than 200 nations live in Russia in 85 regions, they speak 35 languages, follow 7 religions. Russia is surrounded by 12 seas and 3 oceans, there are Caucasus, Sayan and Altay Mountains, Lake Baikal, tundra, taiga, steppes and forests, permafrost area and deserts. 
Until 1991 Russia was almost closed for foreign tourists, but with the collapse of USSR everything changed and nowadays county is open and attracts more and more tourists. Every year million of tourists visit Russia, in recent years it hosted Olympic games and F1 races in Sochi, FIFA Cup 2018, etc.
Motorcycle travelers visit Russia as well, mostly doing two capitals ride, Moscow and Saint-Petersburg, but some visit Crimea, Ural and Altay Mountains, others do Moscow – Vladivostok tour, the Trans-Siberian Route.
We decide to put together all available information about the Trans-Siberian Route, the most interesting of what you can experience in Russia, for those who want to ride it, alone, with friends, in self-guided or guided tours, all options are available today.
So, let's go!
Trans-Siberian Route, History
Moscow – Vladivostok railway road, more known as Trans-Siberian or Great Siberian Route, was built in 1891-1916. Usual car road was built approx. same time but for many decades it was a gravel road without any infrastructure along the way. Just recently, in 2012, it was finished and upgraded and now road is 100% paved, there are hotels, motels, petrol stations, cafes, etc.
Key facts at a glance:
Start in Moscow at the Red Square, finish in Vladivostok, at the Pacific Ocean coast or vice versa
Crossing Europe and Asia 
10 000 km/7000 miles ride
7 time zones
Temperature ranges from 5°С to 35°C (usually 20-25° C or 68-77° F)
Available in summer: June, July and August months only
23 different regions
4 religions
Different clime zones
Daily distances 400-700 km (average distance between cities in Siberia)
Motorcycle dealers are available in big cities like Moscow, Ekaterinburg, Novosibirsk, Krasnoyarsk, Irkutsk, Vladivostok
Key highlights: there are too many of them, but among the most interesting are Moscow, Golden Ring cities, Siberia, Lake Baikal, Taiga, Far East and Pacific Ocean
No camping zones available
Moscow – Vladivostok is not a usual ride, it's a challenge. To begin with you must cover 10 000 km and that's a lot. Main part of the journey will go through Siberia and Taiga, areas with harsh climate, changing weather, lack of service stations. Everything must be well prepared, rider, bike, track/route.
Key Route Highlights
Moscow
The capital and heart of Russia. The modern metropolis with a huge number of historical monuments of many eras. The city is more than 870 years old and, believe us, there is something to see here: Kremlin and the Red Square, the Bolshoi Theater and the revived Cathedral of Christ the Savior, Metro, GUM, Tretiakov Gallery, Saint Basils Cathedral, Arbat Street, Moscow University building, Sparrow Hills and many more.
Siberia
A vast geographical region in Eurasia, bounded by the Urals in the west, by the Pacific Ocean in the east, by the Arctic Ocean in the north, and by the borders of Russia, Kazakhstan, Mongolia, and China in the south. Siberia is huge and sparsely populated region with mountains, big rivers, lakes, steppes and a lot of untouched nature. Much of this region is located beyond the Arctic Circle and is virtually inaccessible.
The roads in Siberia are different. The main federal highway – Trans-Siberian Road, is a good asphalted road (it became fully paved only in 2012). Most secondary roads are unpaved, especially in central and eastern Siberia. Behind Lake Baikal there are many semi-abandoned roads where you will not find a single car for hundreds of kilometers of the road.
Siberia always attracted people with its vast emptiness, long distances, wild nature, harsh climate, difficult roads and a real spirit of adventure. In Siberia, you find yourself face to face with nature.
Lake Baikal
The largest and deepest freshwater lake on the planet. There is more water in Baikal than in all the five Great Lakes of North America taken together (Upper, Michigan, Huron, Erie, Ontario). This is a unique and incredibly beautiful place and is one of the main symbols of all Siberia. You can sail through Baikal by boat and ride the old Soviet steam train along its shore. In Russia, this lake is called sacred and and when you visit it you will understand why.
Vladivostok                 
Vladivostok is the "Eastern" capital of Russia, a port city from three sides washed by the Pacific Ocean. It can be compared to San Francisco, the high hills descend to the Golden Horn Bay, many ships in the port, sea lighthouses and a huge bridge leading to the Russky Island. In Soviet Union times, the city was closed for entry even for most citizens of the USSR, but now everyone has an opportunity to visit it.
The Urals Mountains
It is a mountain range stretching from the North to the South and separate Europe and Asia. There are no high mountains and peaks, but the place is beautiful for its forests, rivers, lakes and natural parks. Here you can see Kungur Ice Cave – unique monument of nature, Yekaterinburg – one of the largest cities in Russia, in which the last Russian Emperor was buried.
TOP-12 tips for Moscow – Vladivostok Route
Don't be afraid of the road – it's all paved, all good quality. You can ride it with literary any bike – HD, 250CC Honda, whatever. Sure, twin endure like BMW GS, Honda Africa, KTM 1190 and others are more comfortable and flexible as you can ride more secondary roads where roads are not always so good, but with all other bikes its possible as well. There are petrol stations all along the route and credit cards are accepted and there are hotels everywhere, no need stay in tents

 

Have good riding gear, as good proverb says, there is no bad weather, there is bad riding gear. Make sure you have good raining suit and boots that don't leak. From our experience most problems come when rain starts and you have gear that lets water inside, you don't have rain suit and quickly you are wet, its cold and not comfortable to ride. And there are still 300 km to go to the nearest city. That's a disaster, but it's so easy to avoid this

 

If you travel on your own plan your trip in advance, select hotels, book city tours with local guides, plan restaurants you will go for dinner, not to waste time for this on the road. It saves time and energy and make ride smooth and comfortable

 

If you travel on your own plan your bike service in advance. If you need to change/serve something in Siberia, there are BMW dealers, there are motorcycle shops, but number of spare parts, tires and other accessories are limited, especially for new models/bikes, and it's better to have them with you or order in advance. If you know you need tire change in the middle of the way call local dealer to book your time and ask them to order tires of your size in advance. It's easy

 

There are no problems with hotels in major cities along the route but be ready that good places will be booked in advance. And between Chita and Blagoveshchensk there will be a section of 1600 km where there is not a single city, in this section you can only stay at a roadside motels, which you can book only directly by phone call, they are not present on booking.com. It possible to travel with tent, but there are no camping sites in Russia, so be prepared to put up a tent in a field or in a forest, without electricity, water and other amenities

 

In large cities and along Transsib cards are accepted almost everywhere, in all cities it is easy to find an ATM. The limit of issue in Russian ATMs with foreign cards, as a rule, is 100 euros / dollars per transaction, you will not be able to withdraw a large amount of money, so always keep 500-700 euros in cash with you just in case. If you use secondary roads, be prepared for the fact that the cards will not be accepted everywhere and as you move East, nowhere at all, so take cash with you

 

There are no viral infections and epidemics in Siberia, and you do not need any special vaccinations, however sometimes there are mosquitoes and in some regions ticks from which you need to have means of protection. The most dangerous are ticks, as they can cause serious deceases. Ticks live in the forests in the grass and on the leaves of trees. When you walk through the forest, they can fall on your head or crawl into a shoe. If you are planning to walk in the forest, wear a bandana/cap, long-sleeved T-shirt and high-toed sneakers/boots. In general, if you do not plan to camp in the forests they are both are not a problem, but if you plan to camp take repellents from them

 

In cities, towns and villages allowed speed is 60 km/h, on most secondary roads its 90 km/h, on highways 110-130 km/h. For exceeding up to 20 km/h there is no penalty. The police are loyal to motorcyclists and almost never stop them. The main highways in western Siberia are heavily loaded with trucks, but as you ride to East number of cars will decrease. Behind the Baikal there is almost no traffic and there are places where there are no police posts for thousand kilometers away

 

There are no problems with gas stations in Russia, they are common along Transsib. In remote regions there are fewer of them, but they are also available every 100-150 km, in rare cases 200-250 km from each other. We recommend using 95 gasoline and large network gas stations (Lukoil, Rosneft, Gazprom, Bashneft, NNK, etc.), they are easily recognizable by the bright signs, the store. But it depends on the specific region, there are practically no such gas stations on the way to Magadan for example. Additional gas canisters can be taken with you if you are planning a difficult route away from the main roads

 

Most foreigners need visa to Russia. Making it scares many people, but don't be afraid, there is nothing special, just some paper works. If you travel with a tour company it will in 99% help provide all info how to do it, which forms to fill, how to apply. If you are solo rider there are official web sites with information in all counties, find it and read carefully. Standard tourist visa is 30 days long. You can also get a 90-180 day visa, single, double or multi entry, but it requires more documents and the process is longer

 

If you ride own bike you will need green card insurance (united European insurance polis with extension for Russia). You can buy it with your local insurance company or at the border is special kiosks

 

The weather in Siberia can change quickly. In summer it's usually warm, +20-25° C (68-77° F), but it can be both very hot (+35-40° C), and pretty cool (+10° C), you can face forest fires or strong and long rains. Be ready for this, make sure your equipment does not let water through (there is Gore-Tex or other similar technology), or you have a rain suit and motor boot covers. In general, going to Siberia is better to take more warm clothes with you just in case. Thermal underwear, high warm socks, windproof jacket (wind stopper), neck protection with wind stopper, warm gloves, a raincoat (even if you have Gore-Tex riding gear you can wear it when its cold weather as another layer of clothing)
Summary
This ride is in the bucket list of many people. We think that properly planned or in a guided tour with a travel company such ride for sure will be once in a lifetime experience for your, something you will remember for long, something you will share with your children and grandchildren. And something that will change your perception of Russia.
You will enjoy riding through huge deserted territories, untouched nature, kind and sympathetic people, Siberian mountains, lakes and rivers, as well as a variety of roads, all this will not leave anyone indifferent and will give unforgettable impressions and memories.
Please join us for 2020 and 2021 Moscow-Vladivostok or Vladivostok-Moscow tours, some of the tours are already sold out, but most are available. Contact us at info@rusmototravel.com and we will send you more info.
Below are photos from our August 2019 Vladivostok-Moscow Trans-Siberian Tour, look through to get better understanding how it looks like. And check our News and Ride Reports section to see more information about this ride https://www.rusmototravel.com/articles