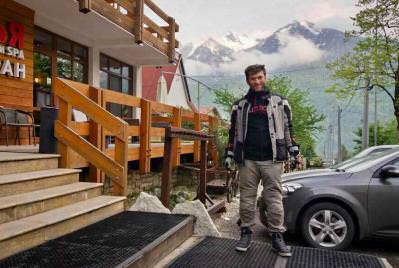 Besides group tours we also organize PRIVATE TOURS. If you prefer to travel solo, hiring local guides in different parts of the world, we will be happy to organize your such a trip around Russia. Our guides are there to help you put together the best itinerary, and will tell you all about specifics of russian roads as well as give you some insights on the best ways to drive. They will give you tips on hotel accommodation, restaurants, etc. They will gladly become your loyal travel companions.
If you have a group of friends with whom you like to travel, we will be happy to ADAPT ONE OF OUR TOURS SPECIFICALLY TO YOUR GROUP. It may very well be a historical, cultural, military sport or beer, wine and gastronomic tour. Or all of the above as well as many other options available at your request. All you need is 2 or 3 friends and an your email to us at info@rusmototravel.com
YOUR SAFETY throughout the tour is our highest priority. We will provide detailed insights on the Russian ways (Russia is a large country and people drive differently in different regions. the roads vary throughout the country as well). We will instruct you on the safest way to ride bikes and help you put together everything that you will need on your journey. It is crucial to have a proper  first aid kit and set of tools. We have a list of contacts of all of the service stations, motor clubs,  official dealers and spare part shops.
To many people, GETTING A VISA TO RUSSIA seems like a big issue. Let's be honest, it is not the easiest thing in the world, since applying for it has its important aspects, but besides that it is nothing like it used to be in Soviet Union. It is a relatively hassle free process. In order to obtain a Russian visa you will need the following;
Fill out an online form on the Ministry of Foreign Affairs Website
Purchase a medical travel insurance
A few photos 3x4cm (to be checked with the consulate in your country)
To obtain a Letter of Invitation (we can provide you with one)
To submit all of the above mentioned documents to the consulate or a visa center in your country
It normally takes 1 to 3 weeks for the entire process. Citizens of some countries do not even need to have a visa in order to enter Russia. Those are, for example, Brazil, Israel, South Korea, South Africa,  most of the countries in South America and many other countries. Russia has made advances towards abandoning visa regimes for the citizen of EU and the USA but unfortunately  those countries do not want to do it, ad Russia will only do it in reciprocally.
 
A standard tourist visa is issued to the citizens of EU for the duration of 30 days. It may be a single or double entry visa. For the citizens of the USA a 3 year multiple entry visa is granted thanks to the agreement that both the US and Russia signed on simplification of visa processes. Simplified process is also available for the citizens of Finland. A slightly longer and more expensive procedure is for the citizens of Canada.
The main issue with a Russian visa is getting the letter of invitation. This document, according to the law, can only be issued by a tour operator, a hotel or any other private individual, who you intend to visit in Russia. Since we are officially registered as a tour operator with fully insured liability and being included in the tour operator register of Russia, we have the right to issue such letters of invitations. For our clients this letter is issued free of charge. For all of the others - 15-20 Euro. From our experience, more than a half of our clients submit their documents without anyone else's assistance. The rest, prefer to use the services of their local visa agencies.
Feel free to decide which way is more suitable to you, we will be happy to help and provide some tips.