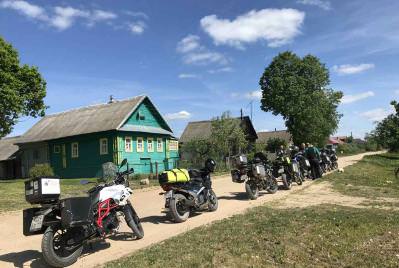 In May, we had a private tour for a group of motorcyclists from Norway, 6 people arrived on their motorcycles to visit St. Petersburg and Moscow. We organized everything on a all included basic and that's how it was.
One of our guides, Anton, met to Helsinki to meet the group one day before the tour started. We know how stressful it is to go through customs/border crossing for foreign riders, when it is not clear what is needed from you, where to go and how long it can take, so we always try to help our guests with this process. So Anton went to Helsinki to meet with the guys and together cross the border next day, and our second guide Maria was waiting for them on the Russian side of the border.
Passing customs and meeting, the guys went to St. Petersburg. Here they had a welcome dinner at the Russian Vodka Museum. For the next couple of days, we walked around St. Petersburg, one of the most beautiful "non-Russian" cities in Russia. Peterhof, Hermitage, Nevsky Prospect, Savior on the Blood, and much more. Quite naturally, everyone was delighted with the northern capital.
Then we headed with secondary roads to Moscow, but not immediately in one day as many people do, but with an overnight stay in the Valdai National Park in the Valdai Eco Club Hotel. Here we showed our guests a Russian bath with a dip in the lake after. Everybody liked it. The next day we stayed in Valdai and enjoyed nature and trips to neighboring small towns and villages. There were many wooden houses, railway stations, museums, the source of the Volga and much more.
After Valday, we went to Moscow, where we spent another couple of days. Red Square, the Kremlin, GUM, metro, Gorky Park, cafes and restaurants, fresh beer and warm weather, our guests liked it very much.
From Moscow we drove towards Latvia, with an overnight stay not far from the border at a eco hotel near the lake. The road to the hotel represented itself as a 20 km grader, which was a real test for some motorcycles, because the group included not only BMW GS and Honda Africa, but also several road/chopper motorcycles. Last dinner, farewell toasts, in the morning the road to the border, where we said Goodbye to our guests.
That's in brief how this trip was organized.
Want to visit Russia with a group of friends in a private tour? Prefer to travel at your own pace, without adapting to others, without rush, delays? Email us at info@rusmototravel.com and we will be happy to arrange a custom tour for you. It can be guided or self-guided, as you want.
You can select any of our tours from Tours/Calendar section on the web site or it can be something special, that we will create just for you. Don't hesitate to request such tour. Over the past years we had private tours from 2-3 days to 25 days. Every time we create something new, we feel great excitement.
By the way, if you are experienced moto travelers, we can arrange for you a private tour without guiding, a self-guided tour. You will follow the program (road book), where you will have all info re roads, hotels, cafes and restaurants, GPS and phone numbers. Plus, we will give you a track for the navigator and our back office will be in touch 24/7 in case of any questions.
E-mail us at info@rusmototravel.com or write on WhatsApp at +7 903 621 11 86 or call +7 495 664 58 46, we are at your service.