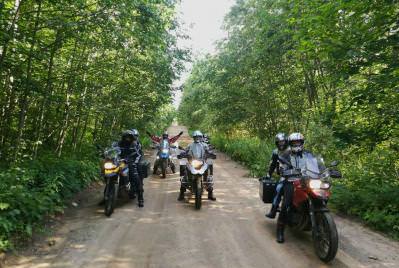 This year in the summer we conducted a whole series of weekend tours around Moscow. On July 12-15 and August 16-19 we traveled on the Moscow-Seliger-Valdai route, which we want to tell you about. The tour is called "On the water expanses" and is laid along lakes, rivers, wate reservoirs, canals. 4 days of scenic landscapes. 1500 km of roads in the proportion of 80/20 asphalt/gravel. Each tour was participated by 6-8 people.
In the tours we visited many interesting places: the source of the Volga, where one of the greatest rivers of Russia can be crossed by one step, its width is not more than half a meter, and it is hard to believe that such a huge river with a length of 3500 km begins with such a small stream. Two days later we crossed the Volga, but on the ferry, because there its width of one and a half kilometers.
In Borovichi we were photographed at a small wooden station of the 19th century, which seemed to have appeared from some old movie in the style of "Western".
Under Vypolzovo found real Soviet rocket tractors, and of course we could not miss them.
We should also say about the monasteries. In the Proviantskaya tower of Savvino-Storozhevsky monastery we drank sbiten with monastic sweets, the Nile Pustin impressed us with the view from the bell tower, and the Bogoroditsky monastery – with the hospitality of local nuns, who happily conducted a tour, telling us about the past, present and future of their monastery.
Passed interesting dirt roads in the area of Demyansk and Valdai, through semi-abandoned villages, forests and lakes. In the evening we cooked barbecue on the lake, went to the russian bath and swimming in the lake.
Next year we will continue the series of weekend tours. We will add new routes and regions. Follow the calendar of tours and subscribe to our newsletter. So, do not miss all the latest news.