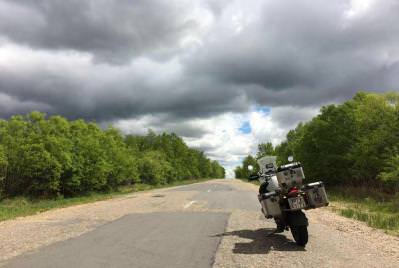 Recently one of our guides, Alex Nikonov, made a solo trip from Moscow to Vladivostok over the famous Trans-Siberian Route.
Everyday he posted his observations, thoughs and advice about safety, roads, places of interests, some riding tips and useful info. We have collected all his posts in the article and pleased to share with you. if you will decide to make such trip definitely many things will be useful. 
Would you have anny questions don't hesitate to ask. We do tours over the Trans-Siberian Route, you can see description and dates of the nearest tour here -  https://rusmototravel.com/tours
Day 1-2. Moscow - Nizhny Novgorod - Kazan, 950 km
First mistake that most people do when they decide to travel over Trans-Siberian Route is using highways. Under no circumstances go from Moscow to Kazan on M-7 highway. Its a boring and overloaded with trucks. Use secondary roads, for example Moscow - Kolchugino - Yurev-Polski -Suzdal - Suya - Nizhniy Novgorod. You should have a layover in Nizhniy Novgorod since there are lots of interesting signs stuff. Then head via Mariy-El and to Kozmodemyansk, then take a ferry, which runs every hour, and costs 90 rubles. Total trip takes about 20 minutes. On the other side, make sure to visit Ethnic museum of Mariytsi. Then further down the highway with a layover in Sviyazhsk and straight to Kazan.
From Kazan to Izhevsk it's best to go via Arsk - Baltasi - Vyatskiye Polyani - Izhevsk. From Sosnovk to Kizner there will be a 20-25 km long road made with rolled grader, and then some pretty good asphalt, beautiful views, no trucks in sight. There is a fantastic museum of Kalashnikov in Izhevsk. There you can even shoot machine guns and sniper rifles. 
Map how to ride is available here - https://goo.gl/maps/EycdoDnLYY42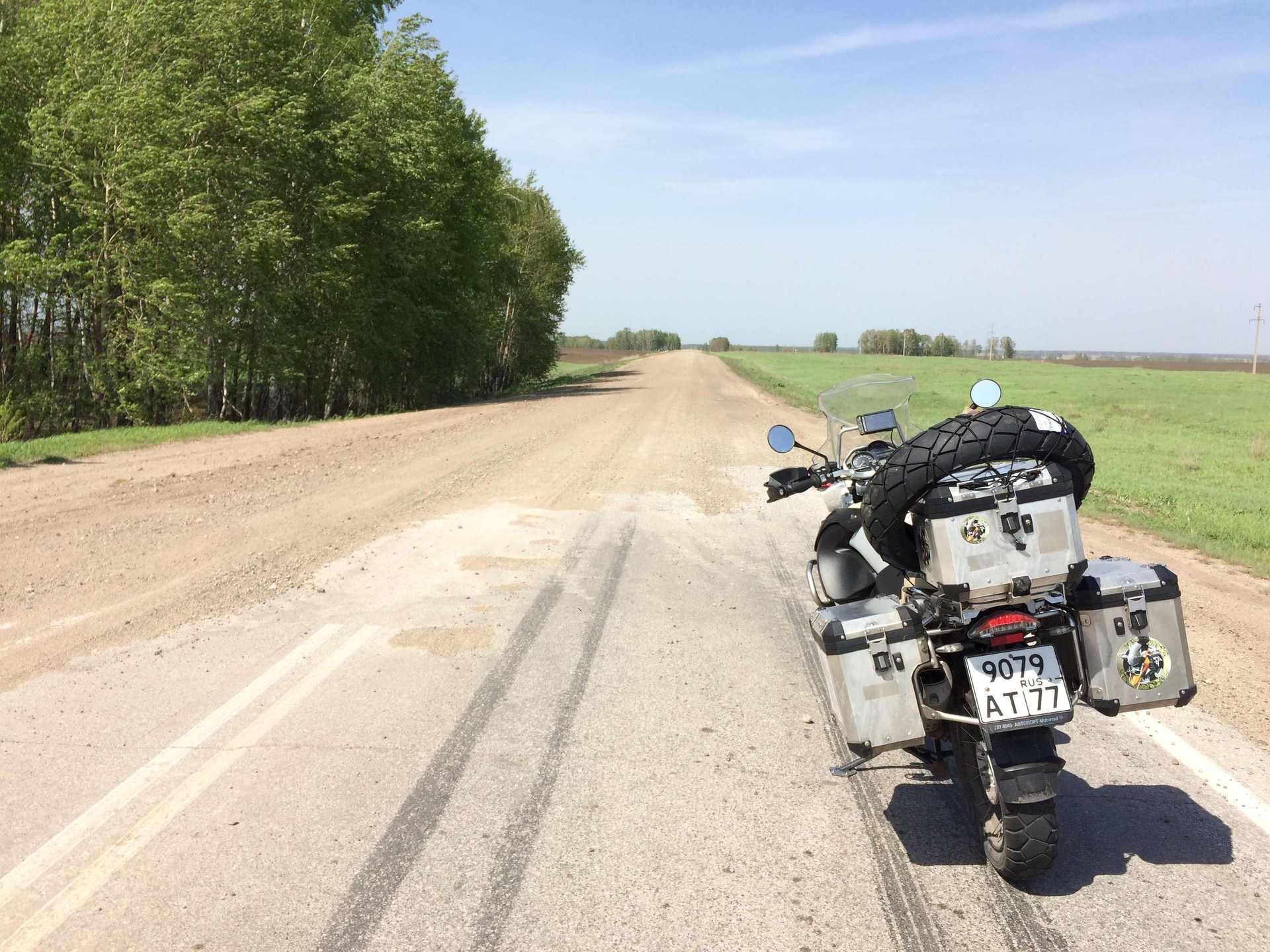 Days 3-4. Izhevsk - Yekaterinburg-Tyumen, approx 1150 km
Here's the map: https://goo.gl/maps/5yTBYGWVUf92, though Google doesn't show the entire route correctly since it is not aware of some roads that are present there))))
What bright and positive days! But let's start from the beginning. Having departed from Izhevsk, my first stop was in Votkinsk, in the museum of Tchaikovsky. Then, the town of Tchaikovsky, Electric plant on the river Kama, here is located the Museum of the Old Believer peasant. From then I went to Elovo and then to Osa. Each village features a few very beautiful churches, all of them made with red bricks, some local museums, fantastic nature, interesting roads - both dirt roads and proper asphalt. Asphalt is rather good, no traffic and a beautiful nature. Traveling those roads bring a true pleasure.
By lunchtime I reached Kungur and managed to visit the pearl of Perm Region, Kungur Icy Cave. Then riding on the highway, got some negative experience from never ending torrent of trucks, constantly passing you, so I got off the highway and went towards Krasnoufimsk, to avoid the federal highway and take a quieter road. The way from Arti to Druzhinino is just a dream come true. Turns, hills, perfect asphalt, just Alps, not less! Of course, no mountains there, but still… I was having the time of my life. At this very instant a guy on BMW S1000RR zoomed by…. those locals!
The last 70 km to Ekaterinburg I wanted to go via federal highway, but it was not meant to happen. Once I got on the highway, I got stuck in trucks traffic. It feels as if you came back from the Alps and straight into MKAD in Moscow. F*ck that! I managed to get off the first exit and went to the smaller roads. Anything to get away from this highway. This way I continued my way towards Ekaterinburg. Can't say I liked the city much. Lots of nervous drivers, everyone seems to be in a rush, bumpy and cracked asphalt roads. In the suburbs trucks won't let you pass, just like in Krasnodar. After a calm and relaxing ride in Tatarstan, Udmurtia and Perm region I did not feel comfortable there. Well, the city itself is quite beautiful, lots of good restaurants and many bikers. Weather +25, good and warm.
The fourth day began with visiting of Ganona pit, a male convent, which was founded in 2000s in honour of assassinated by bolsheviks family of Nikolai II. Let me remind you that they were executed in Ekaterinburg, his majesty and his wife, their five children, their maid and the doctor, and some other people. Their bodies were supposed to be hidden in that pit, poured over with sulfuric acid. What a beautiful convent. I got some souvenirs for friends and family.
From Ganina Pit I went to Irbit. To the left, in Perm region it was raining, but from the side of Tumen the sun was shining. I finally made it to the motorcycle capital of Russia, having encountered a short rain on the way. I hanged out with guy in the Motorhouse, listened to some of the Ural's stories and about some bikes. I was offered to stay for a couple of days, to check out the local surroundings on some retro-bikes with carriages, sleeping in tents, everything to enjoy the nature retrieve, but I simply didn't have time for it. We have to go forward, but someday I will definitely be back. From Irbit to Elan, Gorodishe and then towards Tyumen. Google never even heard of such villages, but I was grateful to have paper maps and Yandex, as well as my support team for suggesting the routes.
I had some smoked chicken for lunch, that I bought in Elan. Had it with some salami right on a bus stop. After yesterday's 1800 rub per dinner in a restaurant, some Ekaterinburg pasty for 100 rub was my dinner today))))) Obviously I won't eat this way all the time, but there is something cool about it. Roads are great, 95% new asphalt, the remaining 5% some patches and some road joints, but on a GS 80-100 it feels comfortable. Once again, the views are magnificent, the phone photos won't do them justice. A professional photo camera with the right exposure would do, to capture those expansive views.
Tumen greeted us with its ideal roads. Everything tidy, well taken care of, clean. Nice region indeed. And Tyumen itself is a cool city, just like Kazan. Everything is just like in Europe. I dropped my stuff at a hotel and went for a walk. Today it's only been 10 hours on the road, a rest day 
:) Tomorrow, I am on my way to Omsk.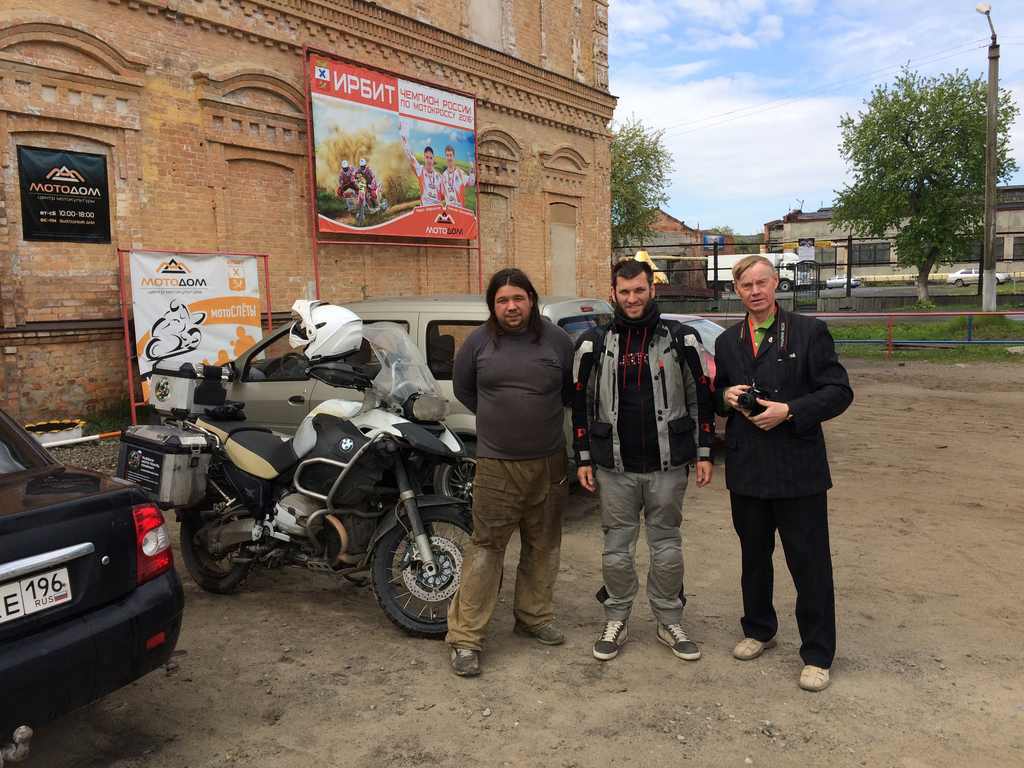 Day 5. Tumen-Omsk, 680 km
Today deserves a separate post. Tyumen - Omsk, seems like nothing but not really. I will start from the events that had taken place a day before. I liked Tyumen very much, a beautiful and well taken care of city. Good roads, and overall it leaves a good impression. No construction works or "My Street" program like in Moscow. Everything had already been done and everything was already great. Only positive impressions, find attached some photos from Tyumen's embarkment as the evidence of above said:) Then, 21st of May. I woke up at 3:50 am and felt like I had slept enough. I had made the observation if you don't drink or smoke hookah and go to bed by 10 pm then you get enough of sleep sooner. So, I checked my email, facebook comments and tried to sleep some more. But I could not. It was bright outside by then and so I decided to head out.
It's a common believe that from Tumen to Omsk there is only one road and that road is a federal highway, which means trucks, and a boring flat ride in the torrent of cars. It seems to be true, but not exactly. There is a couple of other options available to get to Omsk. The most interesting is to follow down from Zavodoukovsk and via Armizovskoy head towards Berduzhe and then Ishim. From Ishim taking some dirt roads you can get to Omsk. But there's a con. First off, Garmin, Yandex and Google do not show these roads. They are printed on paper maps. Secondly, a 600 km journey on the roads like that, using paper maps, will take you 12 hours at least. It 's best not to go by yourself, just in case. And the proper tires, or course.
I myself considered this option at first but then decided against. After 5 days on the road it did not seem like the best option. I decided to ride on the highway, to have some rest, and see what the local traffic was like. But I really did not want to share the road with a bunch of trucks. What do you think I did? Simple.  I headed out at 5 am and for the first 3-4 hours I was the only one on the road. There was nobody else. On a rare occasion a car or two would zoom by, but that's it. Everyone was asleep. It was time for a magnificent sunrise. As the sun rose and embraced me with its warm rays, I was breathing that fresh crisp Siberian air and enjoyed the ride having the road entirely to myself, making plans for the future and remembering highlights from the previous days.
The words cannot describe the beauty of this. I think just for the sake of hitting the road that early one would need a bike. I couldn't help but stop in Ishim. By the way, approximately 300 km journey from Tumen to Ishim flew by so quickly. This town is old and calm, has many interesting old buildings, it has an old church from the 19th century, a good local museum. As I left Ishim, to my left I saw some sort of a sea. I didn't understand what it was at first, then I found out it was Kazakhstan that annually dumps the water from some dam and floods the region. This year it was a major flood, sandbags and barriers were used to protect people's property. All of the fields are dirt roads you can take to Omsk are now under water. So, the idea to go there that way was doomed for failure. Having visited Ishim, I went to the lake Ik. During the summer you can take a nice swim there and check out military equipment by the soldiers memorial.
The last 150 km to Omsk I was riding along with the trucks. Once I was pulled over, I realized it had been all my fault, I asked to be forgiven and the forgiveness was granted. Paying off for all of my sins I continued my way. Omsk greeted me with a rather ugly stella that contained the city name and weather info. It was +30. To be honest, I didn't expect Siberia to be that hot. I got settled in a hotel, went to a banya, washed and warmed up my muscles which were stiff from 5 days on the road. I thought I would be the only one in that banya. Who else would go when it's +30 outside? Nevertheless, it was full. I got the last locker. Those tough Siberian men, having banyas gathering in such weather.
That evening I met my some friends of my friends. These guys live in Omsk, travel around by bikes, mostly around Europe, but I think after our conversation they might start traveling around Russia too. It was cool. Thanks for the dinner and I can't wait to see you on some of our tours. There are plenty of options as where to go. Sochi, Crimea, Karelia or Transsib!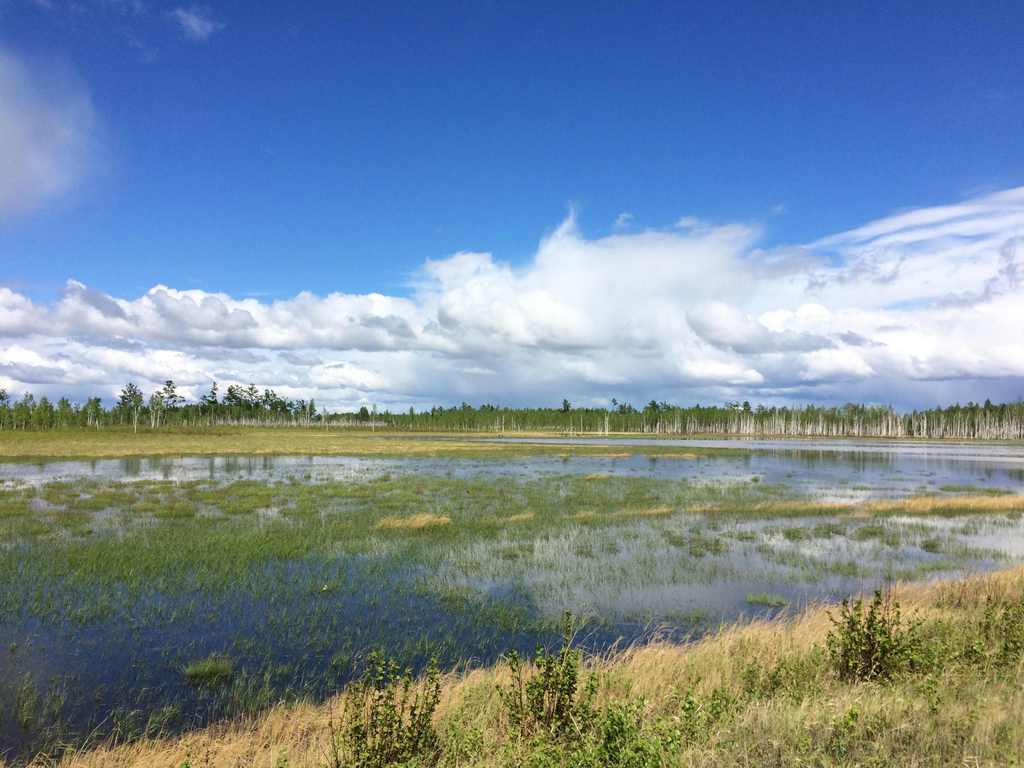 Day 6. Omsk - Novosibirsk
Initially, the route had been long but nevertheless interesting: 836 km, almost without riding on federal highways. Here's the map: https://goo.gl/maps/ZFDQxJ4gm8w. The day was remarkable in the way that everything happened not according to the plan and of course a few nice insights. What went wrong first.  From Omsk I took some detouring roads towards Nizhnyaya Omka. I didn't get to ride far, perhaps, 70 km from the city because of the roads even though were asphalted but still bumpy, with patches, hard joints, and sometimes huge cracks. Bumpy ride at all times, being cautions of a huge crack, with a thought in mind that there won't be spare parts nowhere in Omsk to repair the bike, as well as in the neighboring towns.It would be nearly impossible to find even tires. 
So I preferred to take the highway. Later on the way to Novosibirsk I had an opportunity to exit and take some country roads which as shown on the paper map were leading to the city. Even though I found those roads I didn't dare take them. Undefined and mixed ground, some are 30-70 km in length, which means 1 to 3 hour ride, and there is no guarantee it won't lead into a swamp or some impassable dirt. And since it was the 6th day of the journey, and I was pretty tired already I decided not to risk getting in trouble. Despite several attempts to avoid the federal highway I was bound to return on it. Though in its defense, there weren't many trucks at the time
By the evening I finally made it to Novosibirsk. I didn't quite figure out yet what my attitude towards the city is. It looks sort of semi-industrial. Roads are ok but lots of trash. There is a good restaurant Sibir,Sibir in the center. It turned out to be some kind of political post. Well, what was on my mind. No churches or monasteries today. Won't write about the beautiful nature since all the post will be the same. Tomorrow, Tomsk.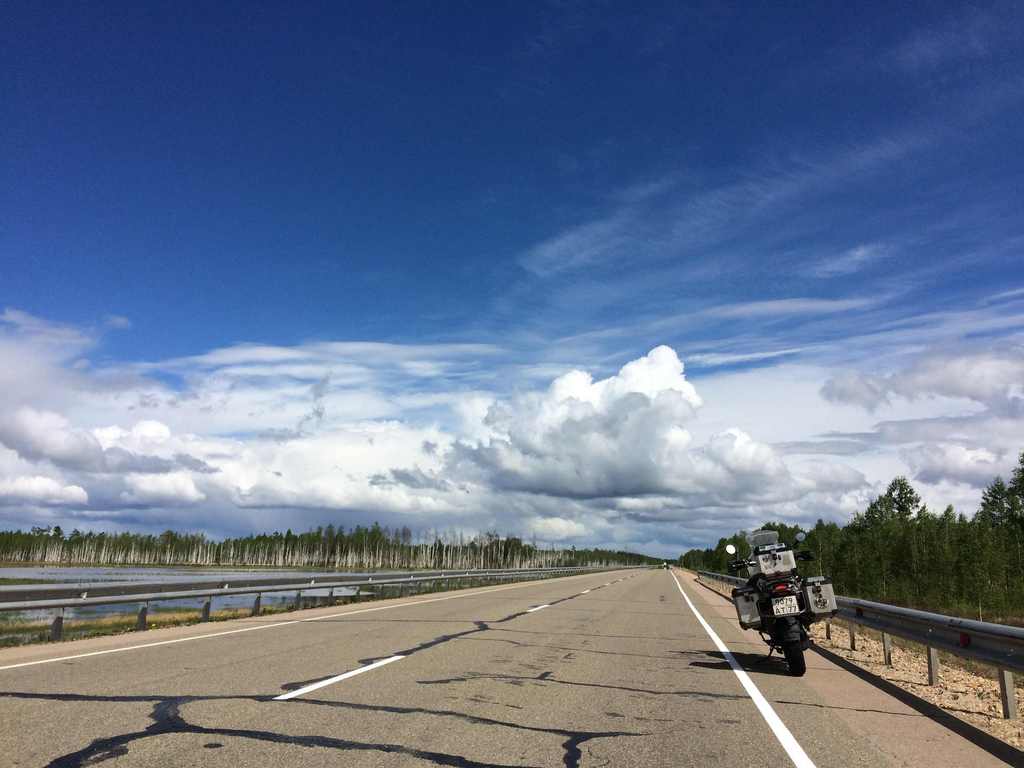 Day 7. Novosibirsk-Tomsk, 300 km
That day I had my recovery training, well, not the training, more like a recovery ride. The previous days I had traveled much more but today it is just 300 km. In Novosibirsk I finally got enough sleep, spent a couple of hours replying to emails. 
Novosibirsk left a rather neutral impression. 32 degrees heat, traffic just like in Moscow. But the city itself is beautiful, in the summer we will spend a day here as a group with excursions and will get to know the city better. I headed to Tomsk taking a country road. First, the asphalt was good, but after 100 km I encountered road joints and cracks. Not so bad, but after Tatarstan, Perm region and Tyumen I don't like to ride this way. That day I had a thought that the days of well asphalted country roads are over after Tyumen. From then on, if you happen to get off the main highway you will get a cracked asphalt or dirt roads. And then I thought It would be ideal to have F800GS with the wheel radius of 21.
As I continued to ride, consumed in my thoughts, there wasn't anything interesting on the road. Just saw a small fire in the woods, I can only imagine what fires they get here in summer, when such heat remains for weeks. In the city center I saw a sign NO MOTORBIKES. Only then did I recall I had once read about a city in which it was forbidden to bike in the city center. Now, I was right there. I ignored the sign, since my hotel was located past it, thinking I will get away with it being not local. And I did, nobody cared. I met some local bikers. I dropped my stuff at a hotel and went to look for a secure parking where I could leave the bike overnight (with a wheel tied up to it I couldn't leave it out, the wheel would be stolen and the new one would be 2 days away in Irkutsk). At the intersection, a guy called Alexey caught up with me, he was the local BMW fan. Right away, he invited me to stay with him, he had a flat and a garage. I declined since I had only had to be there until 5 am but did agree to have dinner. It was a very pleasant acquaintance which will hopefully grow into a real friendship.
Day 8. Tomsk-Krasnoyarsk. Something about 750km
Last night was the first night that I didn't sleep well. I couldn't decide how to proceed further and what to do with Tomsk. The previous day I had found out that the direct road Tomsk-Krasnoyarsk, the first 200km lap, is not asphalted. Just a regular dirt road with some gravel. After winter and due to a huge number of heavy cars it was all destroyed, cracks and bumps. In summer they will even it out with tractors but what there is right now was unclear.
And as it turns out, the detouring road to Tomsk is not ok either, as I wrote about it yesterday. Additionally, the road to Krasnoyarsk partially has no asphalt. That is completely unsuitable for a group tour since not everyone can manage to ride on dirt roads, not only is it physically challenging but it is also dangerous. A small fall even at the low speed may result in an injury which will jeopardize the entire tour. So, given the road situation, I had to go of Tomsk. It would make no sense to go all the way up the highway and then back down just to check it out. The only way left with was via Kemerovo. But there, as my wife had told me, was nothing to see. Just a small city with miners.
I spent the whole night thinking and contemplating on different options and in the end decided to go down to Ugra and then Kemerovo. It seemed like the most appropriate option. I set off early that morning and got to Urga by 6 am. Great road and no traffic at 5 am)) Ugra was amazing! (What else can I say about the place where my wife was born and grew up) Well, for real, the asphalt was better than in Omsk. It was a well kept and clean town. Lots of military personnel. I only realized why, when I was leaving. There was a military base. At the city boundary there is a tank T-72, Afghan version. And lots of traces from tanks on the fields. They practice here. It would be cool to see it.
I headed to Kemerovo via some detour through the villages. Asphalt is great. Novosibirsk, Omsk and Tomsk regions could follow the example of Ugra regarding the condition of their country roads. I got there fast enough. The city turned out to be different from what I had pictured it to me. A good industrially developed city, of course not on the scale of Ekaterinburg and Novosibirsk, but still. Nice roads. The city is expanding, there are many low buildings, wide streets, infrastructure. New neighborhoods left only positive impressions.
After Kemerovo I took the federal highway and headed towards Krasnoyarsk. Up to Mariinsk the road was good, twists and curves, slopes, new asphalt. I encountered fewer trucks. From Moscow to Ekaterinburg, I would grade it 7 out of 10, from Ekaterinburg to Novosibirsk 5-6, and then to Krasnoyarsk 3-4. I got to Mariinsk quickly. A promt visit to the memorial-museum of Siberian Concentration Camp. And then I hit a dull road to Achinsk. I almost fell asleep on the way. Those of you thinking it's impossible to fall asleep on the bike, you're so wrong!)))
I could have taken the road down via Sharapovo, but then I know there are some dirt roads If you travel alone you shouldn't take. Achinsk turned out to be the most horrible city throughout the trip. A smoggy cloud over the city was seen from kilometers away. Lots of factories and cargo trains passing right through the city center, emitting clouds of black smoke. KAMAZ trucks are all over the place, and it's dirty, dusty and sandy. The city is not for living. I left the city without stopping, and headed further down the highway towards Abakan and Divnogorsk. What happened next, words are unable to describe and photos won't do a fraction of justice to the place, won't transmit a spec of the emotions I had.
Fantastic upper Sayany, ideal mountain-serpentine road, in general, no traffic. I went down to the Yenisei. This is the river, this is might!!! A definitely MUST visit here !!! I think on Altai and Tuva, where we are going next time, are landscapes just like that. A picturesque road along the mighty Yenisei river took me into Krasnoyarsk. The city spreads along the river, lots of new buildings and road junctions. Half of the asphalt gone, but I think it was being replaced. If the Olympic Games are ever to be held here, it will be a second Krasnaya Polyana. This place has a huge potential. By sunset I was able to check out the local BMW dealer, checked out a few hotels for our future tours and went to bed. Today I spent 15 hours driving. Tomorrow's gonna be as hard. The plan is to go 1100 km to Irkutsk.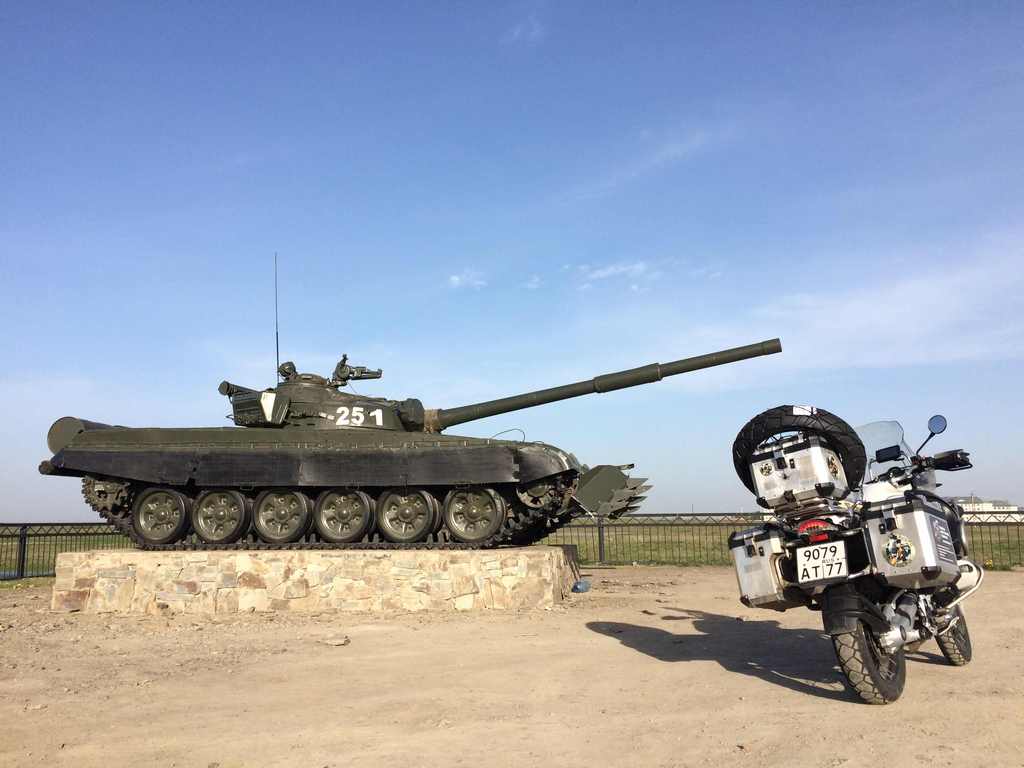 Day 9. Krasnoyarsk - Irkutsk. 1100 km
The hardest day of the trip so far. First off, the tiredness has been accumulating for a while, 9 days riding without any rest. And the fact it is so hot in Siberia doesn't help either. I anticipated +15-20 by the end of May, I was even ready to cope with +5 and even frost (and according to the forecast there will be frost), but not +30! Just took a note, it's 8 pm and the temperature on the highway 100 km away from Irkutsk is +29. By 9 pm it will drop to +26. But let start from the beginning. I set off from Krasnoyarsk at 5 am, being thankful I had been spared a trouble of choosing the route since there is really just one way.
The first 100 km were rather boring, but then the highway started to curve and twist, some hills, forest scenery changed to fields, rivers and swamps. Even though I expected the road to be something like M-4, dull and flat, it turned out to be much more interesting despite being a federal highway. Approaching Irkutsk, the highway takes you through various authentic villages that look just like the pictures with traditional russian villages. All the wooden houses, blackened with time shaks adjacent to it. Beautiful. I perceived the scale of our country on an entirely different level. You ride for days, and it never seems to end. We have got lots of land, 99% of which is not occupied\populated. I think, taking into account autonomy and new technologies, a huge potential definitely shows.
The asphalt was great, ignoring a few occasions where some road constructions were left unannounced and unmarked properly. It's good I rode with the speed of 120km and was able to stop at the last instance. Hitting one of those would result in at least broken wheels. Everyone travelling on Transsib, take my advice, do not ever speed higher than 120-130km per hour. This is a dangerous highway, lots of laps which will be sure to terminate your journey. From the total amount of kilometers that I have covered by now, 6000 km, to Tyumen, the federal highway is in the excellent condition and there are some good county roads. Starting from Omsk region, the federal highway is good, thought I encountered frequent bumps, cracks, cut out asphalt and asphalt patches, unsmoothened joints.
All of the country roads are in bad condition or just dirt roads. In Irkutsk region, on the federal highway, the quality of asphalt is similar to that of the country roads in Omsk region. No country roads, just some dirt roads.
Lifehacks of today: 
1) Slow down approaching railways. Rails stick out way too much in some places. You can easily damage wheels.
2) Some bad segments of the highway it's better to ride standing up due to a better weight distribution. I feel great difference on mine 1200 Adventure.
3) Do not exceed the speed 120-130 kmp.
I got to Irkutsk at around 11pm. I was simply exhausted after an 18 hour trip. Tomorrow is the 10th day of the trip and I have my first day off! Ugh)))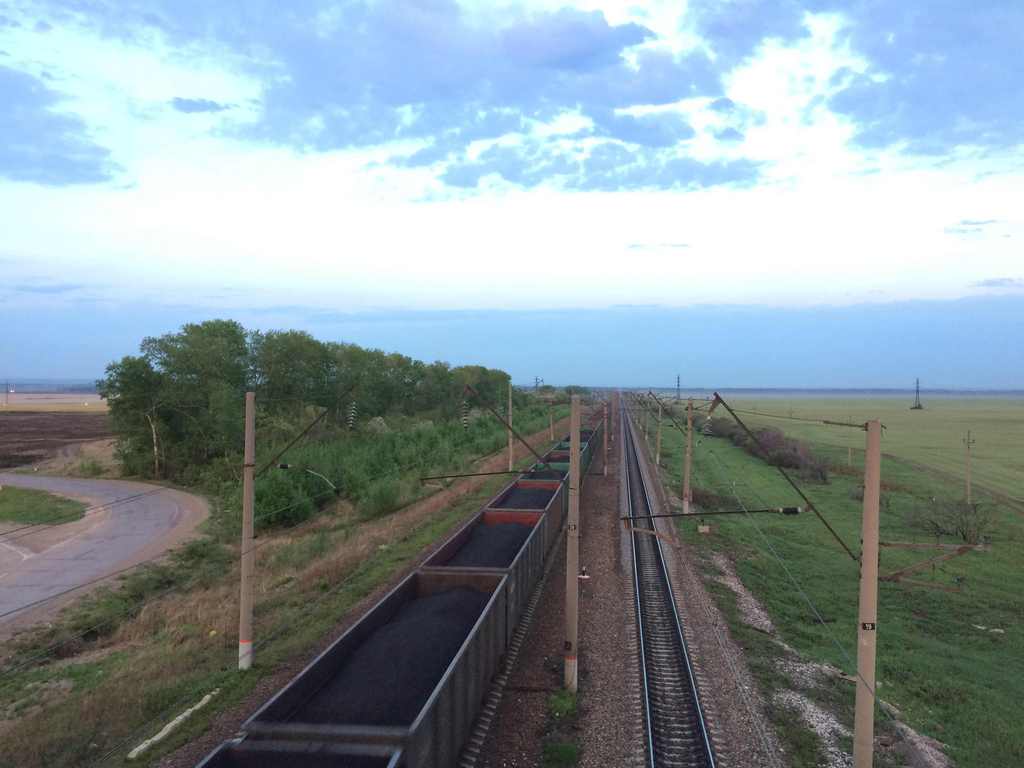 Day 10-11 of my trip. A day off at Irkutsk and then, setting off for Ulan-Ude, approximately 430km
On friday I had the only day off throughout the tour. So good, just to lie down and do nothing. I had no plans for the day. I went to have breakfast with Dmitry Yaskin. Two hours that we spent having tea and biscuits flew by. Interesting conversations, great guys. I learned that since 2015 there is an increase of chinese visitors in Baikal region. All of the hotels are overbooked in advance. Same goes for Chinese visiting there by their buses, 30-40 people in a group. Lisvyanka in summer feels like a little Shanghai. Chinese characters and these little people are all over the place. The town itself like a trade village. 
The next morning I headed for the capital of Buryatia, Ulan-Ude. My wife wrote me the previous evening that she was envious about the scenic road I was about to take. And she was right, the road was gorgeous. Through the forests and fields, beautiful serpentine roads take you along Baikal. Definitely one of the best Russian roads. Even when you pass Baikal, you still enjoy the mountains views and Selenga river all the way to Ulan Ude. And great asphalt, of course! It should be noted how the nature changes throughout the trip. Who knows what begins past Baikal? PastBaikal! haha (ZaBaikalie))))
The nature typical for this region is entirely different. Here you can sense the whole savageness and inhabituality of the place. Trees of a different color, different fields, more rivers and mountains. Very few cars and no trucks. Photos, of course, as usual, do not do the place justice. I think I stopped 50 times in order to try to capture the beauty of the rivers, mountains and forests. Very beautiful! On the way you can try some smoky omul. 100 rub a piece. And some grass\herbs for 50 rub. I tried both. The fish was delicious, totally worth trying. The grass was just fine as a salad substitution)))
Everything about Baikal lake is cool, besides one fact. It is 6000 km from Moscow. I wish It was closer. I stopped for some snack in the middle of our way. Right in the forest by a small river there was a small area with benches. After spending a while there, I got back on the bike and set my GPS to addresses of the hotels that I was going to view in Ulan Ude. Then suddenly, out of nowhere I saw two fishermen with rods. The first question they asked was if I was on my own, then asked where I was going and from where. I said, with friends and waiting on them, so they kept on going.
Then, as I type in the last address, from the bushes on my left comes out a shady looking guy who looks like a robber of a sort. Plastic bag in his hand. Initial thought he might have an axe there))) In his other hand, a bottle with some juice. "Hey buddy" he says to me. I say hi back thinking how weird it is people coming from the bushes, saying hey buddy. Nonsense. Where did he come from anyway? In the middle of the forest. Same question is then asked, if I was alone. Nothing like questions people would ask before, about the bike, none of the standard questions. Just if I was alone. I say, no, we are traveling as a group, I went ahead and waiting on them to catch up. Now, Max the "Surgeon", Alex "Taison" and "Mad" Max are coming))) He stood there staring at me and the bike. I put on my gloves and started the bike and took off and left the spot. Weird local Buryats.
Along the way there was trans siberian railroad. The trains constantly travel up and down the railways. Having gone half way by now, I was sure that this experience is a must have lifetime experience that everyone should get. No matter what mode of travel, whether is is a bike, or by train, or car. It expands your horizons, you learn a lot about regions, get to see people's mentality, life conditions and of course the nature. Russians for sure must know their country. I will say more on that. In Irkutsk I checked in a hostel. It was fully booked but nobody was from Russia. Everyone from someplace else, Dutch, Germans, Belgians, Korean, Arabs. 25-35 years old average age. It was nice to hear their evening conversations about places those people had visited.
A lot of times Mongolia and Ulan Bator came up. I was thinking about the amusing fact that in our era of technological opportunities more and more people seem to want to escape from them and hide. A lot of people got tired of megapolises, and for this very reason, Mongolia seems appealing, in terms of its wilderness. There is nothing out there. No roads, no cars. No stores. No internet. That is what attracts visitors from all over the world. And same goes for ZaBaikalie.
Going back to the way to Buryatia. Ulad Ude pleased me with its good asphalt, but the city itself is dull. If one place in Russia where the crisis does show, that would be there. (With that traffic to the airport in Moscow and flight dynamics everything seems just fine). Lots of shutdown places. Coffee shops and restaurants work until 9 on the weekends. Most of the stores close by 7 pm. Local people wear sweatpants a lot. I found a food place for the locals, next to a market. Cheap and decent. I had a soup and local pelmeni and went to the hotel to sleep. 
Tomorrow, Chita, the city of dekabrists.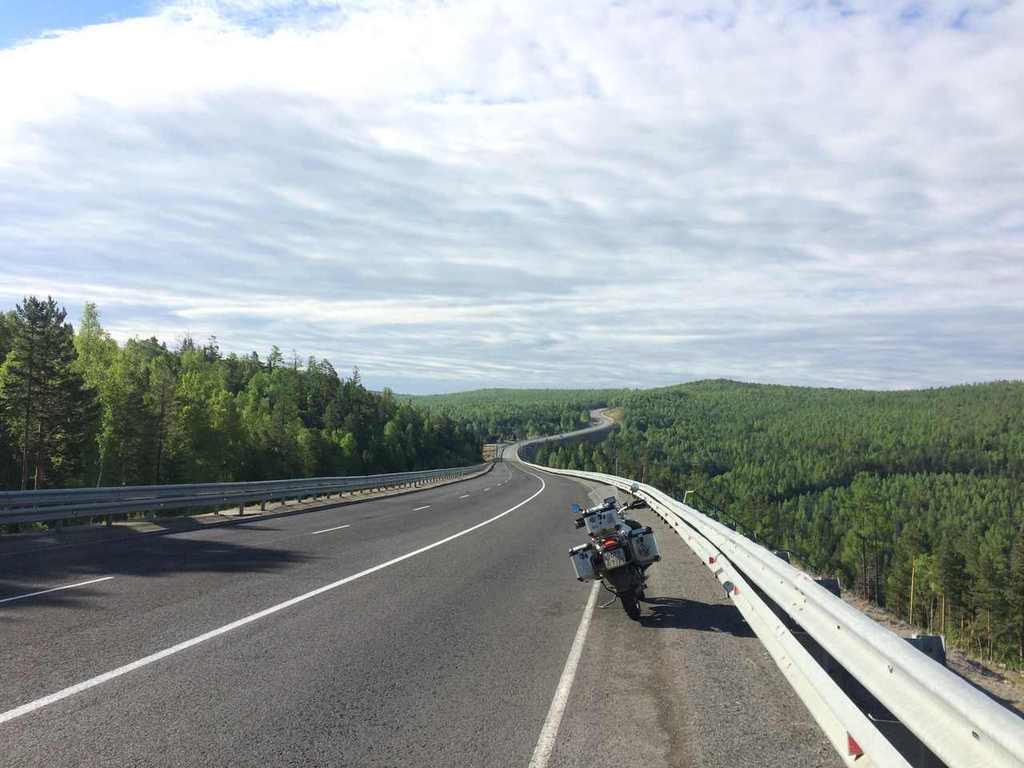 Days 12-14. Ulan-Ude - Chita - Erofey Pavlovich - Blagoveshensk, something around 2250 km
On the way to Ulan-Ude I thought there couldn't be a better road. I was wrong. The road between Ulan-Ude to Chita is even cooler than the road from Baikal. The first 100-150 km amazing views, no traffic and a new road. Then it slightly worsened, a few sites with the old road started to show, and then they kept showing more and more often, became longer, then there were sites with road construction, then construction sites with no asphalt, and at the end some gravel road a few kilometers in length. Then, once again, a good asphalt road. The landscape is similar to that typical for north of Mongolia, mostly just the highway and some basic infrastructure. Very unusual and beautiful. There almost no chain gas-stations on the highway, all of them are local, Baikal Oil Company, OMNI and something else. My favourite Rosneft gas station was last seen approaching Ulan-Ude, and then later only in Chita.
 As far as population of Chita goes it's about 300 000 people. The city looked just the way I had imagined it to be. Strict, sort of 90th style. I happened to arrive there on a city day, so the city center was closed to traffic, and people were walking and celebrating. Lots of drunks, but I think it's fine on this kind of day. Chita was the only city where I didn't even think of leaving my bike at the public parking lot near the hotel. I took it to a local fancy shopping mall right to the security booth. 
The following day a long journey to Erofey Pavlovich. Just in case, I should mention that the highway Amur connects Chita and Khabarovsk. That is the very same highway that president Putin took in 2012 and that had been done just for this purpose. Following Chita comes Blagoveshensk, 1600 km further. Then, in 650 km, Khabarovsk. From Chita to Blagoveshchensk there was nothing of interest. A gas station once in 150-200 km, some motels and road cafeterias, a few small villages. Booking.com features no hotels in the area. From those few villages situated along the highway between Chita and Blagoveshchensk, there is one called Erofey Pavlovich. It was named after a famous russian adventurer. Khabarovsk takes his name too. He was Khabarov Erofey Pavlovich. 
So, a lot of questions from foreigners are addressed to the issue of accommodation in this particular place. 1600 km is way too much to cover in a day, obviously there must be a place to stay. I wrote addresses and phone numbers of local motels well in advance, asked for some contacts from friends.
What I want to tell you is that the wilderness and landscapes kept surrounding me. No people or cars. Gas stations which I had not seen before. I exited the highway to check out a village. Rusty cars, abandoned houses, everything is just falling apart. Everyone stared at me. I thought of stopping to take a photo but decided to keep on going.
In Erofey Pavlovich I was greeted with some good weather (+4 degree), rain and a motel called Erofey right on the highway. There was another option inside the village, but I did not want to take a dirt road. Single room, 1500 rub, shower outside in a separate building. No internet, phone reception is weak. A little shop downstairs and a canteen. From hotel guests mostly freighters, eating and drinking in gloomy silence, nobody asked me a single question. Nowhere to go and nothing to do. I think it was there that I felt homesick for the first time. When you end up in such wilderness, all alone, you begin to appreciate what you otherwise perceive as given, in regular circumstances. I just realized how much I loved my beautiful wife. We had stayed in touch every day, but I called her again to tell her about it. I thought of my parents, who I do not think of much. I wrote them as well, promised to come visit once I return. I remembered friends…
And then, given the mood, I drank 100 mils of cognac. I had not drunk anything during my trip, maybe a couple of beers, that's it. Normally, just some tea in the evening. They did not have cognac by shots, so I got a bottle 0.5. Poured some and tuned on a movie. Siberian Forests. A movie of 2016 about a frenchman, who moved to Baikal. Since I just left there, the movie was just perfect.
The following day's weather was +6 and cloudy. I put on every piece of clothing I had with me. Three t-shirts, two pair of socks, three pants and a windbreaker on top. Regarding the underwear, I must say I only had one. I don't mean I had only one underwear for the trip, just that day I wore one))) Feeling very tense, I hit the road. Having passed cold weather in about 2 hours, I felt it warmed up. That day the meter on my bike went past its first hundred thousands km. I saw two other bikers on the highway when I stopped to take a photo. I saw two of them approaching me. One, John from the US, Pennsylvania. He had in his mind to cover Russia, Mongolia and Europe in 3 months. One happy man. He was heading to Ulan Ude and then Mongolia, and via Altai straight to Moscow.
At the next gas station I met Hoku from Japan. He was touring around the world on F700GS. I asked him how long he planned to be traveling. He said over a year. I thought to myself, in that scooter helmet, trunks made of plastic and a low windscreen, he will sure get in trouble some time these months. I gave him our leaflet, told him to write or call me, if he needs help. Or, if he just wants to grab beers in Moscow. Next meeting on the road was with the baby deer. It was very unusual indeed. I am riding downhill and seeing something in the distance is crossing the highway, running. Thought by the time I reach there, he will be in the woods. But no, two seconds later he came running back. And I am nearly there.
Too bad I had a raincoat and winter gloves on, couldn't take my phone quick enough. I stopped, reached for the pocket but did not manage to take a photo. It was cool though. A baby dear. It might have got lost. I thought I saw a couple of bears too, but i think I glitched probably))) I stopped by the cosmodrome Vostochniy. I couldn't get the admission to the museum in the village Tsiolkovsky since the booking had to be made a week in advance . Foreigners are not even allowed. Such a closed museum;(( But I found a place from where it's possible to get to a lookout point with the view of entire complex. Next time, we will visit it. The road was great today. By the evening I reached Blagoveshensk. A very clean and beautiful city. Great asphalt everywhere. And, cross the river, China. Everything built on the other side was built by the chinese. Good, wide streets, but no cars. And no people. In the evening, there are no lights in the windows. As if everyone went to China, there, on the other side light and action.
I headed for bed. Tomorrow, Khabarovsk, the following day, Vladivostok. And then…... that's it.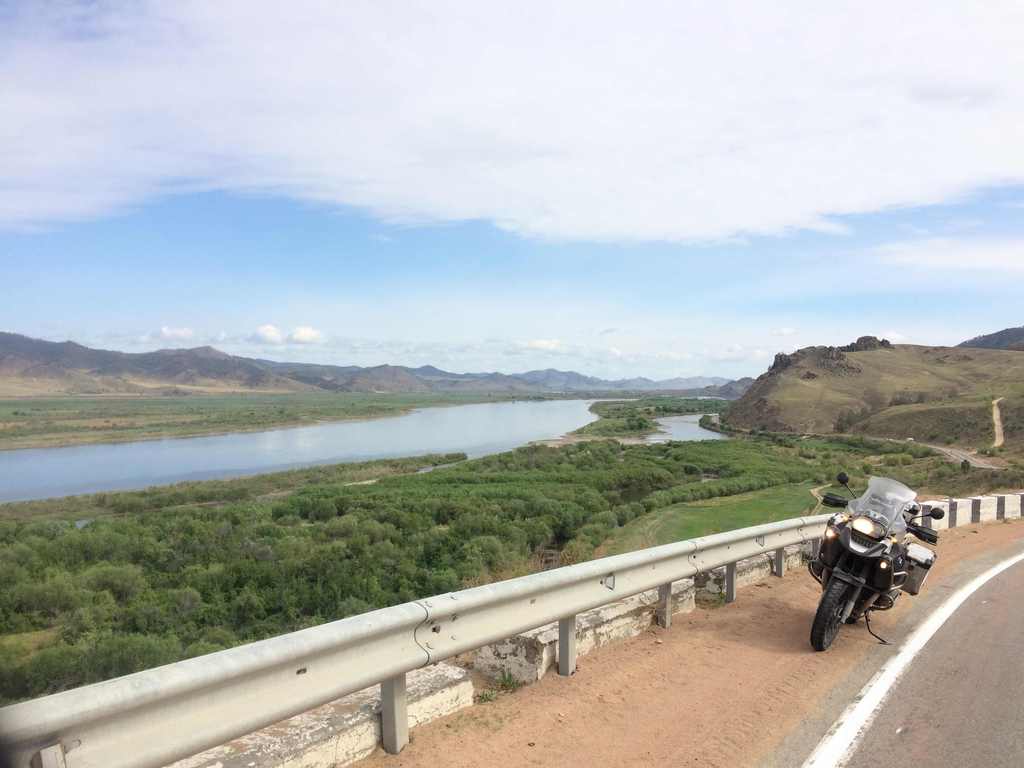 Days 15-16. Blagoveshensk - Khabarovsk - Vladivostok, 1500 km
From the morning I have been riding over 100 km of quite decent country roads through Amur region and then got to the highway. The regions leaves the impression similar to that from Krasnodar region. 200 km further I arrived in Jewish Autonomy.  Riding there I felt as if I ended up in the jurassic park. Same views, mountains on the horizon, lots of green. Only the dinosaurs were missing from the picture))))
I stopped to have dinner at some unremarkable canteen. I was very tired of highway motels for the freighters and I thought I'd check out this place. But it seems everyone had eaten most of food they had to offer, so from the remaining Borsh, a cutlet with mashed potatoes, eggs with mayonnaise, bread and some drinks. Everything 188 rub. Borsh tasted the same way it had at my school which made me very nostalgic. I did not think I would remember the taste but I was wrong. It came rushing back.
And then, Khabarovsk greeted me with a spectacular rainbow. I rode through it as if through a gate. I don't think I've ever seen a rainbow like this. I loved Khabarovsk to bits. And the bridge across the Amur river, and the layout of the city as well. Roads are great. Only hotel prices were rather steep, but it is because there's lack of those but the region is in high demand now. It will get better with time, just like it was in Moscow once. After dinner and some work I hit the bed at around 1 am. Tomorrow is going to be the last day of my road trip adventure. 800 km to Vladivostok.
I woke up at 5 am. I could not say I got enough sleep but I also was not sleepy. I felt a bit crushed, probably due to jet lag. The time difference now is 6 hours between here and Moscow. It looked like I went to bed at 7 pm and woke up at 11:30 pm. My wife went to bed and I just got up )))
It was raining outside, the weather itself was telling me to stay and rest, gain some energy, explore the city. I was sure the last day must be sunny))) I didn't budge though, gathered all of my willpower and got dressed. I left by 6 am. Nothing interesting to remember along the way from then on, after yesterday's views, the road seemed very regular. President Putin never rode here on Lada, so the federal highway looked like a country road in Tyumen. No traffic, either nothing to deliver here or there's a good railway and river connections. At the 535km point I got in a real danger.
After 3 hours of riding on the smooth asphalt, I got used to speeding, and maneuvering easily on every turn at 120-130km per hour. One of such turns and a cut-out asphalt that was filled with gravels. To hit this hole while turning means to get thrown off the highway, I was lucky i had not been speeding and was able to react accordingly. Potentially, that was a very dangerous thing!!! 200 km further an even larger cut out appeared at the turn. It was good I had been riding in the middle of the road and was able to avoid it. I saw two cars parked further. The guys had not been as lucky, they were changing wheels. I imagined what would have happened to me had I rode into that pothole. It gave me chills.
Getting ahead in the story, I want to tell you that the most dangerous thing about the roads are the roads itself. Not even drivers or robbers, or low quality gas, not the weather or the police (never got pulled over except for that time when I myself passed them in violation of the code) - but the roads. The highway Moscow - Vladivostok contains 95% of great asphalt, but the remaining 500 km can spoil everything else. All it takes is a single pothole, that's it. And if you're driving a car you always have a spare, but if you are on the bike, you can easily damage wheels or fall off and never get up again. But let's not think about sad things. Just remember to be cautious while traveling on the Russian roads. You can ride on a perfect road for 3 hours and then encounter 20 meters of potholes. And then another 200 perfect kilometers.
I got to the city at around 4 pm. Vladivostok today is a Russian Shanghai. Many new multi story buildings and small Japanese cars all around you. The city itself featured Hyunday hotels, Bank of China, and etc. There are plenty of coffee shops, restaurants, burger joints, barber shops thai massage salons and fancy boutiques. I headed to bed, 4000 km in 6 days.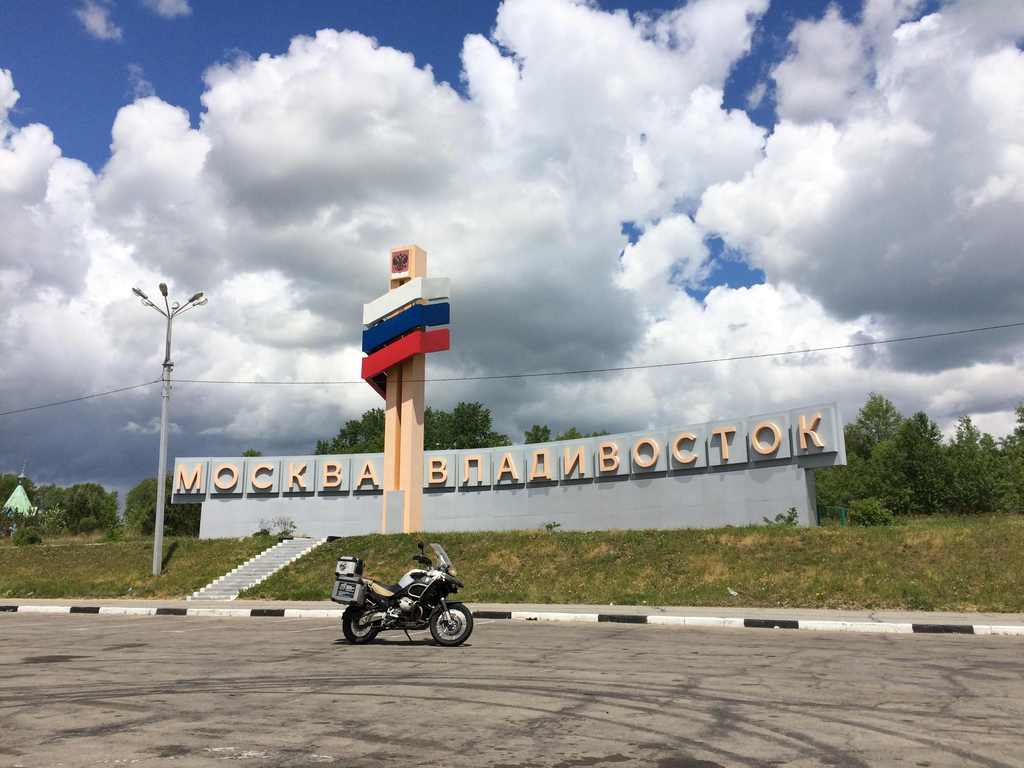 Day 17. Vladivostok
It is my second day of rest throughout the trip.  Having got enough sleep, I headed to the local BMW dealer Primer Auto for a bike check up. There, I met Evgeniy and it was very nice. Though, I was disappointed I didn't get to see Gregory, who had gone on a biking trip to South Korea. It takes a day on the ferry by the way. I was in South Korea, Seoul back in 2003 and it had already been a city of the future. When here we did not even have 3G or knew nothing about LTE in Russia, there, I remember seeing phones with LTE and displays on both sides. I cannot begin to imagine what the city looks like now.
Returning to my trip.
Conclusions: 
I loved the trip, at the age of 32 years old, I finally got to see the country in which I live in. The beautiful and interesting country. I fully realize that in two weeks I rushed through major cities, in which quickly checked out some key sights, and even not all of those. I haven't seen all of the regions either. Still, I get the picture now.
This summer we will have 26 days to make up for the things I did not see. We will have some recreational stops in Yekaterinburg, Novosibirsk, Krasnoyarsk, Khabarovsk, we will spend 3 days at Baikal and 3 more days in Vladivostok. Guided tours will be arranged, and we will be checking out a lot of local places of interest.
As far as the numbers go:
1) Distance 10 750km
2) Duration of the trip: 18 days (15 days on the road, a rest day in Irkutsk, another one in Vladivostok. Plus a day flying Vladivostok-Moscow.
3) Expenses (approximately):
- gas 30 000 rub
- accommodation 15 000 RUB (mostly, hostels, only a couple of hotels)
- food 25 000
- airfare: Vladivostok-Moscow 30 000 rub (booking well in advance sometimes gets you a 13000 rub ticket. But in our case, a week in advance direct flight was 50000; the one I got was 30000 with a connection in Novosibirsk)
- bike service and maintenance (oils, rubber, etc.) 40 000 RUB
- the rest - 10 000 rub
Strictly speaking, around 150 000 RUB for 18 days. Well, shipping a bike back to Moscow by train costs about 25 000 - 30 000, but in my case I had a client who will be a Trans Siberian trip all the way back from Vladivostok to Moscow, so the bike will eventually make it home.
I should warn everyone who are thinking of taking such a trip. Please, do not try to replicate my route. It was purely a work trip, a scout tour, with the purpose of checking out roads, hotels, gas stations and restaurants for our upcoming summer trip. It should be understood that a 10 day trip mode is no vacation. This is hard work. I had to make it back in time for our trip to Karelia 3 days later. Should you want to fully experience Trans Siberian trip, plan at least 25 days one way with a layover in every major city. And allow 3-4 days for Baikal, better if it is not in Listvyanka. Make sure to spend at least 2-3 days in Vladivostok. If you don't use fancy hostels be ready to pay some 50-60 000 rub on top of that for hotels. Local excursions and entry tickets - 25000- 30000 RUB, additional food expenses - 15000 -20000 RUB.
300 000 RUB seems like an appropriate budget for the entire trip including accommodation and cultural entertainment. It is definitely not cheap but on the other hand, for a trip that you will remember for life it is not all too expensive either. Transsib is one special road, just like route 66 in the USA or Trans-Canada Highway in Canada. It doesn't mean you have to spend 300 000 Rub (5000 EUR) on a trip every year, but it is certainly worth it once in lifetime. Saving some money, taking a vacation leave well in advance, a planned holiday for my wife in Israel visiting relatives (or, with children to the seaside)
I would like to remind you, this year we are heading on the trip Moscow-Vladivostok, on 20th of July. We have got 4 riders in the group. There is room for a couple of people, but with their own bikes and those who know English so that we could communicate freely. Then, we do a return trip, Vladivostok- Moscow on August 20th. There are 3 people signed in the group so far. We can give you bike for rent. More info here https://rusmototravel.com/tours
If you like our report, please spread the word and share it with your friends.
Feel free to subscribe on our social networks accounts for updates  and sign up for our groups! .
www.facebook.com/rusmototravel.ru
https://www.facebook.com/alexander.nikonov.56
https://www.instagram.com/rusmototravel/     
Information about our tours can always be  always look at found on our site in tours section, here is our travel calendar
To more of beautiful and memorable adventures! And see you on the roads!