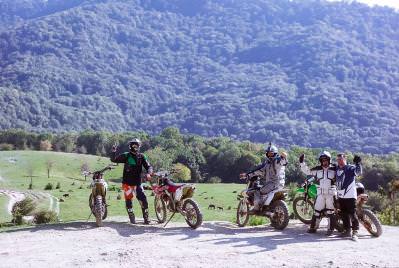 The last days of October 2019 were quite significant for Rusmototravel Co., as it was the time when our first Enduro training course has started. Going forward, the weather didn't let us stay boring during our three days of training course as it was rapidly changing from comfortable +22 °C to +27°C of heat; as for our last day – it was rainy, starting with a little drizzling in the morning and changing to a pouring shower in the afternoon. "The real enduro!" – this is how the participants commented the course after it was over. But, first things first.
We had two instructors for these course. The leading one was Roman Grishin, one of the most experienced guides in RMT team, expert in motorcycle teaching, multiple winner of different Russian competitions, Russia's 2008 rally raid absolute champion and simply a very nice guy. This report's author, Anton Aleshanov, played a role of assistant and apprentice. As for the course it was based on personal knowledge of the most experienced guides in our team, who managed to travel around the world and see quite a bit. Our partners from "Enduro23" team who offer some enduro trailing in the mountains of Sochi neighborhood made their impact to make this course happen.
All in all, there were 4 participants who arrived to Krasnaya Polyana (one of Sochi's districts) to take this course. As soon as everyone reached the hotel we started. The first training day was divided in two parts. We decided to start with a theory-part prepared by Roman personally and specially for this course. Within two hours of extremely exciting lection Roman told a lot of useful information about riding motorcycle in general and heavy enduro bike particularly. He also spent some time paying a lot of our attention to the aspects of motorcycle handling from the Physics point of view. That's is not the sort of information one can get in driving school, at least in Russia, so it was rather interesting to listen to it. You might think that most of the thing Roman was talking about were quite obvious and waste of time listening to them. Bu this is totally wrong. Our experience and statistics say a lot of motorcycle drivers just go on a hunch without paying much to the basics and deep understanding of how everything works. If that accompanies with no accident city driving for some reasons it gives a fake assurance and way too big self-confidence on off-road track. As the result these guys have incidences that cause injuries. So, to avoid this we highly recommend to pay some extra attention and time to basics. 
As soon as Roman finished his lection he briefly explained some rules of riding with the group, course daily schedule and moved on to providing our BMW bikes. Me and three of our guests had F700GS and F800GS series which suited us just fine; Roman had R1200 GS and the fourth participant also had the big Bavarian as he drove it to get to Sochi. All the bikes very prepared for the course – big touring windscreen and all the cases were off; Metzeler Karoo 3 were there as our off-road tire.    
As soon as we got the bikes and the keys, Roman took us for a lunch. Right after that we were desperate to practice the knowledge Roman had professionally shared with us. We moved to a special training ground which was 20 km. away from the hotel. It took me few minutes to install all the traffic cones and everything was ready. We started with some easy exercises, such as slow riding, correct body positioning and no sit riding adding some other such as one hand riding, snake riding etc. In other words all the exercises were focused on working with body/bike balance. We added some challenge so there were some kind of competitions for our participants to fight for the highest rank. Unfortunately we didn't think much about the prizes, so applauses were the only award our guys could get. We promise to fix that till the next course though. After spending 1.5 hours of acrobatic practise Roman decide to add an exercise which seemed to be quite usable in the real enduro riding. It was an artificial obstacle, a wooden board lying down on the ground which we asked our guys to ride along with a low speed of 15 kmph. Seemed as an easy to do at the first sight it turned into a real challenge for everyone to ride it from end to the begining with both wheels on the board. But as we know practice makes perfect, so eventually everyone succeed and with happy faces we headed back to the hotel to get some rest. 
The next day's morning surprised everyone with a little bit of muscle pain in the whole body, proving that yesterday's job was well done. After having some breakfast we left for the training ground; completely different bikes waited us there. Our partners from ''Enduro23'' provided us with brand new two and four stroke 300cc enduro bikes, which were just perfect to continue exercises. We started with repeating the exercises from the other day. Performance on way lighter bike was way easier so we moved to a special equipped off-road training ground which was located not far away from our place. It was located on a trail so the road there ran along puddles, sand and rocks. As for the training ground it was equipped with some artificial obstacles (such as logs and heavy truck tires). There also were couple of up and down hills which were fun to ride. That was a real pleasure to practice at this place even though there were a few falls. But as were had a full protection gear kit provided by ''Enduro 23'' guys, that didn't bother us at all. After spending an hour there we headed to the first propper enduro ride. Firstly, our route ran along the asphalt roads, but after a while we turned to a decent gravel one. A flat stage soon was over and a downhill started. Slowly is was going steeper and steeper with some curves slightly reminding a sort of a serpentine road. One of the turns seemed for one of our students as a perfect place to learn the accurate front brake use. He probably misheard the word ''accurate'' as the front wheel was suddenly blocked and we also became the witnesses of a perfect low side.
Nothing happened with a rider, but I can't say that about the bike. When falling down, the right engine case cover hit the rock and that left a small hole in it. Twenty minutes of fixing it with cold welding, a drinking water pause and happy faces of all the lads – yep, that's the real enduro, baby! As soon as the bike was fixed we moved on towards Psakho river, precisely to the dry canyon. This is a very picturesque and wild place which literally is a dried watercourse of a mountain creek. We took that kind of a road to reach the observation point situated up in the hills. Bottom of the creek was pretty flat but thousands of slots left by the waterflows caused a few issues for our riders. That was pretty much of what we were looking for so we just continued forcing this trail. Everything was going fine till one of the bikes was out of order. The chain was wrecked; perhaps that happened because of small stone stuck between its links. No matter what was the reason – we had to fix that, but there was no repair kit for that case with us. So the only solution which we found appropriate for that situation was to swap the bikes. Eventually the group continued the ride and I took the damaged bike and rolled to the direction of the garage. While I was waiting for the support team to arrive and bring all the necessary equipment to repair the bike, our boys crossed the mountain river and reached the view point where they enjoyed observing the sights of the neighborhood. And it was spectacular – small villages, pastures and the Black Sea in a distance. After lunch in of the cafes in the area we moved back to our training ground, took the BMWs and headed back to the hotel. To make the route back more interesting Roman decided to use the old abandoned Estonian road, which can hardly be called as the proper off-road one, but reminds some of our routes we have while on tours. Views, few obstacles, such as fallen trees – that's a kind of nice atmosphere we fancy having while riding the bike. Happy and tired we got back to the hotel where a nice dinner was served. 
If the second training day morning reminded us about the stabilization muscles in our bodies, the final training day morning assumed that being fit is a very important part of any enduro training. After having some more time for relax we took our bikes and rode to one of the most beautiful places in the area – Khmelev lakes. The weather had totally different plans for this day, and instead of yesterday's +27 or at least comfortable +22 degrees ''awarded'' us with drizzling rain and +18°C. That made our uphill ride tough and rough because wet stones mixed with clay and sand were not that easy to ride. I must admit that not all of the group made it right to the top as at the steepest stages there were plenty of falls. Anyway, those who felt confident not to ruin the bikes approached one of the viewpoints, others decided to make a U-turn and go down. Roman and I appreciated that much, as we are absolutely sure that self-confidence is the key thing in any enduro challenge. If you do not feel you can make it – do not do it. Moreover, a downhill is also something worth practicing, so riding down the slippery road with a lot of gravel curves is a practice all of us need more o less. Without having much of the difficulties with going down we returned back on asphalt and decided to finish the day with a nice serpentine ride to one of the Sochi ski resorts. Mountain peaks and curly forests – that is what we enjoyed watching as soon as we reached the place. 
As soon as all the group was back to the hotel, we had a ''gala'' dinner. Every participant of the course got a certificate saying that he had successfully passed the eduro training base course. After that we all went to banya (russian steaming room) where we relaxed for a few hours giving such a necessary healthy heat to all our muscles. The training was officially over and the next day all the guys left Sochi.
So what can we say about our first RMT enduro training course? Two guys asked for some training and signed up for advanced course, which we are about to start in April 2020. One guy booked our Altay tour, which is guided by Roman in July and August 2020. I think that it says everything. Passing one (or maybe both) of our enduro training courses will help you understand your abilities and skills in enduro riding and will definitely make you future off-road travel more pleasant and safe. So, if you are about to open the world of pure endure, you are very much welcome to join us in our enduro training which starts next Spring. See you!