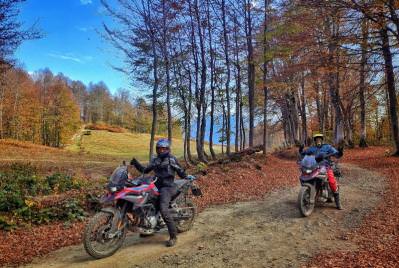 It has been for a while since we talked last time about covid-19 and everything happening around it. The reason is simple – we were very busy running tours in Russia. More than 40 tours already finished and we still plan to arrange 7-8 tours in the coming weeks before closing the season. 19th of November is the official date when we closed 2020 riding year.
Why we are busy when there is pandemia and world goes crazy? There are several reasons for that.
First of all, we are lucky to live in large country with so many interesting and cool places, exciting landscapes, tasty cuisine, nice roads, etc. Because of vast areas there are many places you can go and there will be literary nobody around you: Elbrus Mountain, Karelia, Altay Mountains, Siberia, Abkhazia, Valday National Park, Sochi Olympic Park and so on. Like USA and some other countries we have good potential for local tourism, inside the country, and we used that opportunity this year.
Reason number two, local tourism in Russia is just emerging, it's very young and motorcycle riders in Russia just recently started travelling inside the country. Some already have been in Europe, others in USA, but most never been in Siberia, at Lake Baikal or at Elbrus. So we used the situation and because you can't visit us we switched our focus into local marker.
It was not easy to do that, we had to cancel a lot of arrangements that we did during the winter for our Trans-Siberian Tours, Moscow-Saint-Petersburg and other journeys, cancelling hotels, air tickets, we sold part of the fleet, some garage stock and executed a variety of cost saving initiatives to send you refunds and continue our operations in this turbulent times. Same time we had to reshape our marketing from global markets into local in extremely short time period. It was not easy, but we did it and in general we can say that this year was not easy, but it's a good year.
What is going on with the covid in Russia, what are perspectives for the borders to open and for next year/season to happen?
In Russia situation is good. After 2 months on spring (April-May) when everything was stopped and closed life returned back to normality in the middle of June. Moscow was opened after lockdown on the  10th of June (cafes, restaurants, hotels and most other businesses started working), from 20th of June internal travelling was allowed inside the country, millions of people went to Sochi, Crimea and other places along the Black Sea. From July cinemas, theatres, shopping malls, schools, sport games were resumed. Strangely there was no rise in new cases.
Today we see that number of new cases is rising comparing to what was during the summer, but government says they will not close business anymore, its makes more harm that use and will not stop covid anyway. Death rate is low, same as from seasonal flue, and there are many other more serious deceases that require more attention, so there is little sense in lockdowns.
Furthermore, many doctors and scientists argue that covid-19 will exist with us for long, it's another type of seasonal flue, that can't be quickly cured, but same time it's not so dangerous as it was depicted in the beginning of pandemia. There is too much focus on this topic right now and we hope situation will change soon, when either effective medicine will be introduced, or what is more important common sense will win over hysterics and panic mood.
During the summer millions of people have travelled inside their countries with planes and there were no cases when, for example, all passengers travelling from  Munich to Berlin were infected on the board because of one man with covid-19. At least we had nothing like that in Russia and didn't hear about anything like this from other places. Air companies in Russia operate hundreds of flights every day and its ok. There are many other strange facts about covid that prove that life must go on and we should not stop doing usual things like meeting with friends, visiting restaurants, traveling, etc. until vaccine is not ready.
There is a chance it will never be ready. Recent studies show that people that had covid-19 in 3-4 months have no antibodies anymore and can catch up decease once again. What does it mean? Like with regular flue there is no vaccine that protects you forever. What if we have same situation here?
To sum it up – we were busy this summer running tours inside Russia. In Russia situation is good, no panic, no lockdowns, people live like in the past. If you don't see TV everything looks as usual except that people started wearing masks, which is important.
We think during October and November number of new cases will slightly rise, than fall during the winter and possibly slightly ride in spring, falling again by summer, like with seasonal flue.
Russia has already opened its borders with many countries, like UK, UEA, Turkey, Tanzania, Cuba, Serbia, Switzerland, Japan, Maldives, Egypt etc. and we think more countries will follow soon.
We are positive that next riding season will take place and we will take revenge for that year. We appreciate your trust and support and look forward to meet you starting 1st of April 2021.If you book tour with us for 2021 or 2022 and by any reason it can't happen, for example borders are still close, we will offer alternative date or tour, or will arrange refund.
If you have any questions or suggestions please contact us at info@rusmototravel.com, we would appreciate your feedback
Take care and stay calm and healthy. We see you soon
p.s: below are some photos from recent tours and enduro tranings that we do
Best regards,
RMT TEAM