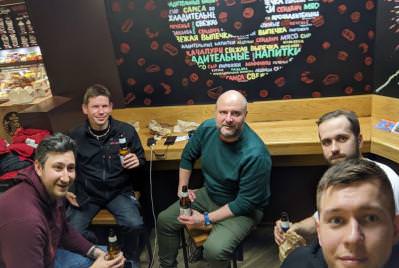 On March 28–31 we held a team meeting in Sochi, Krasnaya Polyana. 15 people, almost all our team (few guys were left because of personal reasons). Our team meeting was delayed for two years in a row because of covid, but we finally managed to meet all together.
It was great to meet all our team, discuss further plans, that are under the far of war now for a while, go to Russian banya, have some beers in the evening, drink morning coffee in our small cozy locla cafe, just spend time together. We have great team and its a pleasure just to be together.
Regarding the season and calendar - we have plenty of new ideas, like Mongolia, Pamir Highway, Kyrgyzstan, Magadan, Armenia, Georgia, Iran and Turkey. From next week we will start making updated, I guess fist will come Kyrgyzstan and Pamir, others after.
If it was your long dream to ride The Stans (15-16 days), including fantastic Pamir Highway, or Kyrgystan (10 days), you are welcome to join us. We will move our bikes (BMW F750GS, F850GS and R1250GS) to Bishkek, capital of Kyrgystan, and start from there.
In the coming weeks there will be several announcements and more details. Even if travelling to Russia is a bit comlicated now, we can meet somewhere else...)))