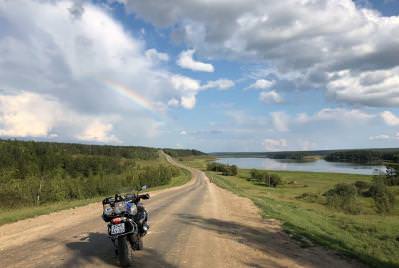 What is the most difficult and same time thrilling road in Russia? Answer is simply, its Kolyma Highway, more known as the Road of Bones.
As many people are interested to ride it but there is not enough English sources of information we decided to give general overview of this route from what we know. If you are travelling with us Vladivostok-Magadan in a guided tour (1-15 July and 1-15 August each year) please don't read further, we will show you everything, do not spoil the surprise of the new adventure.
But those who is just thinking or will ride alone/sole must pay attention to text below. Here are the main "difficulties" when you ride Kolyma Highway (2000 km gravel segment from Yakutsk to Magadan).
1) Road is unpaved so its a challenge by itself to ride 2000 km on gravel 
2) From Yakutsk to Magadan its absolutely wild area - no cafes/restaurants, hotels, service stations. Only small towns and villages with 1-3* hotels every 200-300 km
3) But the main risk is not wilderness of place but road itself. Road surface is very different and consists of: 
- Small sharp rocks from located around mines. These sharp rocks pierce soft tires and you waste time repairing it. We do not advice to use Continental TKC80 because of this, its very soft tire. We have friends that used TKC80 and they repaired it 3-4 time per day, every time it takes 30-40 minutes, sometimes under rain or at night. Our advice to used Metzeller Karoo, Anakee Wild, Mitas E-09 or Heidenau tires
- Take extra tires, tubes, GOOD pump, an extensive number of repair kits with different patches and glue. Make sure you are easy with repairing tires
- There are several mud sections, the most difficult/tough one is right after Yakutsk, approx 250 km. If it rains or it was rainy day before road will be slippery as butter. Best advice to wait for extra 1-2 days till the road will get dry. If you cant wait ride, but 200 km will take you 15 hours riding 
- There are several mountain passes where temperature will fall at night close to zero, it can easily be snowy in June and September. Riding over snowy road is another challenge you can have
- At the same passes there are few river crossing. These rivers are usually quiet shallow, but if it was heavy rain the day before water can go up to 1 meter and flow is very strong. You can, either wait till water level goes down in a few days, or try to cross it. No need to explain what happens if you drop the bike in the river on the Road of Bones... 
- While riding the Kolyma Highway there will be tough conditions for camping, because first part its swamps around, then you reach some mountains and there are cliffs along the road, after you ride near forests with bears and other wild animals where its better not to stop for camping. So literary you have to ride 200-300 km per day to reach safe place with hotel/private guesthouse
4) There is almost no police in this area, no ATMs, no credit cards, no English language
5) Road of Bones is located in the permafrost area, so temperature here is rapidly changing and at night it can be pretty cold even in summer
6) There are sections of 300-500 km where there are no petrol stations. There are locals in the villages that sell fuel, but without language you can hardly find them
What we suggest for those who plan to ride this places? 
- Take extra repair kits for the tires and extra tires
- Take extra oil, filters and candles
- Have warm clothes and do not listen to BMW Officials that say Enduro Guard or Rally 4 will protect you from rain, no need in rain suit. You MUST HAVE good rain suit with you. We checked - both top BMW suits let water in after heave Siberian rain
- Put extra light on the bike because there are high chances you will at least several times will ride at night
- Prefer light bike to heavy one, F700/800GS is better than R1200GS on that road
- Always be focused on the road, hard gravel road can become sandy and after few big stones can be just in the middle of it
- Don't take detours alone to small villages and towns, don't put tents just in the forests, its not safe 
- Mobile coverage is relatively poor along the road, not mobile internet but at least you can make a call. When you make detours not mobile coverage at all
Aside from all difficulties we mentioned above ride to Magadan along the Road of Bones is for sure will be one of most bright and picturesque experiences you will have in your life. Its not easy, but there are few roads in the world that are same level of excitement. You will cross great Siberian rivers, pass areas where few people live with cool landscapes, it will be for sure challenging and a bit risky, but in the end what is life if not an adventure.
We wish you safe riding and please contact us if you need any further information. We have tours Vladivostok-Magadan with guide, support VAN and rented bike included.
Here is tour desciption - https://rusmototravel.com/tours/vladivostok-magadan-road-bones-15-days-adventure-ride-adventure-riders
p.s.: thanks for photos to Andrey Valikov, our friend, he traveled last year to Magadan while we were doing Trans-Siberian Tours (Moscow-Vladivostok)