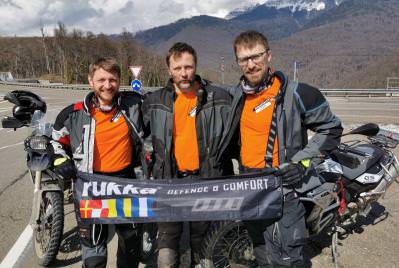 Last year we had a team meeting in Sochi, where among other questions we talked about corporate riding gear for our guides. We want all guides to be dressed in good, safe and comfortable gear. We talked what we really want, what brand is our preferred option.
It so happened that everyone selected Rukka, the Finnish brand of motorcycle riding gear, which is considered one of the top ones. An alternative was the BMW riding gear, which everyone also liked, but Rukka was preferred option.
In Russia Rukka is not very well represented, partly because it's pretty expensive and Russian motorcycle market is relatively small.
Some of our guides had Rukka before, others saw it in our Trans-Siberian Tours when some of the customers dressed it, usually from Germany, Holland or Scandinavia. High price of Rukka gear is explained by top quality, all the suits go with Gore-Tex, a membrane, a high-quality fit, the best possible protection, plus absolutely waterproof..
During the winter we were in Helsinki (capital of Finland) at the MP20 motorcycle show, there we had a contact with Rukka HQ and agreed on a partnership. They dress our guides in their gear and we represent their brand on the Russian market, being ambassadors.
Recently, we received the first batch of equipment - costumes Exegal, R.O.R and Offlane, as well as gloves. Our guides who are now in Sochi have already tested them in the local tracks. 
With this post we want to express our deep gratitude to Rukka for believing in us and providing our guides with top motorcycle riding gear.
These are the news. Take care of yourself and see you on tours.