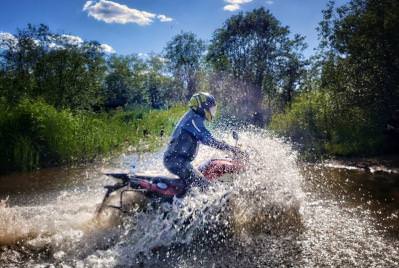 During last month we held 7 off-road classes at Valday National Park, area right between Moscow and Saint-Petersburg. Next week two last groups will start and thats it. 
To be honest we feel sad that we have to end with Valday and move our bikes to Altay Mountains to Siberia. Valda Eco Hotels, location we used for living, is a wonderful place. And area around is pefrect for training - gravel, sand, hills, some mud, water crossngs, lakes and rivers, fields and small forest roads.
We dont know if we will do such trainings again in the future, usually during the summer most of the bikes and guides are busy working in Trans-Siberian Tours, Magadan or Moscow-Saint-Petersburg rides. Well, who knows. We would really love to repeat this type of classes next year.
Meanwhile enjoy fascinating photos we Anton, Roman and Konstantin did during one of the recent classes.