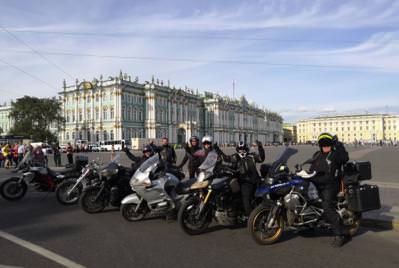 Please find below some photos from our August Saint-Petersburg-Moscow custom tour. We met group of riders from Norway in Helsinki, everybody used own bike, there were BMW, HD and others. Together we crossed Russian border and headed to Saint-Petersburg first and to Moscow via Pskov and Derbovezh after. After few days of rest in the capital of Russia we returned to Saint-Petersburg with another road, via Valday and Novgorod.
We have plenty of Moscow-Saint-Petersburg or Saint-Petersburg-Moscow custom tours. If you have at least 5-6 friends, please contact us and we would be happy to ride with you. It can be fly and ride option, when you use our bikes, or you can come to Russia with your own bike.
Usually such route takes 8-10 days, but it can be easily extended to 12-14 days upon request. If you come with your own motorcycles, we can help you cross the border, usually our guide will meet you on the other side of the Russia border and ride with you, assisting with papers.
Dear Norway Group, thanks for coming to Russia. We know you enjoyed your stay with us and we hope to see you again in the future.
If you just think of doing such ride please contact us at info@rusmototravel.com to book your Moscow-Saint-Petersburg tour.