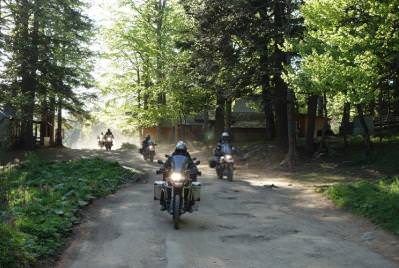 In May 2019 we did our regular Sochi-Elbrus-Moscow tour (in September we do reverse Moscow-Elbrus-Sochi, 3-15th, places still available). Just a few words about this ride for those who think of riding it in the future.
To begin with we had a great team, Jose and his daughter Anna Clara from Brazil, Mark from Australia, Alexey from Kazakhstan, Dmitry, Alexander, Maxim, Roman, Vlad, Alex and Olesya from Russia. 8 bikes and support car with trailer.
We met is Sochi and started our tour in the middle of May.
First days we went to Elbrus mountain via Adygea and Dombay, these days were full of serpentine roads and mountain views. We visited many nice places, caves and mountains peaks. At Elbrus we went with cabins to 3850 meters where some of us even had some snowboarding (rented boards and riding gear).
Especially it was exciting for Anna Clara, who came from Brazil and never saw real snow before. She rented snowboard and with the help of Vlad and Dmitry went down from 3850 to 2900 meters first time in her life. Wow, that was amazing.
From Elbrus we went to Stavropol and further to Volgodonsk, Veshenskaya, Skornyakovo and Moscow. Landscape changed and we traveled mostly with flat roads but with many small villages and towns, surrounded with fields and forests, lakes and rivers, in the direction of Moscow. There were plenty of stops in different museums and small hotels, BBQ, we swam in the water reservoir near Volgodonsk and enjoyed great company or each other.
Mark, Max and Alexander founded beer club and did great parties in the evenings. Most other riders quickly signed in and joined them in the evenings.
When we reached Moscow, we met huge Friday evening traffic in the city. Still we fought our way to the Red Square for a final shot and farewell dinner after. Next day guys had a city tour with local guide Maria and after that most went home. Mark continued to Saint-Petersburg with boat cruise tour.
Thank you all for joining us, was a great ride with great people. You are the best. We hope to see you again in the future.
If you want to ride this tour please see full description here - https://rusmototravel.com/tours/moscow-elbrus-sochi-black-sea-highest-mo.... Contact us at info@rusmototravel.com with any questions you have.
See you!